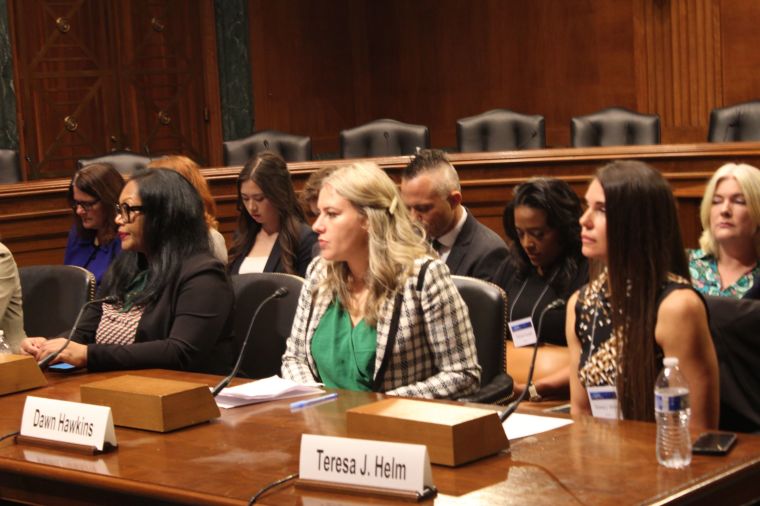 WASHINGTON —A sex trafficking survivor and a man who was abused while working in the porn industry shared their stories during a recent congressional briefing discussing policy solutions to prevent online sexual exploitation. 
The National Center on Sexual Exploitation hosted the briefing last Thursday on Capitol Hill, featuring a variety of experts discussing online child sex abuse material, sex trafficking and pornography.
During the event's second panel titled, "Brazen Networks: Exposing and Combatting Open Online Sex Trafficking," Tanya Gould shared that her trafficker spent four months grooming her. She was later trafficked domestically in Virginia for 18 months right after she exited high school. 
Gould now serves as the director of the Anti-Human Trafficking Office of the Virginia Attorney General, a position she has held since January 2022. 
"Historically, it has been easy to let the sexual exploitation of minors slide," Gould said. "It's messy; hard to deal with, but we must face the reality of how it is affecting our communities in our society today." 
According to the National Center for Missing and Exploited Children, in the last year alone, the organization's CyberTipline received more than 32 million reports of suspected child sexual exploitation, and most cases involved online child sex abuse material. 
"If you have not been purchased, I understand the disconnect," Gould said. "And we, as survivor leaders, are here to help you understand."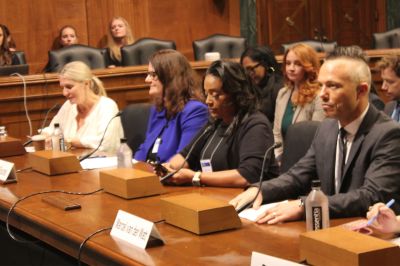 "Imagine being a child in America, growing up, and singing the songs of freedom in school, but have no one fighting for them," the survivor continued. "But instead are silent because minors don't contribute financially, and because of that, they have no real value and no real voice." 
Gould asserted that traffickers are permitted to thrive due to inaction from lawmakers, whom she argued are afraid to deal with the issue. She warned that traffickers typically do not restrict themselves to interacting with minors online, as the goal is to one day meet the minor in person. 
"We are doing better with what happens in our physical world, but the online world is just as real," Gould said. "Laws to protect kids on this physical plane must exist online. That should go on without saying, but we must." 
Gould shared a quote she heard once from a leader who felt that the demand for sex trafficking and exploitation is too great ever to resolve. 
"I debunk that idea and call on our leaders to hold buyers and traffickers of human beings accountable," Gould said, stating that individuals who purchase fellow human beings should be dealt with "harshly." 
Aaron Crowley, another sexual exploitation survivor, shared his story during the last panel titled "Unveiling Shadows: Exploitation & Injustice in Mainstream Pornography."
Crowley is the author of Bought with a Price: A Gay Christian's Memoir from Porn Sets to Love, which describes his experience of being prostituted in the porn industry.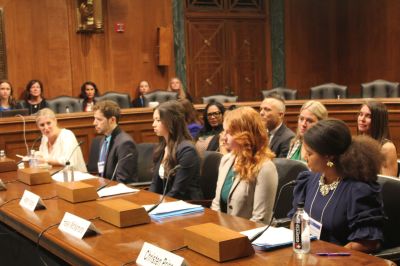 Crowley revealed that he was only 9 years old when he was exposed to pornography, admitting that he didn't even understand what sex was at the time. The images he saw at a tender age depicting sexual violence made him believe that sex was supposed to be a violent act. 
He claimed that when he was eventually raped by a group of men, he didn't realize that he had been sexually assaulted. Crowley's rapists shared the images of the rape online. Still under the impression that violent sex acts were normal, he decided that he should be paid for engaging in them. 
"So, whenever I was given the opportunity to do mainstream porn, I was already groomed to say 'Yes,'" Crowley said. "And in order to get booked on a shoot, the talent scout required me to have sex with him any time he wanted."
"In any other business, that would be considered sexual assault," he added. "But when the business is sex, how do you draw the line between what is 'just business' and what is exploitation?" 
Producers in the porn industry would also coerce Crowley into committing actions that he didn't want to do by threatening to withhold his pay, knowing that he needed the money. 
The survivor said that through his work in the porn industry, he met other men who had been "groomed" to see sexual exploitation as normal and who needed the money badly enough to continue complying with the producers' demands. 
Crowley said that he and the other porn industry workers were encouraged to take drugs, which were often available on set, further inhibiting their ability to give consent. Reflecting on his experience, the survivor said that there is material of him out there that he no longer consents to having online. 
"Porn requires the bare minimum of consent," he said. "Enthusiastic consent does not exist on porn sets because enthusiastic consent cannot be bought."
Another issue discussed during the briefing was the need for greater protection for popular online platforms, including Instagram and Google, in order to safeguard minors from sexual exploitation. 
NCOSE CEO Dawn Hawkins highlighted several cases of children being exposed to exploitative content or abuse during the first panel, titled" Digital Shadows Child Exploitation on Popular Platforms." 
Hawkins cited the case of a 13-year-old girl who told NCOSE that a stranger she had never met before could send her a message on Instagram. The anti-sexual exploitation advocate questioned why the social media platform did not have a feature that would prevent strangers from messaging minors. 
She also noted that only this year, Google decided to blur sexually graphic images for all users by default, which Hawkins said is a "victory." 
"But why is it taking so long?" Hawkins asked. "As parents, we're afraid; we're overwhelmed, and we're ill-equipped."
"We cannot protect our kids because we don't have the power."
Attendees of the briefing received a document highlighting NCOSE's legislative priorities, which included the Eliminating Abusive and Rampant Neglect of Interactive Technologies Act and the Kids Online Safety Act. 
The EARN IT Act would hold online platforms accountable if they knowingly allow for the distribution of child sex abuse material, and it would create a federal online Child Exploitation Prevention Committee to establish practices for preventing abuse. 
The other bill, KOSA, would require social media companies to provide safeguards for minors and make the strongest safety settings the default model. It would also create a duty for social media platforms to mitigate harm to children, including sexual exploitation, and require the platforms to perform an annual audit to assess the risks to minors.
In an interview with The Christian Post, Hawkins said that one challenge to enacting legislation that prevents exploitation is that Congress has often been slow to understand what's happening online. 
"But we're seeing Congress waking up," she said, highlighting the bills that have passed the Judiciary Committee this year. "We're finally at a place where Congress is like, 'We have to do something.'" 
Hawkins also stressed the need for accountability of social media platforms that allow for sexual exploitation, noting that these companies often claim immunity for anything that happens when people upload child sex abuse material to their sites. 
"Unless there's a minimum standard across the board, the next big tech company is not going to have even the most common-sense protections," the advocate argued. "It'll be another fight and another fight."
Free

Religious Freedom Updates

Join thousands of others to get the FREEDOM POST newsletter for free, sent twice a week from The Christian Post.