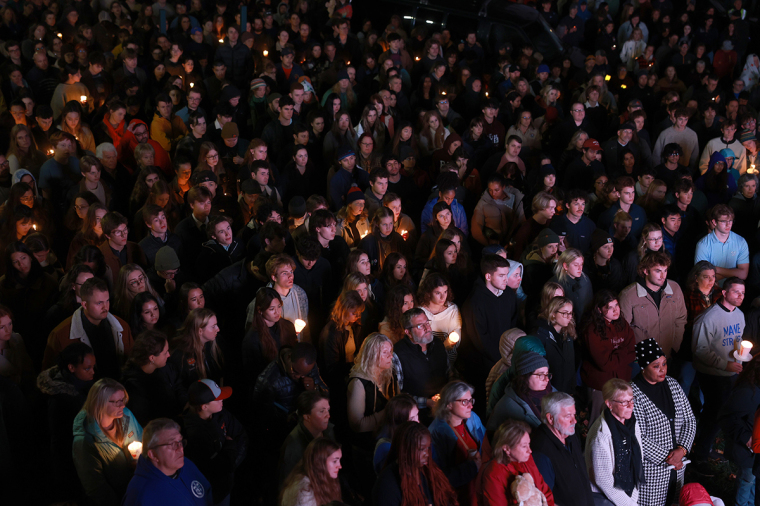 The 16 adult men, two women and 14-year-old boy killed by the mentally troubled Robert Card during a shooting spree in Lewiston, Maine, last Wednesday, were remembered at a vigil Sunday inside the Basilica of Saints Peter and Paul that attracted more than 1,000 people.
"Remember to seek healing over relief. Relief is temporary. Healing is permanent. Pain is temporary," Pastor Gary Bragg of the Southern Baptist Church in Lewiston told members of the community who had gathered for the event where they prayed and sang just days after the worst mass shooting in Maine's history.
On Friday, the Maine Department of Public Safety identified the victims fatally shot by Card at Just-In-Time Recreation, a family restaurant and event venue formerly known as Sparetime, and Schemengees Bar and Grill, as: Tricia C. Asselin, 53; Peyton Brewer-Ross, 40; William Frank Brackett, 48; Thomas Ryan Conrad, 34; Michael R. Deslauriers II, 51; Maxx A. Hathaway, 35; Bryan M. MacFarlane, 41; Keith D. Macneir, 64; Ronald G. Morin, 55; Joshua A. Seal, 36; Arthur Fred Strout, 42; Stephen M. Vozzella, 45; Lucille M. Violette, 73; Robert E. Violette, 76; Joseph Lawrence Walker, 57; Jason Adam Walker, 51; William A. Young, 44; and  Aaron Young, 14.
Senior Pastor Todd Little of First United Pentecostal Church of Lewiston talked about the "shared brokenness, worry, fear and loss" that was experienced by the community of just 40,000, and declared that they would not allow tragedy to define them, CBS News reported. 
"We will not be defined by the tragedies that happened," he said. "Fear, anxiety and trepidation will not dictate our present or our future."
The Lewiston Maine Police Department announced just before 9 p.m. last Wednesday that they were dealing with an active shooter incident at Sparetime and Schemengees Bar and Grill, which is just over 4 miles away.
Card, 40, was found dead on Friday by law enforcement near a recycling plant in the Lisbon area. He died of a self-inflicted gunshot wound ending a two-day manhunt that required residents to shelter in place.
Christy Wallace, 42, who attended the vigil with her young children and was thankful that the rampage was over, told the Sun Journal, "I told my kids that someone came and hurt a bunch of people, and we're just here for the people that he hurt."
Organizers of the vigil said they wanted to share a message of hope and a message of determination to show that no matter what adversity the city sees, it will remain vigilant, WMTW noted.
"We take the time to lift up all of the people affected by these horrific events and those of us who will now be affected forever," said the Rev. Sarah Gillespie, of Androscoggin Home Healthcare and Hospice. "We lift up those who were the wives, the children, the husbands, the partners, the parents, the grandchildren, the grandparents, brothers and sisters, and all types of family members of our beloved departed."
Free

Religious Freedom Updates

Join thousands of others to get the FREEDOM POST newsletter for free, sent twice a week from The Christian Post.