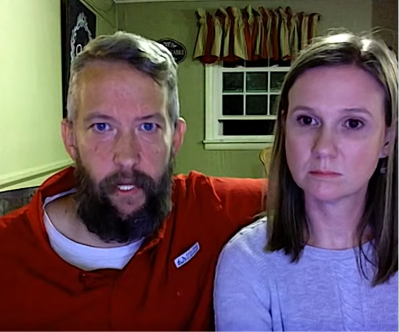 Just over a year after he was removed from ministry for abusing the prescription drug Xanax, and later accused of embezzling money from his church and physical abuse, former pastor and notorious polemics blogger, Jordan Daniel "J.D." Hall, says being a pastor is an "awful existence" and he would never want his son to follow in his footsteps.
Hall, who formerly led Fellowship Baptist Church in Sidney, Montana, and was known for his scathing criticisms of Christian leaders on his now-defunct polemics website Pulpit & Pen, and, more recently, Protestia, was removed from his roles with those organizations after news broke about his arrest on DUI and a weapons charge last summer. However, no alcohol was found in his system when a blood alcohol test was administered.
Appearing with his wife, Mandy, in an interview with Protestia's David Morrill earlier this month, Hall revealed he is now living a quiet rural life with his family and doesn't miss vocational ministry.
"You know, I always felt like I was thrust into it. But David, I'm sure I've had conversations with you over the years where I talked about the stress and the burden of it. … To have 100 or 120 people with their problems somehow become your problems. Never knowing when the phone is going to ring, being gone from my family so much," Hall said.
"And, you know, when you're there to solve somebody else's family crisis, usually the question on the top of their head at 2 o'clock in the morning is who's with your family right now? It's like, their concerns become your concerns, but your concerns are seldom theirs," he explained.
"I don't miss it. And for the life of me, I can't figure out why guys who seem like they just can't get out and go do something else, why they would persist. Being a pastor, I've said this for a long time, it's an awful existence. It just is."
Hall pointed to megachurch leaders such as Mark Driscoll and Perry Noble who lost their ministries in public scandals but later returned to the pulpit with new ministries as examples of something he would not do.
"I look at guys like Perry Noble or Mark Driscoll who just don't know when to quit. And I'm thinking, you know, … you've heard me say that for years, that if you're in the ministry and you become disqualified, get out and stay out," Hall said.
"If nothing else, I hope to practice what I preach in that. It's the last thing I want to do. And it's not as though there aren't blessings that are associated with it [preaching]. But I think I've surprised people for years that I've talked about my son, saying the last thing I want him to be is a pastor," he said. "That life is hard. I don't miss it."
A report from the Sidney Police Department cited by The Sidney Herald said Hall was arrested on May 11, 2022, at approximately 11 p.m. on suspicion of carrying a concealed weapon and multiple traffic violations while driving under the influence. 
An incident report shows that when police approached Hall, he spoke slowly, his eyes were watery, closed slowly and deliberately, and his speech was slurred and mumbled.
He also stumbled, displayed poor balance, and performed poorly on a field sobriety test. No alcohol was found in his system when a blood alcohol test was administered. He also had a Smith & Wesson M&P 2.0 Shield handgun, which was found under his coat in an inside-the-waistband holster during his arrest, the report added.
Fellowship Baptist Church leaders say they were unaware of Hall's addiction to Xanax when they defended him publicly and rejected his initial offer to resign.
As the scandal erupted, Hall was also accused of physically assaulting his wife, Mandy, and son, and embezzling $10,000 from his church.
When asked how she was doing a year outside of ministry, Mandy Hall said the change of pace has been a good one for her family.
"It's a good change. I don't really miss much about it [ministry]," she said. "We have a really good church we go to now. I love our pastor, good solid Bible preaching man who stands up for God's Word, and I appreciate that. But it's really hard to get back into a church. It's hard to let our guard down, to be really active. So I'm hoping that time will heal that. God has already healed a lot of it, but it just gets challenging sometimes."
A recent Barna study showed that as American pastors continue to skew older, with an average age of 52, a majority now say it is becoming increasingly difficult to find younger replacements willing to do their jobs as they prepare to retire.
Researchers found that some 75% of the pastors in the study at least somewhat agree with the statement that "It is becoming harder to find mature young Christians who want to be pastors." 
About a third of respondents "strongly agreed" that it's becoming harder to find young Christians to be pastors, up from 24% in 2015. 
An October 2021 Barna survey also showed that nearly four out of 10 pastors (38%) said they were "seriously considering" leaving full-time ministry, which was a significant increase from the 29% of pastors who reported feeling this way several months earlier in January 2021.
As the world was still reeling from the pandemic in 2022, some Christian denominations, such as the progressive, LGBT-affirming Evangelical Lutheran Church in America, reported that they were already in the throes of a succession crisis with a national shortage of "at least 600" pastors.
Free

Religious Freedom Updates

Join thousands of others to get the FREEDOM POST newsletter for free, sent twice a week from The Christian Post.