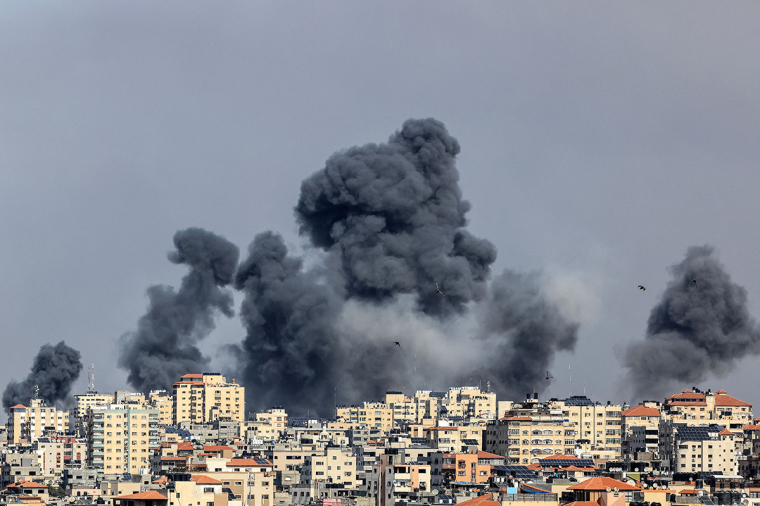 Palestinian Christian organizations accused Western Christian leaders who voiced their support for Israel after the Oct. 7 Hamas terror attack of being "complicit" in "Israel's violence and oppression" in the days following the deadly blast at a church in Gaza. 
In response, an American Christian leader accused the organizations of ignoring Hamas' atrocities in southern Israel. 
An open letter published on Change.org criticizes what it calls Western Christian leaders' "unwavering support to Israel's war against the people of Palestine" as Israel has conducted airstrikes in Gaza following the attack in southern Israel by Hamas, a terror group that has governed Gaza since 2007.
The Oct. 7 attack on Israeli border communities near the border with Gaza killed at least 1,400 civilians and over 30 Americans. 
Israel maintains that it's targeting Hamas infrastructure in its airstrikes. However, Hamas-run Palestinian health authorities said Sunday that the airstrikes have killed more than 5,000 people and injured over 14,000. Israel admitted last week that an airstrike intended for a Hamas command center caused damage to the compound of the Greek Orthodox Church of Saint Porphyrios, the oldest church in Gaza. The compound was said to be sheltering hundreds of people. The blast killed at least 18 people and led the Orthodox Patriarchate of Jerusalem to accuse Israel of a "war crime." 
"We, at the undersigned Palestinian Christian institutions and grassroots movements, grieve and lament the renewed cycle of violence in our land. As we were about to publish this open letter, some of us lost dear friends and family members in the atrocious Israeli bombardment of innocent civilians on October 19, 2023, Christians included, who were taking refuge in the historical Greek Orthodox Church of Saint Porphyrius in Gaza," the letter reads. 
"Words fail to express our shock and horror with regard to the on-going war in our land. We deeply mourn the death and suffering of all people because it is our firm conviction that all humans are made in God's image. We are also profoundly troubled when the name of God is invoked to promote violence and religious national ideologies."
The signatories seek to "challenge Western theologians and church leaders who have voiced uncritical support for Israel and to call them to repent and change."
"Sadly, the actions and double standards of some Christian leaders have gravely hurt their Christian witness and have severely distorted their moral judgment regarding the situation in our land," the letter states. 
The signatories include Kairos Palestine, Christ at the Checkpoint, Bethlehem Bible College, the East Jerusalem YMCA, the Arab Orthodox Society of Jerusalem, the YWCA of Palestine, the Sabeel Ecumenical Center for Liberation Theology and the Department of Service to Palestinian Refugees of the Middle East Council of Churches among others.    
"We come alongside fellow Christians in condemning all attacks on civilians, especially defenseless families and children. Yet, we are disturbed by the silence of many church leaders and theologians when it is Palestinian civilians who are killed," the letter states. "We are also horrified by the refusal of some western Christians to condemn the ongoing Israeli occupation of Palestine, and, in some instances, their justification of and support for the occupation. Further, we are appalled by how some Christians have legitimized Israel's ongoing indiscriminate attacks on Gaza."
The letter also accused some Christian theologians and leaders of ignoring the broader context and "root causes" of the conflict, citing Israel's "systemic oppression" of Palestinians over the past 75 years and the "ongoing ethnic cleansing" and "military occupation."
Referring to the "Western Christian legacy of Just War Theory" and "Zionist theologies," the letter suggested that this "double standard" might reflect a colonial discourse that has historically justified atrocities in various parts of the world.
The letter from the Palestinian Christian organizations comes days after dozens of American Christian and Jewish leaders signed a letter published in The Jerusalem Post last Wednesday urging President Joe Biden not to pressure Israel into a "premature ceasefire." Former U.S. Ambassador to Israel David Friedman headed the letter. 
"Israel must do all that is necessary to destroy Hamas," the Christian and Jewish leaders contend. "It is not sufficient for Israel to degrade or even defeat this brutal terrorist regime, which oppresses its own people. Israel must completely destroy every Hamas terrorist, so that this evil is erased from human history. If America pressures Israel into a ceasefire, Israel's enemies will be emboldened, and Israel imperiled, long into the future."
Rev. Johnnie Moore, president of the Congress of Christian Leaders, a signatory of the letter to Biden, accused the Palestinian Christian organizations responsible for the Change.org letter of spreading disinformation and omitting key facts about Hamas.
In a statement to The Christian Post, Moore noted that the letter doesn't call for Hamas to stop using Palestinians as human shields and spreads "disinformation" about the hospital blast last week that Hamas initially blamed on Israel.
Although the U.S. government states that the hospital blast wasn't caused by Israel and the Israel Defense Forces say the blast was caused by an "errant rocket fired by a terrorist group in Gaza," the Palestinians' letter accused Israel of the "heinous massacre at Al-Ahli Anglican-Baptist Hospital."
According to Moore, the comment about the hospital "sort of says everything that needs to be said about their letter."
"Also, the church wasn't targeted and the ancient church is there, but I do wonder why the church leaders didn't facilitate the transfer of those sheltering in the Gaza City church when for more than a week the Israelis pleaded with Gazans to move to a safe zone, further south," Moore told CP.
"Regardless, I invite these brothers, and my critics, to join me in demanding the immediate AND UNCONDITIONAL release of all 200 hostages who are citizens of over 40 countries and range in age from 9 months old to 95 years old. Hamas needs to set them free."
Moore, a former commissioner on the U.S. Commission on International Religious Freedom, outlined horrific acts attributed to Hamas against Jewish civilians on Oct. 7 and pointed out that Hamas has been hiding weapons in hospitals and schools.
Rev. Dr. Fares Abraham, the founder & CEO of Levant Ministries in Lake Mary, Florida, a Palestinian-American Christian, also issued a statement urging a balanced response from Christians.
He said he ponders what Jesus would do in the current circumstances. He believes Jesus would comfort Israelis affected by attacks from Hamas and extend the same compassion to Palestinians in Gaza, helping them find safety.
Abraham condemned violence from all sides, including actions by Hamas and Israeli military responses. He argued that neither side's actions bring peace or represent the interests of their people. He called on Christians to serve as agents of healing and peace rooted in biblical teachings.
"There is no doubt that Hamas does not represent the legitimate grievances of the people of Gaza, and they do not represent the genuine aspirations of Palestinians who desire to live in peace, dignity, and freedom. In the same way, the aggressive response of Israel's military against innocent Gazans will never bring peace and stability," he wrote. "As followers of Jesus, we cannot allow pain, fear, terror — or even legitimate anger — to justify an untenable retaliation and collective punishment against both Palestinians and Israelis."
Free

Religious Freedom Updates

Join thousands of others to get the FREEDOM POST newsletter for free, sent twice a week from The Christian Post.