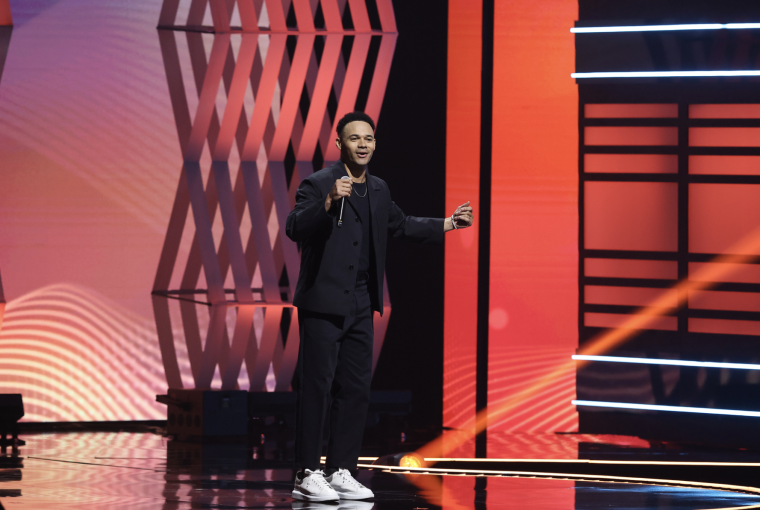 NASHVILLE, Tenn. — Artists Lauren Daigle and Tauren Wells addressed the war between Israel and Hamas at the 2023 Dove Awards, the biggest night in Christian music, and shared with attendees the hope found only in Jesus in the midst of turmoil. 
Wells, who hosted the event on Oct. 17, told thousands gathered at Lipscomb University's Allen Arena that Christians are uniquely positioned to understand the "weight and the gravity that comes with" the war between Israel and Hamas. 
"A conflict that started in the house of Abraham and has existed for 4,000 years. We know that ultimately Jesus is going to get His glory. He is going to redeem His people," Wells said. 
"I was so encouraged by this: when Jesus returns, He is going to descend from which he ascended at the Mount of Olives, and He is going to split the mountain in two. Because the God we serve is powerful. At the same time, He is present. He is present with those who are hurting. He is present with those who are broken. The Scripture does a beautiful job of painting the portrait of Jesus as the bright and morning star. He is high and above and away from it all. But it continues to describe Him as the lily of the valley. He's in the dark places, the quiet places, the places of pain and loss.
"So, I just want to express today on behalf of the artists in this faith community here, that we remember Israel tonight. We stand with the people of God, and as Scripture instructs us, we pray for peace in Jerusalem. Now, here's the thing, we can't just pray for peace and not understand and identify the Prince of Peace. This conflict will not end until Jesus is the Lord of Israel and Jesus is the Lord of [Palestinians] and Jesus is the Lord of every nation and every tribe and every tongue. There is a day coming at which every knee will bow and every tongue [will] confess that Jesus Christ is Lord."
Wells, whose church, Church of Whitestone, will open in Georgetown, Texas, in January, stressed that "the world could be at war but the Church is going to be in worship."
"We don't praise God depending upon our circumstances. We praise God depending upon His reputation. And Scripture says He is faithful and He is good to every generation. And that means there are generations the world will forget that God will remember. Tonight we celebrate that name of Jesus as we remember the people reeling in pain tonight."
Daigle, who won her 12th Dove Award that night for "Best Short-Form Music Video of the Year (Concept)" for "Thank God I Do," said that in light of the conflict in Israel, "our eyes need to be opened to what He might be calling us to."
"We have the hope of eternity and the Good News of the Gospel," she added. "We aren't bringing in messages that tear and divide, we're bringing in messages that remind people of their worth, that remind children they are valuable and belong in society and remind people that they have something that only God can fulfill. We get to tell them that He is the Great I Am. That He is above the times. That He is the source of hope compared to nothing else this world has to offer. There is nothing as great. He is the light of the world. He is the light of men. He is the bread of life."
On Oct. 7, the Palestinian terrorist group Hamas carried out several assaults on Israel, torturing and killing at least 1,400 people, mostly civilians, and wounding thousands of others. The terrorist group has also taken over 200 hostages. In response, Israel launched an aerial bombardment on Gaza. Hamas has claimed that over 5,000 people have been killed since the start of the war and over 15,000 have been injured.
Daigle and Wells were not the only artists to voice their support for Israel at the Dove Awards; Jenn Johnson, who won "Song of the Year" for "Goodness of God," told The Christian Post that she and Bethel Church "stand with Israel."
"We are heartbroken over what's going on over there," she said. 
Chad Gundersen, one of the producers of "The Chosen" told CP he hopes the show, which highlights the life and ministry of Jesus Christ, can provide some "hope" to those suffering. 
"We're a Jewish show. It's that simple. We're not a Christian show yet," he said.
"There aren't Christians yet until Christ has done what He was supposed to do. So right now, we're a Jewish show. And honestly, we just stand with Israel right now. It's that simple. And it's heartbreaking to see what's going on over there."
Worship artist Brandon Lake was the top winner at the 54th annual GMA Dove Awards, snagging the "Artist of the Year" Award, among others.
"There are so many people in this room that I look up to and who gave me permission to write as a young boy. They say imitate before you innovate," Lake said in accepting his Artist of the Year honor. "I have imitated so many of you year after year after year and songs not making it and no one hearing it and then God breathes on a little something. I'm so grateful to be a part of this community."
Tasha Cobbs Leonard, Toby Mac, Blessing Offor and Jeff Pardo each won two awards. Katy Nichole won "New Artist of the Year," while Elevation Worship won "Worship Album of the Year" for "Live From the Loft." 
Cobb Leonard, who closed the night by performing "Burdens Down," won "Gospel Worship Album of the Year" for "Hymns (Live)" and "Traditional Gospel Recorded Song of the Year."
"This album means a lot to me because I'm a church girl; I'm a PK [preacher's kid]," Cobbs Leonard said of Hymns (Live). "One of the ways I learned Scripture was through song. I think we have an amazing opportunity to impact future generations through our lyrics."
Free

Religious Freedom Updates

Join thousands of others to get the FREEDOM POST newsletter for free, sent twice a week from The Christian Post.