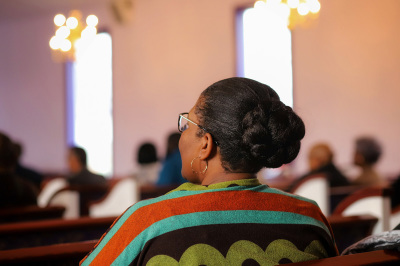 We will have to repent in this generation not merely for the hateful words and actions of the bad people, but for the appalling silence of the good people — Dr. Martin Luther King, Jr.

Israel is at war and the African American Church finds itself silent again. Why?
Over 1,300 innocent civilian Israelis have been murdered. Women, children and the elderly have been violently taken hostage. Israeli babies have been beheaded and burned, all at the hands of Hamas, a terrorist organization.
If any organization or group of people should be decrying the atrocities of these brutal killings from Hamas, it should be the African-American church. If any organization or group of people should be standing with unwavering support for Israel during these difficult days, it should be the African-American church. We are compelled to do so.
Unfortunately, many African American pastors and leaders have a mixed level of apathy and resistance toward Israel as well as empathy for the Palestinian struggle, often making a comparison to the civil rights era. To add, some consider the African-American community to be the most anti-Semitic group in America today. From the historic "Hymi-towns" comments of the Rev. Jesse Jackson to the self-proclaimed "atoned and promised One" of Louis Farrakhan, there is a disdained hatred and un-trust for a people that God Himself commanded the church to love and bless. High profile as they may be, these individuals who express anti-Israel or anti-Semitic attitudes are not speaking for the entire African-American community. That may not be clear to the casual observer because many African Americans are unaware of the intricacies of Israel's struggle for survival.
In his 1968 speech to the Rabbinical Assembly, the Rev. Dr. Martin Luther King, Jr., said "peace for Israel means security, and we must stand with all our might to protect its right to exist, its territorial integrity. I see Israel as one of the great outposts of democracy in the world, and a marvelous example of what can be done, how desert land can be transformed into an oasis of brotherhood and democracy."
Less than two weeks after giving that speech, Dr. King was assassinated. Unfortunately, since Dr. King's passing, some, including the aforementioned high-profile African-American individuals, have embraced anti-Zionism and anti-Semitism. Rather than building upon the strong ties forged between Jews and African Americans during the struggle for civil rights, some African-American leaders have damaged both communities with their demagoguery. This was not Dr. King's dream nor is it mine.
There is a striking parallel between the African-American and Jewish communities. First, both communities have a biblical beginning in and rootedness through the continent of Africa. From the enslavement and selling of Israel through Joseph in Egypt to the enslavement of our ancestors, one could suggest that we were both "slave children from the continent of Africa."
During such oppression and persecution, both communities have embraced religion and spirituality in a search to find meaning in their lives.
Second, both communities have suffered horrendous persecution as a people and nation. Nearly 12 million lives were lost through the horrendous slave trade from Africa to the Americas between the early 1500s to 1800s. There was the killing of Jews during the Holocaust in the 1940s, where 6 million were systematically murdered. We both, as a culture of people, can identify with the pain and plight of a people dislocated, disenfranchised and disheartened.
Third, there are "shared values" between the two great and wealthy communities. It was the Jewish community that supported the African-American community in some of its most challenging times. As a reminder, two out of three non-blacks who marched during the Civil Rights Movement of the 1960s were Jewish. One such was Rabbi Abraham Joshua Heschel, a prominent activist and Jewish leader who marched with Dr. Martin Luther King, Jr. in Selma, Alabama in 1965. Heschel later commented, "When I marched in Selma, my feet were praying." Those three young activists in Mississippi? James Chaney, Andrew Goodman and Michael Schwerner were lynched in Mississippi following their investigation of a church burning … Schwerner and Goodman were Jewish; Chaney was African American.
If there has ever been a day and time when Israel needs prayers and support from the African-American church, now is the time! Within our churches, African Americans are among the country's most religious demographic. We as African Americans go to church in greater numbers than any other racial group. We read our Bible and fervently pray to the God of the Patriarchs — Abraham, Isaac and Jacob.
Over the last 20 years, with the help of Jewish friends and sponsors, I have traveled and taken more than 300 African-American pastors and ministry leaders to the Holy Land. The purpose and objective of many of those trips was to allow these influential African-American pastors and ministry leaders to see for themselves what is taking place in the Middle East and to see that Israel's cause is just. Our faith-based understanding of morality demands that we stand with the Jewish people in their struggle to defend their homeland. We have seen with our own eyes that Israel's leading detractors are so often misleading their audience.
During my trips, our groups have met with African and Arab Israelis and heard their perspectives. In Israel, all citizens, regardless of race or religion, are equal. We reject the patently false and highly offensive charge that Israel is an "Apartheid state." To add, we have studied our Christian history and theology; from Genesis to Revelation. Our Messiah, His apostles, and the prophets are all from the House of Israel. We condemn the efforts of Palestinian propagandists to sever Christianity from its Jewish roots.
Why should the African-American Church not be silent during Israel's war with Palestine? Why should the church pray for and support Israel?
Here are three compelling motives:
Biblically, here is God's promise. "I will make you into a great nation and I will bless you; I will make your name great, and you will be a blessing. I will bless those who bless you, and whoever curses you I will curse; and all peoples on earth will be blessed through you" (Genesis 12:1–3).
"I have set watchmen on your walls, O Jerusalem; They shall never hold their peace, day or night. You who make mention of the LORD, do not keep silent, 7 And give Him no rest till He establishes And till He makes Jerusalem a praise in the earth" (Isaiah 62:6–7).
Morally as Christians, we owe a debt of gratitude to the Jewish people for giving us the patriarchs — Abraham, Isaac and Jacob. The prophets — Elijah, Daniel, Jeremiah and Isaiah, and most importantly, our Jewish Messiah, Jesus the Christ! Scriptures remind us they were pleased to do it, and indeed they owe it to them. For if the Gentiles have shared in the Jews' spiritual blessings, they owe it to the Jews to share with them their material blessings (Romans 15:27 NIV).
In understanding the Middle East conflict, one must realize that Israel is our greatest ally and democracy in the Middle East today. Geographically, Israel is the size of New Jersey and is surrounded on all sides by Muslim states and countries. Any threat or attack against Israel is a threat or attack against us in the United States.
Theologically as the African American church, we are often seen and known as the first line and defenders of the faith against the teaching of false doctrine and apostasy (such as the dangers of Replacement Theology and anti-Semitism) are often associated with the Christian church.
Concerning the Israeli and Palestinian conflict, the continued claim is that Israel is an aggressor occupying Palestinian land and the source of the ongoing conflict. Yet such a superficial claim ignores clear history. The fact is that on five separate occasions — one as recently as 2008 — the Jews and Israelis have offered to split the land of Israel/Palestine with the Palestinians to have two states — one Jewish and one Arab — living side by side in peace. Each time the Arabs have rejected the offer. It is the Arab rejection of a Jewish state anywhere in the Middle East that drives the conflict to the present day.
We of course cannot ignore the plight of the Palestinians — especially our Christian Palestinians. Many of them do suffer in refugee camps in Lebanon, Syria and Egypt, and fail to enjoy equal rights with the citizens of those countries. We cannot, however, blame their suffering on Israel. Instead, we must blame their leaders who rejected — and continue to reject — various offers for peace and independence that would end this conflict. Consider these facts:
All Israeli citizens (both Jewish and Arab), regardless of race, religion or gender, have equal protection under Israeli law.
All Israelis (both Jewish and Arab), enjoy freedom of religion and speech, and have full voting rights. They share meals together in restaurants and travel together on buses, taxis and trains. They work together, study together, and visit each other's homes.
There are Arab-Israeli members of Israel's parliament, an Arab-Israeli member of Israel's Supreme Court, and Arab-Israeli officers in Israel's uniformed services.
When it comes to Palestinians living in the West Bank and Gaza, some argue that they are subject to all manner of oppression and injustice. Some of these claims, such as Palestinian "humiliation" at checkpoints, are mere exaggeration. Others such as forced eviction, and racial segregation are patently untrue.
Israel's former Consul General to the American Southeast – himself an Arab-Israeli  – summed up the situation quite completely: "The freest Arabs in the Middle East reside in the Jewish State of Israel."
To reiterate, it is not Israel who aggressively oppresses the Palestinian people, it is the leaders of the Palestinian people that aggressively oppress the Palestinian people!
Dr. King saw that like African Americans, the children of Israel suffered at the hands of hostile neighbors filled with hate and bigotry. He knew that "Peace for Israel means security and that security must be a reality." Somewhere along the way, too many of our leaders forgot what he preached. May it be resolved and continually reinforced.
Israel has a right to her own ancient land that the God of the Bible gave her and the capital of that God-given land is Jerusalem, the eternal and Holy city of the Jews.
Like any other country, Israel has a right to defend and protect herself from the ongoing threats and attacks from such enemies as Hamas, Hezbollah and the dictators of Iran.
Sixty years ago, the Jewish people stood with us during our hour of need, not because they wanted something in return, but because God and human reason compelled them to do so. Now is the Jewish state's hour of need. Israel is at war. Israel is under assault by terrorists seeking to kill her people, and propagandists seeking to undermine her legitimacy. As African American church leaders, may we take a bold and courageous stand for the Jewish state, not because we want anything in return, but because God and human reason compel us to do so.
Dr. Michael A. Stevens has traveled to Israel more than 20 times in the last severalyears. He has hosted more than 350 pastors and ministry leaders in Israel with effortsof furthering the understanding and appreciation between the African-American andJewish communities.Dr. Stevens is the author of We Too Stand: A Case for the African-American Churchto Support the Jewish State (Frontline Publishing, 2013). Dr. Stevens can be contacted for interviews at 704.201.1941 (mobile) orDrMStevens901@gmail.com. 
Free

Religious Freedom Updates

Join thousands of others to get the FREEDOM POST newsletter for free, sent twice a week from The Christian Post.