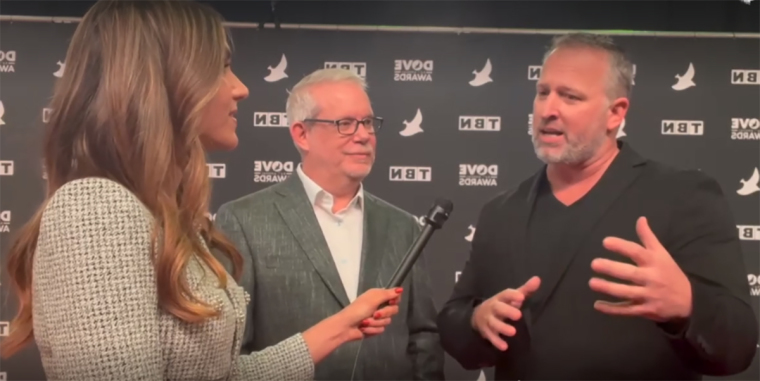 NASHVILLE, Tenn. — The showrunners behind "The Chosen" have voiced their support for Israel after the terrorist group Hamas launched an attack on the Jewish state and said they hope the show, which highlights the life and ministry of Jesus Christ, can provide some "hope" to those suffering. 
"We're a Jewish show. It's that simple. We're not a Christian show yet," Chad Gundersen, one of the producers of "The Chosen" told The Christian Post on the red carpet ahead of the Dove Awards. 
"There aren't Christians yet until Christ has done what He was supposed to do. So right now, we're a Jewish show. And honestly, we just stand with Israel right now. It's that simple. And it's heartbreaking to see what's going on over there."
The devastating and coordinated Oct. 7 attacks by the Palestinian terrorist group Hamas killed some 1,400 people and wounded thousands of others. The terrorist group also took 200 people hostage. After the attacks, Israel launched a series of bombings on Gaza, killing more than 4,000 Palestinians, according to Hamas. 
Gunderson told CP that amid the turmoil, he hopes "The Chosen" "can give a little bit of hope" to those struggling. 
"We pray for Israel and everything going on over there," he said. 
"The Chosen" won "Television Series of the Year," at this year's awards show, a category it won last year as well. 
What began as a pioneering crowd-funded project several years ago has since evolved into a cultural phenomenon with the series being shown on a variety of streaming platforms such as Amazon Prime, Peacock and Netflix, and top ratings domestically on The CW.
Chris Juen, who also produced the series, told CP they view "The Chosen" as a medium to point viewers to The Bible: "For us, this series is a way to tell these stories in a way that more and more people are drawn to them, and then ultimately, drive them back into their Bibles," he said. 
In February, Season 4 of "The Chosen" will be released exclusively in theaters, distributed by Fathom Events. The forthcoming season will be "intense" and "the most sophisticated to date," according to Juen. 
"Season three had the walk on water, the feeding of the 5,000, these really big moments," he said. "This whole season's big. It's our season of royalty. So, new characters, but the story is starting to shift as well. It's going from getting to know Jesus and getting to know the disciples to now, hold on, wait, this is not what they thought was going to happen.
Everybody had what they wanted to happen, and now they're starting to learn, OK, this is different. It's the beginning of the road of some sorrow. Luckily, we know how the story ends, and there's hope at the end of it, but we've got a lot of tough things to get through over these next couple of seasons."
Gunderson added that while previous seasons have featured "dirt buildings, sand grounds and a lot of very different shades of tan," season four will see "a lot of color." He shared some of the exhaustive research that goes into each season to ensure biblical and historical accuracy.
"We do a ton of research," he said. "A couple of years ago, we built a small model of Capernaum … and there was this gentleman just sitting there staring at it, like he was really pondering … he said, 'I don't know who did this, but I am a biblical studies Jerusalem/Israeli historical expert … and this is one of the most accurate portrayals of what it would have looked like.' … We hire a lot of experts; we do a ton of research. These guys put a lot of effort into it."
Reflecting on the show's enduring popularity, Gunderson said viewers of all backgrounds and religious beliefs are drawn to the "authenticity" of the story. 
"Obviously, we do our best just to make a good show. And that's what we hear from a lot of the nonbelievers out there that it's a cool show, with good characters, good writing, good production value and all those types of things. For that alone, we're getting a lot of people.
Within the faith community, we're showing an authentic Jesus," he continued. "We're not showing this disconnected, holier-than-thou Jesus. He is the Son of God, and we portray Him as that. It's not like we ever shy away from the deity of Christ. But at the same time, He laughs and He cries, and he jokes, and He does things that any man would do. Therefore, the disciples are just drawn to Him. And obviously, that draws our audience in."
Free

Religious Freedom Updates

Join thousands of others to get the FREEDOM POST newsletter for free, sent twice a week from The Christian Post.