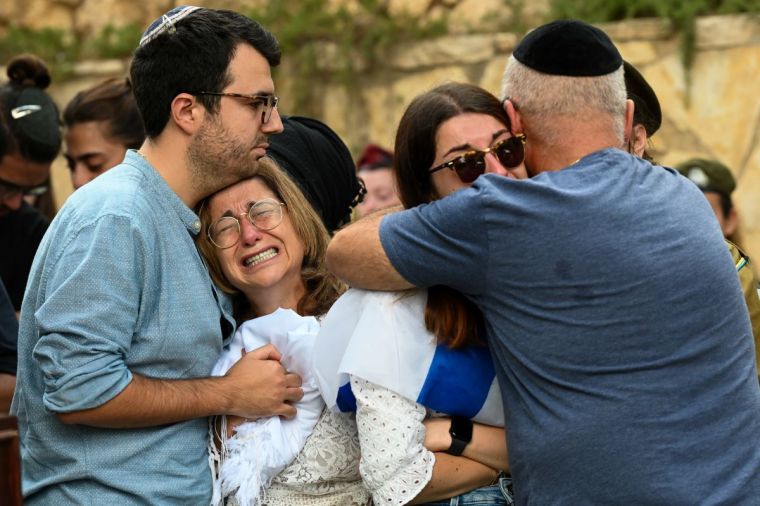 Hamas terrorists subjected civilian women, grandmothers and children to extreme sexual violence, a Rabbinate corps member of the Israel Defense Forces responsible for preparing victims' bodies for burial has told media, calling the acts "worse than the Holocaust."
"We wash the bodies and prepare them for burial. We try to bring them dignity in death," the Rabbinate corps member, a woman named Shari, who did not give her last name to protect her family, told the Daily Mail and other media outlets. "I heard stories about Auschwitz as a child growing up in New Jersey. But what I have seen here with my own eyes is worse than the Holocaust."
The woman, who moved from New Jersey to Israel 20 years ago, said what Hamas did to Israeli civilians is "beyond words."
"There is evidence of mass rape so brutal that they broke their victims' pelvis — women, grandmothers, children," Shari said, adding that it's difficult to break someone's pelvis. 
Shari said she saw "people whose heads have been cut off," and women in their night dresses "woken up and shot." She also witnessed "faces blasted off … heads smashed and their brains spilling out."
She also described a baby "cut out of a pregnant woman and beheaded and then the mother was beheaded."
"Women and children burned to charcoal. Bodies murdered with their hands tied behind their backs."
The Daily Wire said reports also suggest that many of the Hamas terrorists were under the influence of Captagon, a drug linked to heightened aggression and commonly referred to as the "ISIS drug."
The Wire quoted Colonel Rabbi Haim Weisberg as saying there is evidence of "torture and savagery," agreeing with the Rabbinate corps member.
On Oct. 7, Hamas launched attacks in southern Israel, killing over 1,400 civilians, including 30 Americans. Israel has been carrying out retaliatory airstrikes since Hamas' attacks.
Hamas has claimed that over 4,100 people in Gaza have been killed since the airstrikes began, with over 13,000 injured.
As civilians are fleeing airstrikes, the Egypt-Gaza border opened Saturday, allowing 20 trucks of aid into Gaza for the first time since Israel's blockade and airstrikes began two weeks ago, The Associated Press reported.
Aid workers say this is far from enough; 200 trucks with 3,000 tons of aid have been waiting to get in, the newswire said, explaining that Gaza's 2.3 million residents are facing a dire humanitarian situation — half have left their homes, hospitals are low on supplies, and there's a territory-wide power blackout.
Five hospitals have ceased operations due to fuel shortages and bombing damage, according to the Hamas-run Health Ministry, it added.
Free

Religious Freedom Updates

Join thousands of others to get the FREEDOM POST newsletter for free, sent twice a week from The Christian Post.