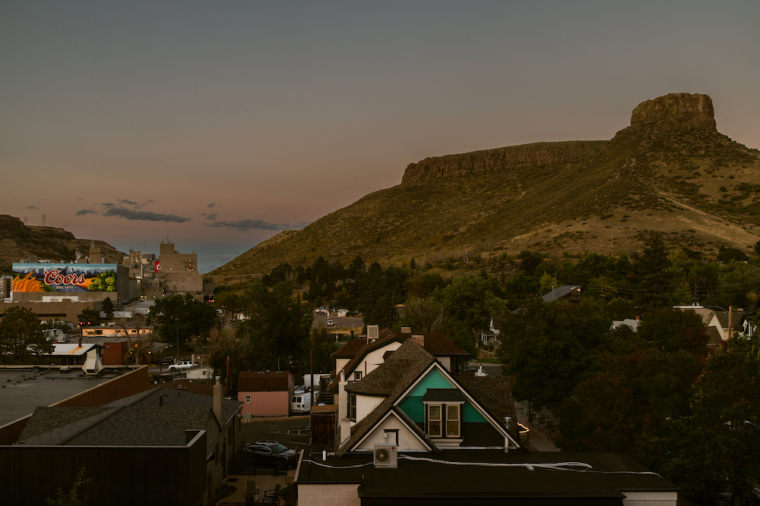 I'm in an old mining town located where Colorado's plains meet the mountains. As the iconic arch that spans Washington Avenue — the main street in all but name — proclaims, this is also "where the West lives."
Golden, with its population of 20,956 souls, has somehow kept its small-town feel despite being just 15 miles from the hustle and bustle of downtown Denver. Of course, that proximity makes it a great weekend destination, as I found out during my visit earlier this month.
Founded in 1859, gold mining put Golden on the map. Literally. Hence its name. For a five-year period during and after the Civil War, this was also Colorado's pre-statehood territorial capital.
I based myself at the Table Mountain Inn.
The hotel, with its adobe-style architecture and authentic Southwestern decor, sure beats a generic chain experience. No wonder it's the place to stay, especially when the Orediggers of the Colorado School of Mines play a home football game.
Do yourself a favor and splurge on a room with a balcony looking toward the North and South Table mountains — the hotel's namesake. Talk about the perfect spot to end a day after dinner in the Santa Fe-inspired Grill & Cantina.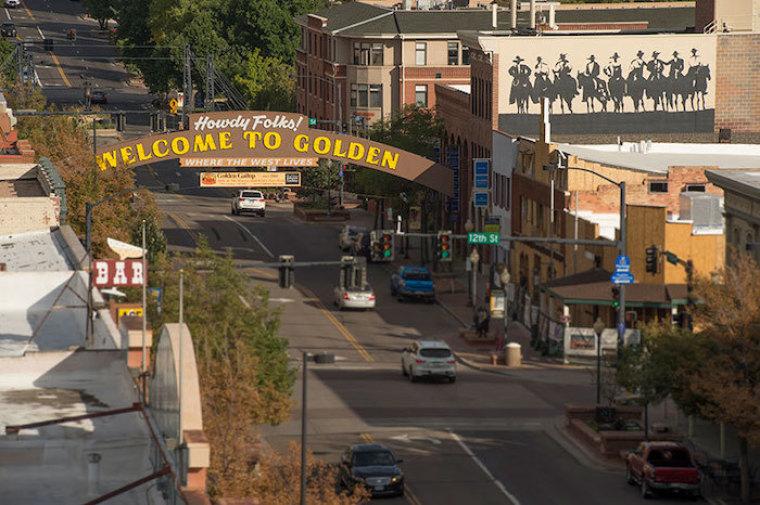 While Golden owes its existence to all things mining, beer long ago surpassed gold.
Dating to a small brewery built in 1873 by Adolph Coors, what eventually became the Coors Brewing Company today operates the world's single-largest brewery here. Even teetotalers will find the 90-minute tour fascinating.
Not far from the hotel at the summit of Lookout Mountain (7,300 feet in elevation) is the grave of William Cody, the legendary Old West showman popularly known as Buffalo Bill.
Somewhat interestingly, the surrounding park is an exclave of Denver. I'm sure the political backstory on how that happened must be fascinating. You may or may not want to visit the museum and gift shop, which admittedly have that kitsch tourist trap vibe.
If you go
Golden has several other museums besides the Buffalo Bill Museum. For those wanting to do a museum crawl, the Bradford Washburn American Mountaineering Museum, Colorado Railroad Museum, Colorado School of Mines Geology Museum and Golden History Museum are worth visiting.
Tours of the Coors brewery are offered by reservation Thursday to Sunday. Tickets cost $20 for adults.
Denver International Airport is 31 miles away. While a rental car isn't necessary, doing and seeing things beyond the immediate vicinity of town will require a ride of some kind.
Dennis Lennox writes a travel column for The Christian Post.
Dennis Lennox writes about travel, politics and religious affairs. He has been published in the Financial Times, Independent, The Detroit News, Toronto Sun and other publications. Follow @dennislennox on Twitter.
Free

Religious Freedom Updates

Join thousands of others to get the FREEDOM POST newsletter for free, sent twice a week from The Christian Post.