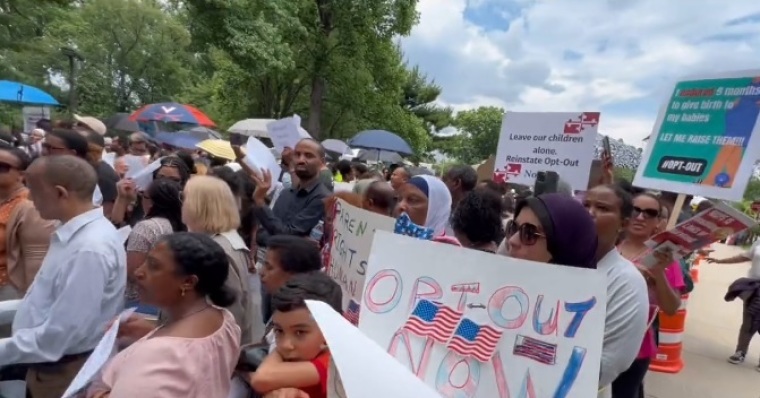 A federal court has ruled that a group of interfaith parents have no proof that a school district violated their right to free expression by removing an option to opt their students out of lessons teaching LGBT ideology that conflicts with their religious values.
Parents from Muslim, Christian and Jewish backgrounds sued to restore their right to shield their children from content deemed offensive and pushing sexual indoctrination after the Montgomery County Public Schools (MCPS) enacted a no-opt-out policy. Books that the parents object to for pre-K through fifth grades as part of an LGBT curriculum include Pride Puppy and Uncle Bob's Wedding.
Parents who protested these materials said they were not seeking to ban the LGBT books. Instead, they wanted to have the right to decide whether or not to allow their children to be exposed to such content. 
On Thursday, U.S. District Judge Deborah Boardman rejected the parents' motion for a preliminary injunction to restore the opt-out option as the court case continues. The judge argued that the parents "have not shown that [the school district's] use of the storybooks crosses the line from permissible influence to potentially impermissible indoctrination."
"The evidence suggests that, generally, MCPS teachers will occasionally read one of the handful of books, lead discussions and ask questions about the characters, and respond to questions and comments in ways that encourage tolerance for different views and lifestyles," the judge wrote. "That is not indoctrination." 
In a statement shared with The Christian Post, Becket, a nonprofit law firm that filed a federal lawsuit on the parents' behalf in May, said the parents plan to ask a federal appeals court to protect their parental rights and religious freedom. 
"Parents know and love their children best; that's why all kids deserve to have their parents help them understand issues like gender identity and sexuality," Eric Baxter, vice president and senior counsel for the Becket, told CP. "The school board's decision to cut parents out of these discussions flies in the face of parental freedom, childhood innocence, and basic human decency." 
"The court's decision is an assault on children's right to be guided by their parents on complex and sensitive issues regarding human sexuality," he continued. "The School Board should let kids be kids and let parents decide how and when to best educate their own children consistent with their religious beliefs."
While the Council on American-Islamic Relations (CAIR) was not involved in the litigation, the group provided evidence, including a memorandum from elementary school principals voicing objections to the school district's position. 
CAIR's Maryland Director, Zainab Chaudry, said in a Thursday statement provided to CP that the organization's campaign to protect the rights of parents and children in the district remains "undeterred." Chaudry stressed that the group will continue advocating on behalf of parents who do not want their children exposed to topics typically reserved for sex education courses and that conflict with their faith. 
"Until the opt-out option is restored, we plan to pursue every available legal means on behalf of families to protect their rights, including but not limited to new targeted legal action, continued interfaith rallies and the release of additional internal MCPS documents," Chaudry stated.
In response to an inquiry from CP, MCPS directed the outlet to a press release it issued Thursday reacting to the ruling, affirming its commitment to "cultivating an inclusive and welcoming learning environment" for all students and families.
"We also will continue to adhere to our responsibility to include instructional materials that reflect the diversity of the local and global community by exploring the aspirations, issues, and achievements of women and men, people with disabilities, people from diverse racial, ethnic, religious and cultural backgrounds, as well as those of diverse gender identity, gender expression, and sexual orientation," the statement declared. 
According to the judge's ruling, the school decided to introduce the no-opt-out policy in March following a meeting with a small group of principals, with the school board feeling that the growing number of opt-out requests disrupted the classroom environment. 
The school board members claimed they were concerned about the high number of student absenteeism and the perceived impracticality of managing a large number of opt-outs. In addition, the school board purportedly believed that allowing students to opt out would expose other students and families to "social stigma" if they felt the LGBT-themed books represented their lifestyle. 
In an interview earlier this month with CP, Baxter explained that Maryland law requires schools to allow parents to opt their children out of lessons on family life and human sexuality if they feel the material is inappropriate. The school, however, argued that the requirement applies to health classes only. 
"The law says any family life and human sexuality objectives," Baxter said. "And there's no question that the objective is to promote a specific ideology of gender and sexuality." 
Free

Religious Freedom Updates

Join thousands of others to get the FREEDOM POST newsletter for free, sent twice a week from The Christian Post.