'God has given us free will to do the right thing,' veteran tells school board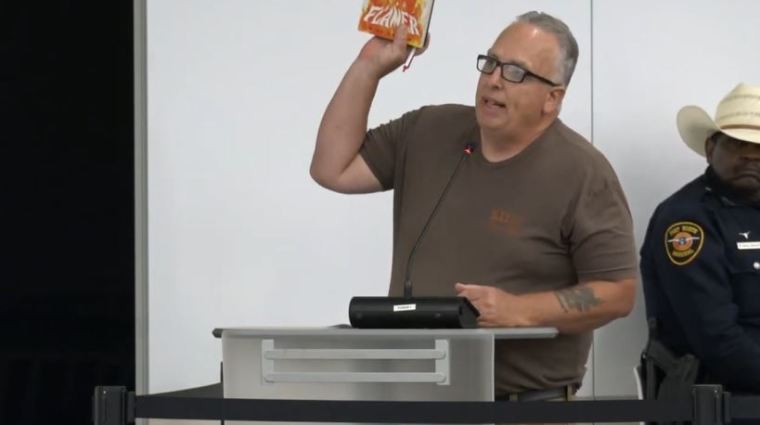 A self-described disabled veteran was forcibly removed from a North Texas school board meeting after he began reading from a book about "homosexuality and satanism" that was recently removed from the school district's library.
During the public comment portion of the Aug. 22 Fort Worth ISD board meeting, a man who identified as Mike Cee began to read from the book Flamer, a graphic novel by Mike Curato with references to oral sex and masturbation, which the American Library Associated named as one of the "most challenged books of 2022."
As Cee approached the podium, he referenced God and Satan and called on those present to "do the right thing." 
"Some in this room may or may not know this. Satan rules the world. Satan speaks through some of you," he said. "It could be some of these board members; it could be some of the audience. God has given us free will to do the right thing."
He then began reading from Flamer — which, he added, "has to do with homosexuality and satanism" — as a board member warned him that he would not be allowed to read the book if it was "vulgar."
"On page one, it says, 'OK, who wants my hot wiener, oh yeah baby,'" Cee read as a board member pounded his gavel. "We're talking about a hot dog here. Page two … "
His microphone was then cut off as law enforcement officers approached the lectern and escorted Cee out of the room as a member of the audience shouted, "Don't touch him. He didn't break the law!"
A video from the meeting showed police taking Cee into an adjacent room, where he told officers, "This book is in the school system and you are defending it!"
Bystanders are heard in the clip telling officers, "Don't touch him! You don't have the authority to!" as one of the officers attempted to grab Cee around his waist.
Cee is heard shouting at the officer, "I am a disabled veteran, stop pushing me!" and "Get your hands off me!"
Police then escorted Cee out of the Fort Worth ISD building.
Oh great. Schools back in session and now we have more school board tyranny on display! Man forced out for reading from a book which was in the library. So much for free speech! Great for kids, but too obscene to speak out against at Fort Worth ISD board meeting? pic.twitter.com/TsAl3iaC6Z

— Kristi Leigh (@KristiLeighTV) August 23, 2023
A Fort Worth ISD spokesperson told The Christian Post that the district "is committed to fostering a respectful and inclusive environment, where all community members can voice their opinions and concerns in accordance with Board Policy."
The district's statement read in part: "During our last meeting, an individual was escorted out after failing to comply with repeated warnings from the Board president and legal counsel. We deeply value open dialogue. We invite everyone to share their perspectives while upholding decorum. The Board is receptive to public commentary and kindly asks all speakers to respect each other and Board Policy."
Fort Worth ISD is also "proactive" in working to comply with House Bill 900 before it goes into effect Sept. 1 and "has always conducted inventories periodically," according to the spokesperson.
HB900 requires books available in public schools and other public libraries to be rated and, if necessary, removed to guard against exposing children to obscene content.
Flamer, which was among a trio of books featuring explicit content that were uncovered by parents and independent journalists this summer in Fort Worth schools, is about a young teen named Aiden who "realized that he might be gay during a stay at summer camp — even as he struggles with the difficult reality of what that might mean."
Upon the book's release in 2020, Curato wrote, "… We are not sinners for being gay. We sin when we believe the lies that are perpetuated against us. We sin when we apologize for being here. 
"I sinned when I didn't want to give myself a chance because I didn't think I was worth anything. This story is my penance and my redemption."
The book was reportedly among three books removed from the district's libraries this summer ahead of the new school year.
Earlier this month, another book that depicts masturbation, pedophilia and anti-Christian ideology was found in two Texas school district libraries, including Fort Worth ISD.
The bookBlankets, a graphic novel by Craig Thompson, includes full frontal nudity of children and teenagers, sexual abuse, apparent depictions of pedophilia, and disparaging comments about Christianity.
Free

Religious Freedom Updates

Join thousands of others to get the FREEDOM POST newsletter for free, sent twice a week from The Christian Post.