Media outlets slam working class country anthem as 'right-wing'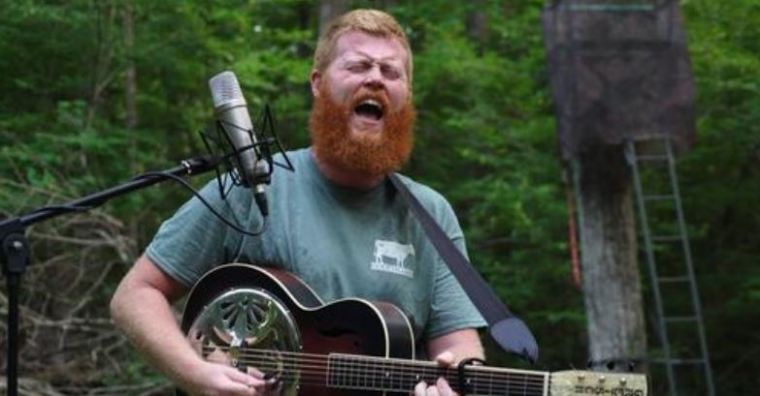 A Virginia singer-songwriter who became an overnight sensation for his country anthem "Rich Men North of Richmond" read a passage from the Bible about the fate of the wicked in his first performance since his video went viral.
Oliver Anthony hit the top spot on iTunes with "Rich Men," an emotional ballad about the struggles of the working class and a general disillusionment with  American life.
The expletive-laced song — whose title is an apparent reference to the political ruling class in Washington, D.C., about 100 miles north of Richmond, Virginia — has topped more than 11 million views on YouTube and rose to the No. 1 spot on the iTunes country chart since its debut.
The lyrics for "Rich Men" take aim at Washington bureaucrats and government largess as the nation struggles with both soaring obesity and homelessness: "I've been sellin' my soul, workin' all day/ Overtime hours for b— pay/ So I can sit out here and waste my life away/ Drag back home and drown my troubles away…
"These rich men north of Richmond/ Lord knows they all just wanna have total control/ Wanna know what you think, wanna know what you do/ And they don't think you know, but I know that you do/ 'Cause your dollar ain't s— and it's taxed to no end/ 'Cause of rich men north of Richmond…
"Lord, we got folks in the street, ain't got nothin' to eat/ And the obese milkin' welfare/ Well, God, if you're 5-foot-3 and you're 300 pounds/ Taxes ought not to pay for your bags of fudge rounds."
Following the song's overnight success, Anthony played a show at Morris Farm Market in Currituck, North Carolina, but not before sharing Scripture with the crowd, which he acknowledged was easily his largest turnout to date.
"It's crazy to me because I remember back in June I played here for like 20 people," Anthony is heard saying in a video from the event. "That's the beautiful part of this country though, is even an idiot like me can make something out of himself. 
"If I can do it, you can do it."
Saying he was "compelled to share" Psalms 37, Anthony chose specifically to read verses 12 through 20: "The wicked plot against the righteous and gnash their teeth at them. But the Lord laughs at the wicked for he knows their day is coming. The wicked draw the sword and bend the bow to bring down the poor and needy, to slay those whose ways are upright."
JUST IN: Oliver Anthony shares a verse from the Bible in his first public appearance since going viral for his 'Rich Men North of Richmond' song.

"Before we start singing, and I mean we, 'cause I hope y'all are gonna be singing too. I just had something I felt compelled to share… pic.twitter.com/zqJb7tDkvc

— Collin Rugg (@CollinRugg) August 13, 2023
"But their swords will pierce their own hearts, and their bows will be broken. Better the little that have righteousness than the wealth of many wicked. For the power of the wicked will be broken, but the Lord upholds the righteous. 
"The blameless spend their days under the Lord's care, and their inheritance will endure forever. In times of disaster, they will not wither, and in days of famine, they will have plenty. But the wicked will perish," said Anthony.
Anthony did not respond to a request for comment from The Christian Post as of Tuesday evening.
While "Rich Men" has launched Anthony's music career, several mainstream media commentators took exception to the song's apparent reference to disgraced financier and child trafficker Jeffrey Epstein with the song's lyrics, "I wish politicians would look out for miners/ And not just minors on an island somewhere…"
Rolling Stone — which just last month dismissed the box-office hit "Sound of Freedom" as a "superhero movie for dads with brainworms" — called Anthony's reference to Epstein Island a "head-turner" and key to the song's appeal to "right-wing influencers." 
The New York Daily News pointed to Anthony's statements in another YouTube video about human trafficking, which the Daily News said "has often been found at the center of many right-wing conspiracy theories."
NBC News, meanwhile, said the song was an anthem for "conservatives and far-right pundits," while the Seattle Times opined that "Rich Men" was "taking the right-wing spotlight away" from another country song that rose to the top of the charts this summer, Jason Aldean's "Try That in a Small Town."
Free

Religious Freedom Updates

Join thousands of others to get the FREEDOM POST newsletter for free, sent twice a week from The Christian Post.