Evangelical activist discusses his 25-year friendship with new House speaker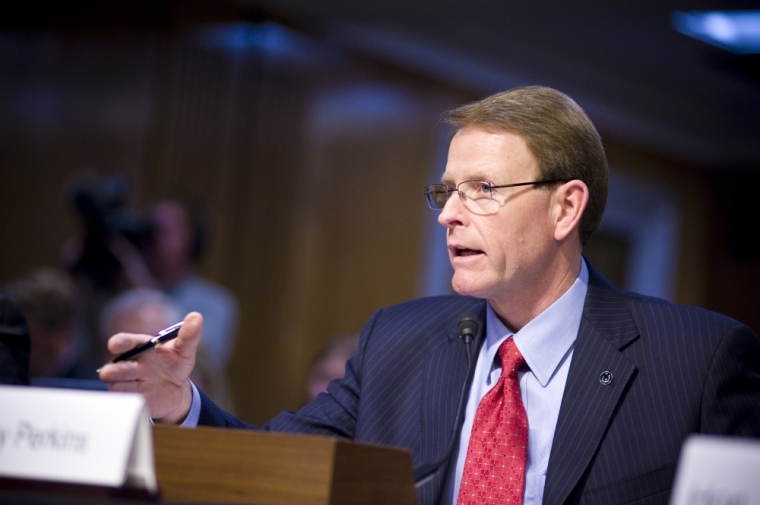 Tony Perkins, the head of the national Evangelical grassroots organization Family Research Council, was happy after his longtime friend and fellow Louisiana Baptist Mike Johnson was elected speaker of the U.S. House of Representatives last week. 
In an interview with The Christian Post, Perkins discussed how his relationship with Johnson began and how Johnson's unlikely rise to power emerged after prayer. 
House Republicans unanimously elected Johnson, who has represented Louisiana in the House since 2016, as speaker last Wednesday following three weeks of political gridlock following the ouster of Rep. Kevin McCarthy, R-Calif.
"There was a need for leadership, and Mike and I had been talking about that and just praying through it and felt like the opportunity was going to come where a leader like him could step forward, and that did, in fact, occur," Perkins told CP. 
Perkins, 60, said his relationship with Johnson, 51, goes back about 25 years. The two first met while Johnson was still a law student at Louisiana State University. According to Perkins, a Republican who served in the Louisiana House of Representatives from 1996 until 2004, he and Johnson have "worked on a number of issues and have had a personal relationship since then."
Johnson, who told Fox News host Sean Hannity last week that anyone wanting to understand his worldview on social issues should go "pick up a Bible," is largely in line with FRC's social conservative political stances, Perkins said.
"His views are no surprise, it's what is outlined in Scripture," Perkins said, adding that both FRC and Johnson have publicly proclaimed that they believe what the Bible teaches.
"I am a Bible-believing Christian," Johnson said last Thursday. "Someone asked me today in the media, they said, … 'People are curious. What does Mike Johnson think about any issue under the sun?' I said, 'Well, go pick up a Bible off your shelf and read it' — that's my worldview. That's what I believe, and so I make no apologies for it."
"It's not a secret what the Bible says about these issues," Perkins said. "[FRC] believes the Bible, and we realize we live in a society where not everyone shares that. So our mission is to teach, educate, encourage, and bring people along to understanding what is best for all of society."
As some media outlets have put Johnson's faith and policy positions under the microscope of scrutiny, Perkins anticipates that Johnson will continue to be attacked because of his religious beliefs. Perkins claims the attacks already leveled against Johnson are "almost humorous."
"When Mike and his wife, Kelly, got married, they got a covenant marriage," Perkins said, referencing the form of marriage in Louisiana, Arizona and Arkansas that requires premarital counseling and makes divorce more difficult.
"And the whole thing was designed to strengthen marriage because we know that society does better when there are stronger marriages. And for him to be attacked over that, if it weren't so sad, it would be laughable that we attack someone for having a commitment to an institution that is so foundational to society."
Perkins, who served as the chair of the U.S. Commission on International Religious Freedom (USCIRF) from 2019 to 2020, echoed FRC Special Advisor for Religious Freedom Andrew Brunson, an American missionary who was imprisoned in Turkey for two years on false charges.
Since his return to the U.S. in 2018, Brunson has been urging American Christians to prepare for the persecution he sees gathering on the horizon.
"We've seen it abroad, but it's now here, this growing hostility to biblical faith, and this is why I think we see this attack on Mike Johnson," Perkins said. "It's not a matter of preference, it's not his opinion, it's what the Scripture says."
Perkins said FRC has made religious freedom a priority because the prevailing culture has separated love for Jesus and obedience to His commands.
"This is what I've been telling pastors for years is this is why we need to get engaged in the process," he said. "We're not saved by government. We're saved by grace through faith in Jesus Christ alone. But we have to create this space for that message to go out."
"And so we have to engage in the process of electing men and women who will protect those fundamental constitutional rights, and there's not anyone I know that has fought in each arena more aggressively to do that than Mike Johnson," he added.
Free

Religious Freedom Updates

Join thousands of others to get the FREEDOM POST newsletter for free, sent twice a week from The Christian Post.