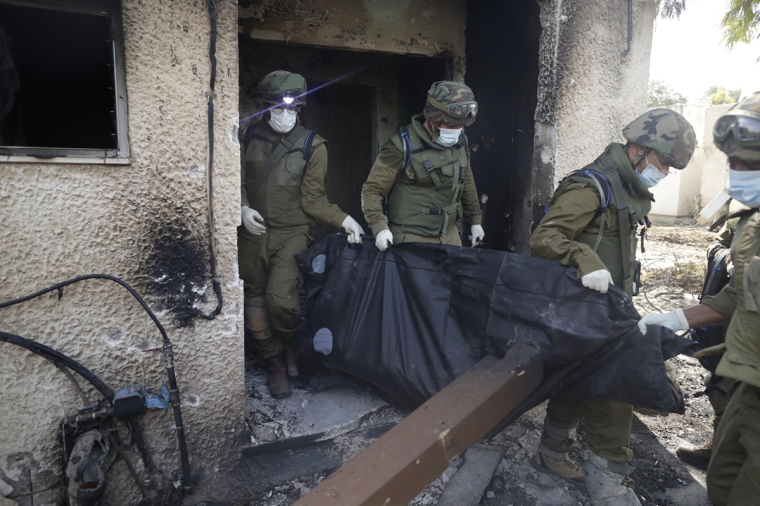 Several Hamas terrorists captured after the group's Oct. 7 invasion confessed during their respective interrogations that they were ordered to slaughter everyone, and one terrorist said he received permission to rape a girl's corpse. 
The terrorist group's assault earlier this month resulted in the deaths of more than 1,400 civilians, including Americans and other foreigners, and the abduction of around 230 people during one of the deadliest attacks in Israel's history. 
According to The Times of Israel, Israeli security agencies released footage of the interrogations of seven Hamas terrorists. In one of the videos, a Hamas militant captured during an assault on Kibbutz Alumim said their orders were to enter each home and kill everyone, including the women and children. 
"Hamas ordered us to crush their heads and cut them off [and] to cut their legs," he said. 
The same man also said that permission was granted to defile a young girl's corpse.
Another video released by the Shin Bet and the Israel Police contained six excerpts from interrogations of Hamas' Nukhba forces responsible for the massacre of Israelis. As The Jerusalem Post reported on Oct.15, Israeli Air Force fighter jets successfully targeted and killed Bilal al Qadr, a senior Hamas commander for the Nukhba special forces.
In the interrogation video of the Hamas militants, one of the terrorists said that for the men who brought a hostage back to Gaza, each would receive $10,000 and an apartment as a reward. Another man said that their orders were to kidnap women, children, and the elderly and kill young men. 
Yet another revealed that he and others torched two homes, while another stated that he shot a dog that approached him outside a house. According to the terrorists, while operatives carried out the assault against Israel, senior Hamas commanders remained behind in hideout apartments.
"The security forces of the State of Israel will settle accounts with all the terrorists who participated in the October 7 massacre," the Shin Bet and Israeli police said in a statement. 
As The Times of Israel reported, the Israeli government showed around 43 minutes of footage of Hamas' assault against Israel for 200 members of the foreign press. The government decided to share the footage to dispel "a Holocaust-denial-like phenomenon happening in real-time." 
The screening took place on a closed military base, and journalists were not permitted to record the footage gathered from Hamas terrorists' body cameras, social media and other sources. 
One set of videos showed Hamas terrorists dressed in IDF uniforms, stopping cars and shooting the passengers inside. The terrorists were seen dragging dead bodies out of vehicles and stealing their belongings, which sometimes included their cars. 
Another video showed a terrorist attempting to decapitate a man writhing on the ground, while another showed first responders pouring water over smoldering bodies. 
In addition to murder and kidnapping, Hamas terrorists subjected women, grandmothers and children to extreme sexual violence. 
A Rabbinate Corps Member of the IDF, Shari, told The Daily Mail and other media outlets earlier this month that they've been washing the victims' bodies and preparing them for burial. Shari said that what she had seen was "worse than the Holocaust."
"There is evidence of mass rape so brutal that they broke their victims' pelvis — women, grandmothers, children," Shari said, adding that she also saw "people whose heads have been cut off," and women in their night dresses "woken up and shot." 
In some cases, people had their faces "blasted off," or their brains spilled out after having their heads smashed in by a terrorist, according to Shari. The Rabbinate Corps Member said that she also saw a baby "cut out of a pregnant woman and beheaded and then the mother was beheaded."
"We wash the bodies and prepare them for burial. We try to bring them dignity in death," Shari said about her work.
Free

Religious Freedom Updates

Join thousands of others to get the FREEDOM POST newsletter for free, sent twice a week from The Christian Post.