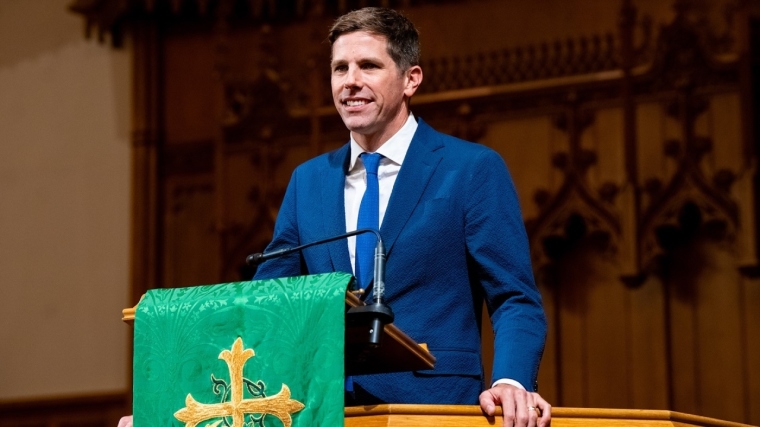 Members of Highland Park Presbyterian Church in Dallas are grieving the unexpected loss of their pastor, Bryan Dunagan, who died in his sleep of natural causes Thursday. 
Dunagan, 44, who served as senior pastor of the 5,500-member Highland Park Presbyterian Church in Dallas since he was 34, passed away in his sleep from natural causes during the early morning hours, the church announced in a Facebook post.
"This news has left us shaken to our core, and we are struggling to come to terms with this profound loss," the statement said, which was signed by Executive Pastor Jay Lee.
"When we don't know what to do, we are taught to turn to God and pray," Lee continued, adding, "We're lifting up the Dunagan family, our congregation, our Family of Churches, our staff, and our entire community inside and outside of our church walls."
The church conducted a vigil in its sanctuary on Thursday from 12 p.m. to 7 p.m. in memory of Dunagan, who leaves behind his wife, Ali, and their three children. A guided prayer service also took place at the church on Friday morning, Lee added.
"Words cannot capture the depth of our emotions this morning. We extend our gratitude to each of you for your steadfast care, your unwavering leadership in our church's mission, and your love for Bryan," Lee wrote.
"Dunagan was a gifted communicator and a humble servant leader, leaving behind a legacy of sharing the love of Christ throughout his life and ministry," the church also said. "His passion was transforming lives and pointing people of all generations to find and follow Jesus. His focus on spreading the gospel, discipleship, prayer, and planting community churches (Peak Street Church, Grace Church Lake Highlands, and Good Shepherd Oak Cliff) has impacted thousands of lives today and will impact tens of thousands more for generations to come."
The church also posted a 2021 quote from Dunagan, who said, "Sometimes when there aren't words to say, when there aren't answers, or cliches, or verses to quote, sometimes the only comfort we have is to share in our sufferings."
"It's the only way to hold onto that fragile sense of hope, that God is with us in the suffering," the quote continued. "That day came when God put on flesh and entered this world, in his suffering he became our comforter, our deliverer."
Before coming to Highland Park Presbyterian Church, Dunagan served nine years as a teaching pastor at Peachtree Presbyterian Church in Atlanta. He also ministered to congregations in California, Washington state and Houston.
Dunagan received a bachelor's degree in political science from Stanford University and a Master of Divinity degree from Regent College. He earned a doctor of ministry degree from Fuller Theological Seminary.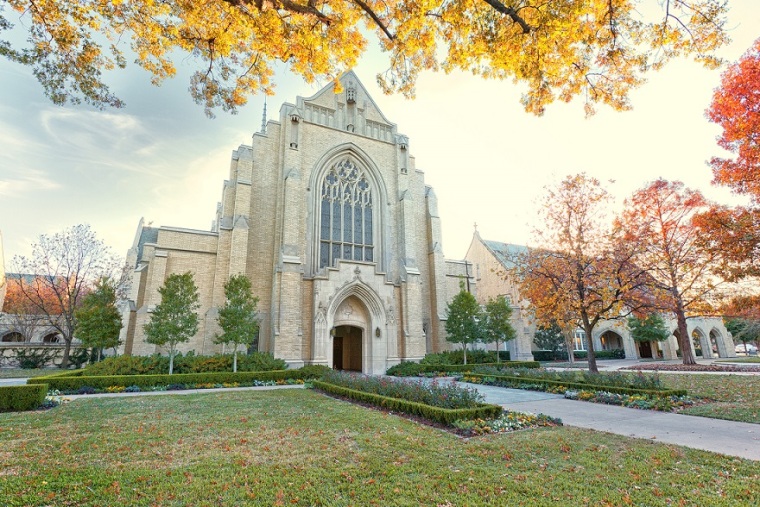 The congregation of Highland Park Presbyterian Church voted in 2013 to disaffiliate from the mainline Presbyterian Church (USA) to join A Covenant Order of Evangelical Presbyterians (ECO). The church had to pay $7.8 million to secure its historic property from the progressive denomination.
In 2014, when the church voted to terminate its affiliation with the PCUSA over theological differences, members also selected Dunagan as their new pastor. 
At the time, Dunagan, a native Texan, stated that he was "humbled and grateful" to receive the position.
"I look forward to becoming part of ECO. Through my involvement in The Fellowship of Presbyterians, I have already developed relationships within this new denomination," wrote Dunagan. "I know HPPC will be called to provide leadership in this movement of churches, and I am grateful for the renewed focus to pursue the mission that God has for the church."
Free

Religious Freedom Updates

Join thousands of others to get the FREEDOM POST newsletter for free, sent twice a week from The Christian Post.