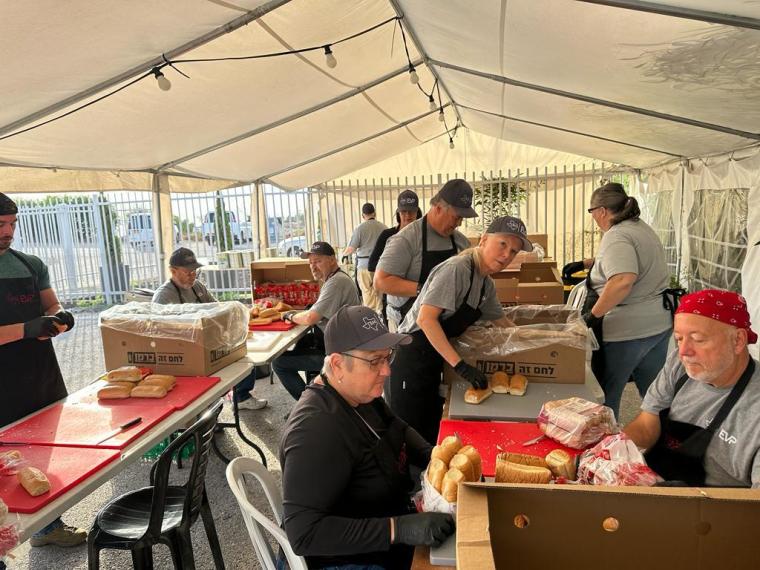 Within 48 hours of Hamas rockets exploding in Israel, volunteers from Texas Baptist Men were preparing over 2,000 meals a day for war victims in Israel and continue to provide thousands of meals a day throughout the conflict. 
Volunteers are providing meals to people who have lost their homes to the rockets or have seen their neighborhoods destroyed by them. TBM also is feeding hospital staff as well as first responders.
"The meals are being distributed by volunteers who are going into hot spots where there are displaced people," said Gary Finley, who leads TBM volunteers in Israel. "Those are areas where homes have been damaged or destroyed and are prone to missile attacks. No TBM volunteers are placed in harm's way."
Finley described the situation as "very fluid," and the team is prepared to move to another location where they can continue serving displaced citizens, particularly if the violence escalates.
"We're playing it by ear," he said. "Pray for whatever God has in store. Pray for patience because we don't know from one day to the next what that day will bring."
The volunteers are putting their faith into action, said TBM Executive Director and CEO Mickey Lenamon. 
"Christ calls each of us to help the hurting," he said. "A lot of people are hurting in Israel and surrounding areas. God cares deeply about them and is sending us to minister in His name. In very difficult times, TBM volunteers are shining the light of Christ brightly."
John-Travis Smith, TBM associate executive director who coordinates Israel relief, said: "We have trained in Israel for years to deploy like this. In the middle of all that's happening, TBM is delivering help, hope and healing."
TBM volunteers are working alongside an Israeli partner in a secure location. The volunteers are rotating in and out of Israel, with 20 in place on Oct. 24 and another team slated to head there in early November.
In addition to the mass-feeding volunteers, TBM provided $150,000 to transport medical professionals from the United States to help treat people affected by the war.
TBM began its Israeli partnership in 2018 to provide mass feeding after crises in Israel.
"The country was and still is overdue for a monumental earthquake, and it had no infrastructure or knowledge for feeding thousands of people at a time," Lenamon said.
"The initial conversation spurred multiple training sessions in Texas and in Israel. In fact, we've had monthly training trips to Israel for the past two years. We learned from each other and built facilities and mobile kitchens. We became family."
That family-like relationship made TBM's quick response possible. Hamas attacked Israel on Oct. 7. TBM volunteers caught a plane on Oct. 8 and arrived in Israel on Oct. 9. The next day, Oct. 10, they prepared about 2,000 meals. And before the American volunteers arrived, Israelis used the equipment provided by TBM to serve food to Palestinians and Israelis in southern Israel immediately after the attacks.
"So many people are suffering as a result of the violence in Israel," Smith said. "TBM is helping the people in any way we can."
Many of the TBM volunteers are from Texas, but the organization is also sending people from other states, as well as Hungarian Baptist Aid.
"Our volunteers are stepping up to serve," Smith said. "They're meeting the needs of people who have been impacted by the war. Many of these people have lost their homes. Their neighborhoods have been hit hard. TBM volunteers are reaching out with the compassion of Christ to Southern Israel during these difficult times."
Texas Baptist Men empowers Christians to take on the biggest challenges around the globe. Since 1967, TBM volunteers have delivered help, hope and healing to millions of hurting people and raising up the next generation to do likewise. TBM has helped start and train disaster relief groups in all 50 states, giving birth to the third-largest disaster relief network in the nation.
Free

Religious Freedom Updates

Join thousands of others to get the FREEDOM POST newsletter for free, sent twice a week from The Christian Post.