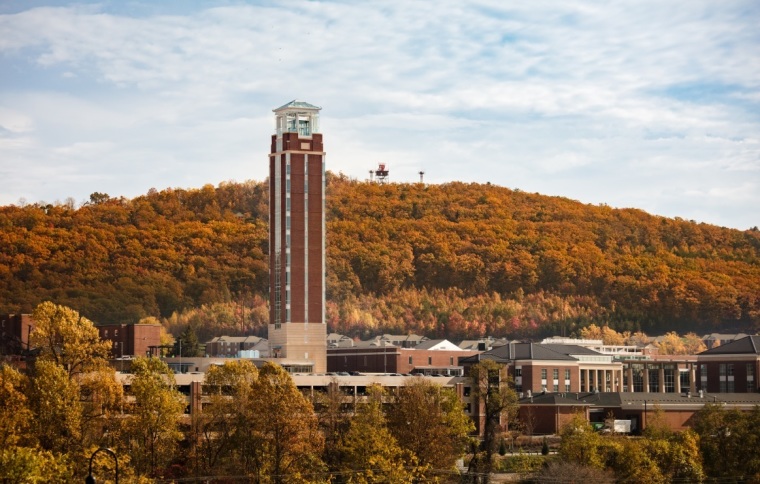 Two rape survivors who rejected settlement offers from Liberty University after suing the Evangelical Christian institution for allegedly mishandling their sexual assault allegations are calling on the Southern Association of Colleges and Schools Commission on Colleges to place the school on probation over alleged Clery Act violations.
The plaintiffs, Sarah Mays and Helen Wood, made the call earlier this month through their nonprofit No Change Until and are seeking support for their push for reform at the Virginia-based institution founded by Jerry Falwell Sr. in a change.org petition.
"Liberty University's Board of Trustees has demonstrated for more than 20 years their deliberate indifference; based on recent reports in court filings, the board members seem more concerned with their individual personal financial interests than they are with providing appropriate oversight to Liberty University," an eight-page open letter to the SACSCOC included with the petition reads.
"The long history of non-compliance, the report by the Department of Education's Clery Group identifying hundreds of violations in a short period, the finding that Liberty University lacks institutional ability to administer campus safety, and statements during an August interview with ABC News by President Costin, illuminate the fact that Liberty University is unwilling or unable to correct this problem without external pressure." 
Mays and Wood are hoping for a more comprehensive Title IX program review by the U.S. Department of Education and asking the "accreditation agencies to review Liberty University's status considering this new evidence."
The petition follows the publication of a leaked report from the U.S. Department of Education alleging numerous violations of the Clery Act, a consumer protection law passed in 1990 requiring colleges and universities to report campus crime data, support victims of violence and outline policies enacted to improve campus safety.
In the preliminary review of Liberty University's compliance with the Clery Act between 2016 and 2022, copies of which were obtained by both USA Today and The Washington Post, government officials alleged that Liberty University destroyed evidence after their inquiry began in the spring of 2022.
The report also accuses Liberty officials of failing to warn the community about gas leaks, bomb threats and individuals who have been credibly accused of repeated acts of sexual violence including a former president who was accused of rape.
Several members of the university's board of trustees were accused of self-dealing.
"Based on what we have found about the conduct of Liberty University's Board of Trustees, particularly regarding the Executive Board Members' financial dealings and cliché governing body — we believe Liberty University's Board of Trustees is not complying with the principles of SACSCOC accreditation," the rape survivors argue.
Liberty University has a $1.4 billion annual operating budget and reportedly receives more than $900,000,000 annually in Federal Student Aid, the open letter states. 
"We suggest that if Liberty University were operating with integrity in all matters, the Department of Education would not have been able to cite hundreds of violations in a single narrowly focused program review."
According to the letter, Mays was gang raped by five men 22 years ago in a parking lot that Liberty University owns. She contends that the university's treatment of her was "reprehensible by Western standards and unrecognizable through the lens of Liberty University's stated mission."
"The university and community seemed primarily concerned with their reputation and not student safety or the well-being of a rape survivor," the letter states. 
Wood, who was noted as Jane Doe No. 20 in an initial lawsuit against Liberty University by more than a dozen survivors, "was raped by a serial rapist" 14 years after Mays' assault, the letter said.
"The rapist was known to Liberty University as a repeat offender. She was similarly treated with deliberate indifference and the same callous disregard for the safety of young women attending Liberty University in both cases," the letter continues. "Liberty University did not even keep records! Liberty University did not conduct an investigation, which may have prevented sexual crime from being committed."
Liberty University did not respond to a request for comment from The Christian Post, but in an interview with Fox News, Liberty University President Dondi E. Costin disclosed that the school had been threatened with an "unprecedented" $37.5 million fine by the U.S. Department of Education for its alleged Clery Act violations. He further alleged that the report was leaked to lay the groundwork for the fine.
"The leak is intentionally aimed at laying the groundwork for an unprecedented fine and the report is filled with factual errors that the department has admitted to Liberty in their negotiations," Costin said.
He argued that the leaked report is primarily "based on purely anecdotal information" and was released to "poison the well" and influence the outcome of ongoing negotiations with the Education Department.
"The most damaging element of this whole process is the fact that for the first time that any of us are aware, the Department of Education leaked a preliminary report while we are in the process of negotiating with the department about all the advancements that we've made. And so that's the biggest issue," Costin said.
"They are making claims about our intentions. They're claiming that we acted in bad faith. I think there are a number of factual errors in the report. For instance, they are assuming that individuals who are making these claims are accurate and honest and transparent without exception, when in fact, much of the assertions that they've made are based on purely anecdotal information."
Reacting to Costin's assertions in a statement on Facebook last Monday, Mays suggested that the report might have been leaked by someone from Liberty University.
"Wow! 'The DoE' leaked the report on you while you were preparing to negotiate better terms and defend yourselves? I guess they will have to drop your fine down now since they did this to you," Mays notes with laughing emojis.
"Sorry Liberty, some people are really actually intelligent and see through this. I wonder who actually leaked it. Perhaps look internally? In addition, you have the 'Liberty Way' that you hold people to. Not doing something wrong now doesn't excuse the wrong thing done yesterday. Does it?" she continued in a long rant.
Free

Religious Freedom Updates

Join thousands of others to get the FREEDOM POST newsletter for free, sent twice a week from The Christian Post.