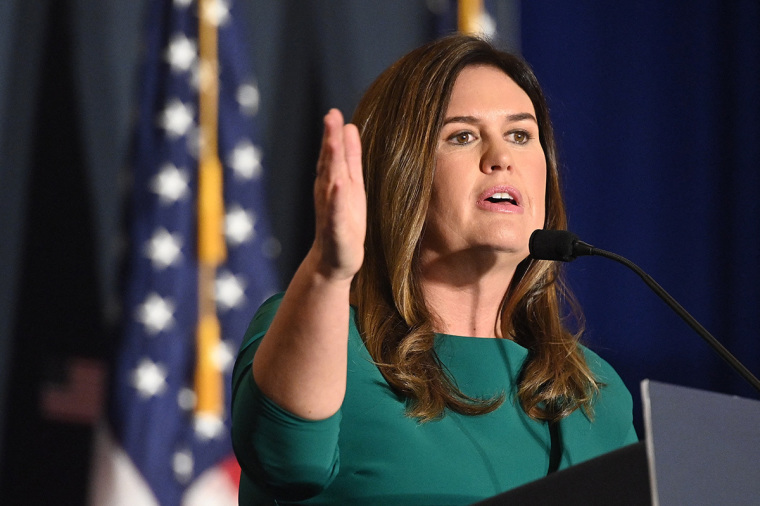 Arkansas Gov. Sarah Huckabee Sanders has signed an executive order designed to ban "woke" and "anti-women" words from the state government, which she believes is necessary to ensure that women are no longer taking "a back seat to political correctness." 
At a press conference Thursday, Sanders, a Republican, announced she was signing an executive order to "Eliminate Woke, Anti-Women Words From State Government and Respect Women." The executive order outlines a list of "exclusionary and sexist terms" that "shall be replaced with accurate, female-affirming alternatives." 
The executive order states that "all state offices, departments, boards, and commissions are prohibited from using exclusionary, sexist language in official state government business, effective immediately." It includes declarations that "there are things only women can do — like perform the miracle of birth" and that "government should reject language that ignores, undermines, and erases women." 
The executive order instructs state government offices to use the terms "pregnant women" or "pregnant mom" instead of "pregnant people" or "pregnant person," "breastfeeding" rather than "chestfeeding," "breast fed" as opposed to "body fed" or "person fed," "breast milk" instead of "human milk," "birth mom" over "birthing person" or "laboring person" and "woman" or "women" rather than "menstruating person," "menstruating people," "birth-giver," "womxn" or "womyn." 
Surrounded by about a dozen other women as she spoke to the media before signing the executive order, Sanders declared, "We are all here to say, frankly, that we've had enough." Specifically, Sanders detailed how she and the women who joined her at the podium had seen "enough trying to erase women and girls, enough denying our biological differences from men and enough of the craziness that is taking over our country." 
The governor explained that because she serves as "the first woman and the first mother to serve as the governor of Arkansas," she "came into this role with a few pretty unique experiences," including giving birth to three children. "That experience underscored to me that a woman's perspective is important and fundamentally different from a man's," she added. 
Sanders expressed disappointment that "nowadays though, only conservatives seem to be making that point" while "on the left, women have taken a back seat to political correctness." She cited the fact that "they're using nonsense words to erase women and girls and more importantly, to erase our voices and experiences" as the primary example of the prioritization of political correctness.
Additionally, Sanders condemned the "nonsense terms that have cropped up in recent years" as "demeaning to women," adding, "it needs to stop." The use of phrases singled out by Sanders are often justified as part of an effort to appease men who want to identify as female or women who identify as male. 
"We have seen specific instances that have happened in state government and been reported in other places in state government," she noted. When asked to provide specific examples, Sanders responded, "If there's one, is that not enough? How many times should a woman have to be insulted before we stand up and say 'we've had it'?"
Sanders insisted that "it shouldn't even take one time" before reiterating, that "I have seen one specific instance, and we've had a number of other instances that have been reported to our office." She clarified that "woke" words have been used by the state's Health Department. 
"It's not that they're offensive; it's that they are scientifically wrong, and that's a different thing," Sanders said. "There's something different about whether your feelings got hurt versus something that is just factually incorrect."
Sanders shared her belief that "it is insulting to women to define them as something other than what they are and to take away experiences that are so specific to them that cannot be created just by saying them into existence." She defended her executive order as standing up for the "difference between what is right and what is wrong, what is factual and what is not."
"It's not just political correctness, it's literally the difference of what is accurate and what isn't," she proclaimed. Sanders asserted that in light of the federal government's embrace of "woke" terminology, "it is imperative for states to step up and actually defend women." 
As Sanders alluded to in her press conference, the executive order is not the only action taken by her state to push back against LGBT ideology. Arkansas is one of 23 states that have banned trans-identified males from competing on women's sports teams. Supporters of such measures point to the biological differences between males and females that give men an advantage in sports as the justification for enacting them. 
USA Powerlifting, which has implemented a policy banning trans-identified males from competing in women's competitions, identifies "increased body and muscle mass, bone density, bone structure, and connective tissue" as factors that give men an advantage over women in athletics. In addition to the fairness concerns posed by the biological differences between the sexes, real-world examples of trans-identified men breaking women's sports records have also motivated states to act. 
Free

Religious Freedom Updates

Join thousands of others to get the FREEDOM POST newsletter for free, sent twice a week from The Christian Post.