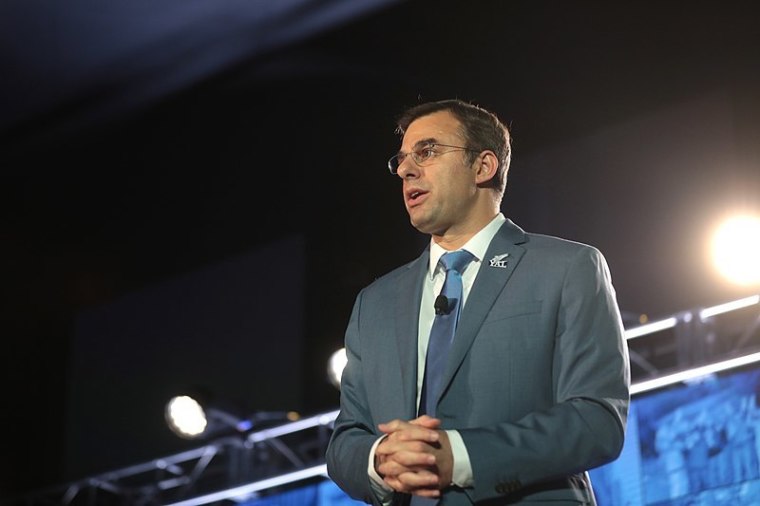 A former U.S. congressman said several of his relatives were among the casualties when an Israeli airstrike hit a church in Gaza, which killed at least 18 people.
Justin Amash, a Palestinian-American who formerly represented Michigan, revealed on social media that his relatives had been taking refuge in the Saint Porphyrius Orthodox Church compound in Gaza, partially destroyed by an Israeli airstrike on Thursday. 
"With great sadness, I have now confirmed that several of my relatives were killed at Saint Porphyrius Orthodox Church in Gaza, where they had been sheltering, when part of the complex was destroyed as the result of an Israeli airstrike," Amash wrote on X, formerly known as Twitter. "Give rest, O Lord, to their souls, and may their memories be eternal."
The Israel Defense Forces admitted that a portion of the church complex had been damaged during an airstrike targeting Hamas military compounds but maintained that the church itself was not the intended target. The Patriarchate of Jerusalem accused Israel of a "war crime."  
Israel has carried out retaliatory airstrikes since Hamas attacked communities in southern Israel on Oct. 7, killing over 1,400 civilians, including 30 Americans. 
Amash was a member of the U.S. House of Representatives from 2011 to 2021 and left the Republican Party in 2019 to join the Libertarian Party.
Palestinian officials noted that the Greek Orthodox Church of St. Porphyrius sheltered around 500 Muslims and Christians from Israeli bombings. Palestinian health officials claim as many as 16 of the victims were Christians. 
"The Palestinian Christian community has endured so much," Amash tweeted. "Our family is hurting badly. May God watch over all Christians in Gaza — and all Israelis and Palestinians who are suffering, whatever their religion or creed."
Fr. Issa Musleh of the Greek Orthodox Patriarchate in Bethlehem told Al Jazeera dozens were found injured as rescue efforts continue. Ibrahim Jahsan, a Christian residing in Gaza, had taken refuge in the church along with his pregnant wife and two young children. He told Al Jazeera that he believed that the church would provide a safe sanctuary during the conflict.
On Friday, a mass funeral was held in the church courtyard where the bodies, wrapped in white sheets, lay next to the debris that claimed their lives, The Guardian reported, noting that four of the deceased were small children.
Palestinian health officials report over 4,100 Palestinians killed since airstrikes began, with over 13,000 injured. 
In a joint statement, United Nations agencies called for a "humanitarian ceasefire, along with immediate, unrestricted humanitarian access throughout Gaza to allow humanitarian actors to reach civilians in need, save lives and prevent further human suffering." The agencies state that over 1.6 million people in Gaza are in critical need of humanitarian aid.
The Israeli government warned over 1 million people in northern Gaza last week to evacuate to southern Gaza as it readies for a potential ground invasion.
On Saturday, the first convoy of humanitarian assistance crossed into Gaza since the Hamas attack on Oct. 7. 
"The opening of this essential supply route was the result of days of diplomatic engagement at the highest levels," U.S. President Joe Biden said in a statement. "I made it clear from the outset of this crisis — in both my public statements and private conversations — that humanitarian assistance was a critical and urgent need that had to get moving, and I express my deep personal appreciation for the leadership of President Al-Sisi of Egypt, Prime Minister Netanyahu of Israel, and the United Nations to allow the resumption of this assistance."
Free

Religious Freedom Updates

Join thousands of others to get the FREEDOM POST newsletter for free, sent twice a week from The Christian Post.