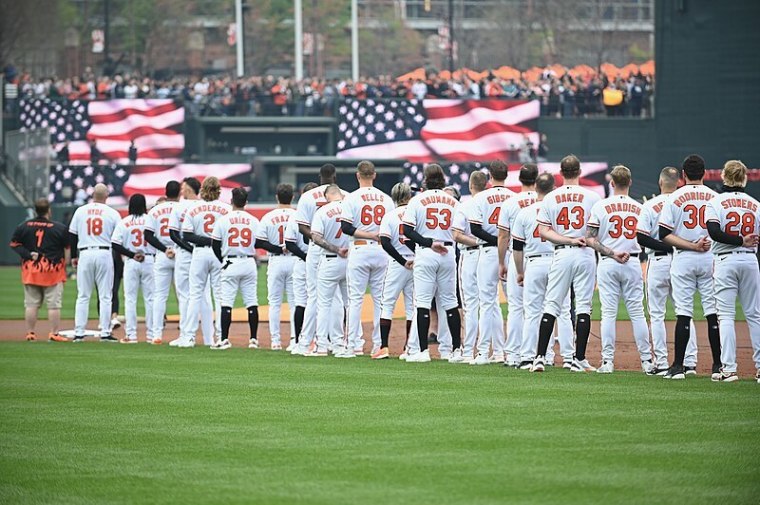 Players with the Baltimore Orioles, a team that defied many expectations this season on their way to winning 101 games in 2023, reportedly found camaraderie not just on the field but also because of their shared Christian faith.
Members of the team, who range in age from 22 to 36, met together weekly for Bible study and worship, WJZ's Mark Viviano reports. 
"We do Bible studies once a week and have chapel on Sundays," said Gunnar Henderson, 22, a shortstop and third baseman who is the youngest member of the team and in the running for the American League Rookie of the Year Award. "It's really cool to spend time and be in fellowship with those guys."
Henderson stressed the importance of having "guys you can lean on in that sense and be able to both have that love of Christ and be able just to coach each other and help each other along the way."
"It's been really cool to have those guys that I can lean on, especially being in my first year," he added.
Kyle Gibson, 36, a pitcher who is the team's oldest member and was nominated for the Roberto Clemente Award for his charity work in the community, said that faith has given the team the opportunity to bond over something bigger than baseball.
"Our faith gives us something to have a little unity over, gives us something to lean on whenever you're going through hard times," Gibson told WJZ.
"For me, it's just a good reminder that I think there's a lot expected of us because of where we've been," Gibson continued. "And for me, I believe that love started in the Bible, and Jesus is love, and for me, I'm trying to love people no matter who they are."
Orioles pitcher Tyler Wells, 29, noted that Gibson is "a big influence" on the team because of his outspoken faith. He also commended catcher Adley Rutschman, 25, and Austin Hays, 28, for their testimony.
"You have guys who aren't afraid to talk about it," Wells said.
Pitcher Danny Coulombe, 33, also noted that many of his teammates prioritize their Christian faith.
"Obviously for me, and most the guys, it is the most important thing in our life, even more than baseball," he said. "We're Christians first and baseball players second."
The Baltimore Orioles secured their first American League East title since 2014. They were defeated by the Texas Rangers in the American League Division Series. 
WJZ's Viviano, a longtime Baltimore TV sports reporter, stated on social media that he first got wind of the Orioles' Christian "brotherhood" after he saw Wells write in the dirt before pitching a game this season. 
"I asked him about it. He said it was his tribute to a relative w a terminal illness. Wells went on to talk about faith, fellowship & Bible study shared by a sizable group of @Orioles players & their families," Viviano wrote. "As I spoke with more players, it was clear that their brotherhood in faith furthered their bond as teammates."
In August, after Gibson recorded his 100th career win, Sports Spectrum, a media ministry of Pro Athletes Outreach, reported that Gibson was providing spiritual leadership for the American League-leading ball club.
Gibson, who has pitched for four different major league teams, was signed by Baltimore during the offseason to provide veteran leadership for a young and talented team. 
Although he may not have the shiny statistics that some of the Orioles' up-and-coming pitchers have, Gibson has been acknowledged as the true leader in the clubhouse.
Gibson's faith was nurtured when he joined a youth group in high school and went on a mission trip one summer while recovering from an elbow injury.
"I had the time of my life," Gibson told The Philadelphia Inquirer last year as a pitcher for the Phillies. "That was the summer I gave my life to Christ. I know baseball's going to be here and gone, and it might be gone sooner than later. If I wanted something stable in my life, it had to be something other than baseball."
Free

Religious Freedom Updates

Join thousands of others to get the FREEDOM POST newsletter for free, sent twice a week from The Christian Post.