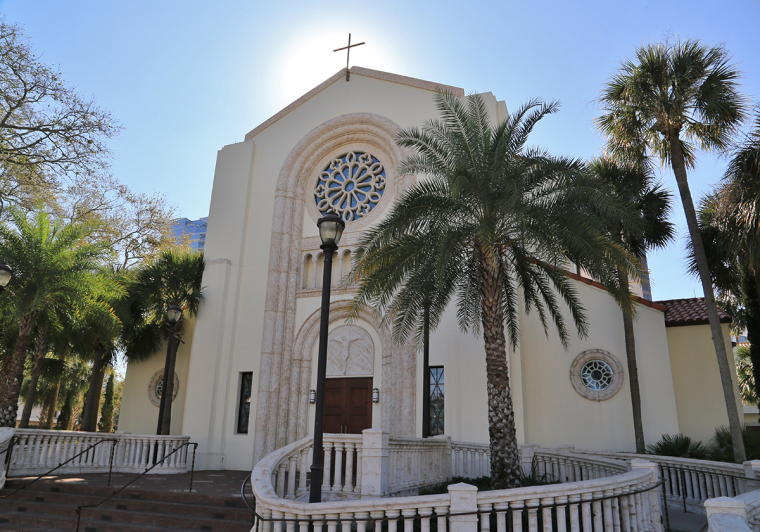 While Catholic Church enrollment continues to decline in the Northeast, it has experienced a rapid resurgence in South Florida as the Hispanic population increases. 
In a piece published on Substack Thursday, Pastor Ryan Burge presented data outlining the changes in the share of Americans who identify as Roman Catholic by state from 2008-2022.
Based on information that Burge collected from the Cooperative Election Study, only six states saw an increase in the percentage of Americans who adhere to Catholicism: Vermont, Idaho, Oklahoma, North Carolina, Arizona and Tennessee. Increases in the percentage of Americans who practice Catholicism ranged from 1% in Arizona and Tennessee to 4% in Vermont.
Meanwhile, all other states saw a decrease in the share of Americans who identify as Catholic. The declines were most pronounced in Hawaii, home to a 20% drop in the number of Americans who identify as Catholic, followed by Connecticut at 16% and Montana at 12%. 
Burge also examined the share of weekly Catholic Mass attendees by state. The percentage of Catholic Americans who go to church once a week in Alaska rose from 15% in 2008-2010 to 36% from 2020-2022. Similarly, the share of Americans who go to church weekly in Hawaii was 13% from 2008-2010, increasing to 32% in 2020-2022.
Other states that saw increases in weekly Catholic church attendance were Alabama, California, Georgia, Illinois, Kentucky, Michigan, Mississippi, Nevada, New York, North Dakota, Utah, West Virginia and Wisconsin.
Wyoming had the largest decline in the percentage of adults who attend Catholic Mass weekly, dropping from 42% in 2008-2010 to 17% in 2020-2022. Rhode Island had a similar decline in weekly church attendance among Catholics, plummeting from 47% in 2008-2010 to 25% in 2020-2022. 
In addition to presenting data on a state-by-state basis, Burge examined statistics at the county level in three states: Massachusetts, Pennsylvania and Florida. County-level data studied by Burge consisted of the change in the number of Catholic Church adherents from 2010-2020. "Massachusetts is just a bloodbath. In really every county in the state," he wrote. "The only exception is Plymouth County, where the church is up 1%."
Most of the state's counties experienced declines of double-digit percentage points when it comes to Catholic adherence, with one county witnessing a 19% drop. A similar pattern emerged in much larger Pennsylvania, with a pronounced decline in much of the state with a few exceptions. In one county, adherence to Catholicism plummeted by 29%. 
Burge identified Florida as a "counter narrative when it comes to the decline of the Church," noting that "there were 42 counties in the state that saw an increase in the share that are Catholic." He asserted that data from the United States Census Bureau in 2010 and 2020 as well as from the Religion Census from those same years reveals that the increasing Hispanic population is playing a role in changing the religious demographics of the state.
Burge detailed how this trend is specifically concentrated in the South: "There are tons of counties in Texas that are more Catholic today than they were a decade ago. That's also true in Florida and up through the Carolinas, as well." 
"As Hispanic share increases, so does the Catholic growth rate. In counties where the Hispanic share grew about 2 percentage points, the Catholic adherence rate stayed flat. However, as Hispanic migration increased, so did the Catholic share. Among counties where Hispanics were up 3 percentage points, Catholic growth was in the double digits."
Counties where Catholics made huge gains include the heavily Hispanic Miami-Dade County, where the number of Catholics rose by 8% in a 10-year period. Other counties in the southern part of the state witnessed even larger gains in Catholicism: Collier (21%), Monroe (15%) and Hendry (11%). 
"The trajectory that I am seeing with Catholics in the United States is definitely inconsistent," he added. "There are clearly big swaths of the country where the Church is losing market share at an incredibly rapid rate. However, there are regions of the United States [where] Catholics are gaining ground. That's certainly the case in the South."
As for the parts of the country where the Church is "losing market share at an incredibly rapid rate," Burge pointed to places "that are closer to Canada than Mexico." He pointed to "big dips all over the Northeast, but even through the Rust Belt as well."
"For Catholics, this data provides an increasingly mixed portrait," he concluded. "Reasons for hope and reasons for despair. That seems to be where most of the data about American religion is pointing to right now, as well."
Free

Religious Freedom Updates

Join thousands of others to get the FREEDOM POST newsletter for free, sent twice a week from The Christian Post.