I paused to soak in the scene before me. I had come to the remote Gulf Province of Papua New Guinea to write a book about the Calvert family, who, together with the local medical team, transformed medical care in the region.
Now, bathed in sunlight streaming through a window in her home, the elderly Lin Calvert sat bent over her Bible, grasping a magnifying glass. A doctor known as 'Grandma,' or Bubu Mei in the local Koaki dialect, the then-89-year-old didn't notice me as she meticulously noted what God had taught her through the years.
I remembered this image when I learned that Bubu Mei died at age 98 on August 8, after serving nearly seven decades at Kapuna Hospital in Papua New Guinea. She and her husband Peter, along with their two young children, first arrived at the mission hospital in 1954. Their work enabled Kapuna to serve more than 45,000 tribal people making their home in the remote area accessible only by boat.
Calvert delivered generations of babies—an estimated 10,000 over her 60 years as a doctor at Kapuna—and saved countless lives through her aggressive treatment of tuberculosis (TB) and immunization against deadly diseases like measles and cholera. The Calverts also trained thousands of community health care workers in communities throughout the region, helped build the local church, and passed down their love for Kapuna and its patients to their children. Though Peter died in 1982, Calvert continued as head doctor until a fall forced her to retire at age 82.
"[Calvert] was adapted to living in the culture, knew how to communicate with local people in their language, and was committed to giving of herself for their benefit," missionary doctor Neil Hopkins said at her funeral on August 9. "She was wholeheartedly devoted to honoring God and living for Jesus through the enabling power of the Holy Spirit."
From rural New Zealand to Papua New Guinea
Born into a family of sheep farmers in Gisborne, New Zealand, Lin Calvert, née Tombleson, broke the family mold by enrolling in medical school. There she met Peter Calvert, who had recently returned from his service in World War II.
They both became doctors and married in 1949. While family and friends expected them to use their medical training to make money, the Calverts wanted to serve people who had nowhere to turn for medical help. In the early 1950s, the London Missionary Society asked them to work at Kapuna Hospital in "the low-lying swampy delta country of Papua" as they struggled to keep missionary doctors stationed there.
The remote region lacked electricity and was accessible only by boat on winding river systems. Coastal boats came every few months with correspondence and supplies for the hospital, but for the most part, it was cut off from the rest of the world.
Yet when the Calverts heard the offer, they looked at each other and said, "just the right place for us."
In 1954, the Calverts and their two children, Valerie and Edward (Ted), arrived in Kapuna. As the family stepped across the threshold of the simple thatched house on stilts for the first time, two-year-old Valerie blurted out, "Home!"
"The people were so welcoming, and they accepted us straight away," Calvert recalled in 2019 in a documentary filmed by her grandson, Jadon. "We were like people who had been away and now were united again and were very happy to see each other."
Eradicating diseases and training health care workers
The couple took turns doing rounds in the hospital while the other looked after their home and children. A kerosene-powered refrigerator kept vaccines from spoiling. If an emergency operation had to take place after dark, nurses held flashlights and lanterns so the doctors could see.
Despite the hard work and simple life, Calvert felt that her childhood had prepared her for a life without amenities and modern conveniences. "I came from a farm," she said in the documentary. "And I came used to having to do everything for yourself and make do. [Life in Kapuna] was just the same. I wasn't aware that I'd made any big changes in my life."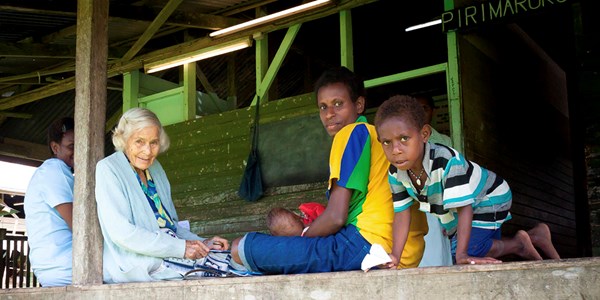 Image: Photography by Gerald Bengessar
Outside their hospital duties, the Calverts went on regular health patrols to villages in the surrounding area. Through consistent care and documentation, their immunization coverage and malaria prevention rivaled that of modern Western countries. They also eradicated scabies, a parasitic skin disease.
The Calverts also sought to improve remote villagers' access to medicine. They provided medical advice to mission stations across Papua New Guinea via two-way radio. This could be a challenge, as the advice had to match the medicines available and the competence of those at the other end of the radio. Peter also set up 15 aid posts, small clinics run by locals that the Calverts trained to provide basic medical care (more serious cases were referred to the hospital).
The training manual for aid post workers developed into a school for community health workers run by the Calverts in Kapuna. Students under the Calverts' tutelage astounded visiting doctors with their practical skills like suturing and giving injections, said Julie Bengesser, who worked for several years at Kapuna managing the hospital 's shop while her husband oversaw IT and maintenance. The school has graduated thousands of health care workers and nurses from across the country, with 65 graduating classes.
"Grandma Lin inspired the community health workers to stay and serve the local community," said Bengesser, who is originally from the mountains of Papua New Guinea. "Before, most people with an education or training left PNG or went to the city for better-paying jobs, but Grandma encouraged them to serve in the rural places in an exceptional way."
Treating TB and delivering babies
Two of Calvert 's most significant medical achievements in the region were her treatment of at least 7,000 TB patients and her maternal and infant care. Calvert was a stickler for giving patients immediate treatment in the early stages of tuberculosis, reducing the disease's debilitating damage to their bodies. She learned to recognize TB as not only a disease of the lungs but one that presented in the spine and other organs, a topic that she wrote a book on.
In her 60 years as a doctor at Kapuna Hospital, she delivered and assisted in delivering countless infants. Seeing the life of an unborn baby as important as a newborn's, she instilled in the nurses a sense that their role was "to guard the life of mother and baby."
"Generations have come through Kapuna that normally would have died," said Bengessar. "Grandma saved countless generations. People in their 40s and 50s would stop by Kapuna Hospital and claim Grandma had delivered them."
When Bengessar gave birth to her daughter at Kapuna Hospital five years ago, Calvert 's daughter Valerie, who also became a doctor, delivered Eliana. Grandma was there praying. "She prayed and prophesied over Eliana while we were still in the hospital," Bengessar recalled. "Later, I brought Eliana to the office and put her in the swing. Grandma would sit there with her."
She noted that Calvert didn't show partiality toward those who received her love: young, old, rich, poor, foreigner, or local. "If Grandma could pour love into a person, she would."
I witnessed this too: Nearly every day at Kapuna, I walked by the hospital to the office. If Grandma Lin was not in her garden, ripping up weeds, she could be found in the wards or sitting in the breezeway, talking with and praying over patients and staff.
Building up the local church
The Calverts cared deeply for people 's spiritual health as well. They led daily prayer times at the hospital and supported the local church through the discipling of deacons and elders.
In the 1970s, a revival broke out in Kapuna and the surrounding areas after the Calverts put on a Christmas play in a nearby village. Though few responded to the message at the time, a month later, canoes full of Christians from nearby villages showed up at Kapuna asking for prayer to take the gospel to gangs of criminals from their clans and tribespeople. Spontaneous worship and singing broke out at the hospital.
"Peter and I had gone from one to another, laying hands on each bowed head and asking God to fill them afresh with His Spirit and power," Calvert wrote in her book Let the Fire Burn.
The Calverts also began to realize that a lot of the practices within the church as they knew it were traditions built around Western culture, not necessarily the Word of God. They wanted to see an authentic local church where members were involved and willing to preach, teach, and help with music.
To keep the Kapuna church faithful to culture and Scripture, they chose not to have pastors, Calvert documented in her book. As a rule, decisions were made by discussion and prayer from the whole group. There were no paid leaders, no one was given a title other than "brother" or "sister," and funds were raised and spent on the initiative of the whole.
Passing down the faith
The Calverts also continued their legacy through their family. Calvert gave birth to two more children, Alan and Colin, on the mission field.
"To their credit, our parents allowed us to grow up wild or free, depending on which way you look at it," recalls Ted, who said he started using axes and machetes at an early age. "The only two safety rules I can recall were: 'Don't share spoons with any friend who is a TB patient' [and] 'No swimming after the generator comes on,' i.e., after dark."
Calvert would often pause on her medical rounds to ensure there were still four blond heads bobbing in the river. Even as the kids faced encounters with snakes, learned hunter-gatherer skills, and crashed speedboats, their parents found time to educate them and train them to love God.
Valerie, Ted, and Alan went on to study and live in New Zealand. While Valerie became a doctor like her parents, Ted and Alan became engineers, and the three regularly traveled back to Kapuna to help. Colin, meanwhile, stayed in Kapuna as the hospital administrator.
In 1982, Peter was diagnosed with terminal cancer. He continued to serve in the hospital until his final months. He had told his wife, "If I should die at Kapuna, I want the bush to grow over my grave." Today, Peter is buried under frangipanis and hibiscus trees in the hospital compound.
Life at the hospital went on, with Calvert continuing her work as head doctor. Colin and his wife worked as administrators while raising their family in Kapuna. When Calvert retired, Valerie returned to take over as head doctor.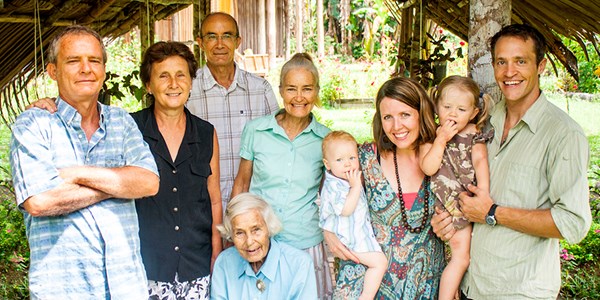 Image: Photography by Erin Foley
"Without their family, I don't think Kapuna Hospital would have survived," Bengessar said. "Now, many generations later, I think more PNG medical professionals can take it on, but not initially. She is leaving a legacy through her kids."
Buried in Kapuna
In the last few years of her life, Calvert divided her time between wielding her machete against weeds in her garden and sitting with hospital staff and patients.
After Calvert took her last breath on August 8, nursing students carried her body to the church as Colin held her hand. The community held an all-night vigil, singing and telling stories of her life. More than 500 people gathered from surrounding communities until dawn. "I give 'Grandma' to you," Valerie said. "She was my mother, but now I give her to the community as your mother."
In the morning, her body was wrapped in a woven mat of palm fronds and placed in a carved dugout canoe. Nursing students carried the canoe through the breezeway at the hospital, where Calvert had spent countless days of her life ministering to families. Then they laid her in the grave beside Peter, in the land they had given their lives to.
As the service began, helicopters arrived with the governor of the Gulf Province and the staff of the natural gas company the hospital worked closely with. Word had spread across PNG. Great and small, young and old, wealthy and poor, all gathered to honor their Bubu Mei.
In the 2019 documentary about Calvert, her petite frame and wrinkled skin give away her age, yet her eyes still sparkle with energy as she looks back at her life in the bush. "Not many people stay 60 years, but the longer you stay, the less dogmatic you get, the less proud you get, and the feeling is, it was all God anyway who did it," she said, sitting in a wheelbarrow in the garden she planted in Kapuna. "All the good bits were him."
Erin Foley is the author of Kapuna: How Love Transformed a Culture, which is about the Calvert family.