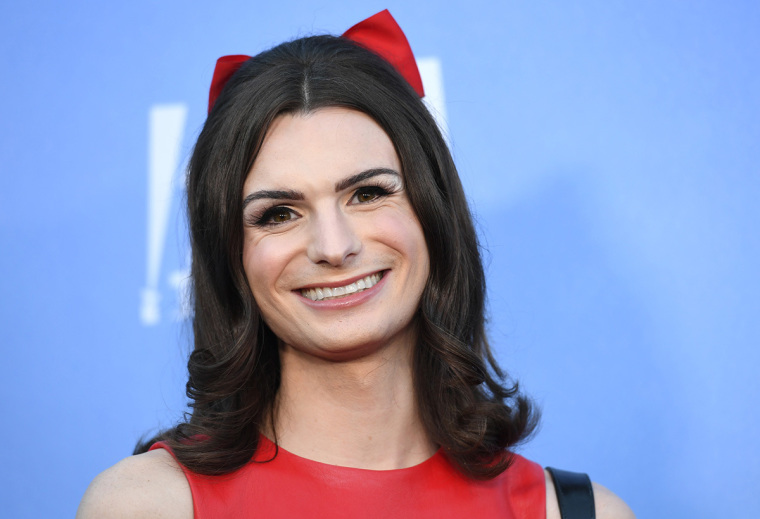 Trans-identified influencer Dylan Mulvaney, who has been recognized as a "Woman of the Year" by an LGBT magazine, is characterizing anyone who refuses to acknowledge the social media personality's preferred gender identity as "hateful."
Attitude Magazine, which identifies itself as "the UK & Europe's best-selling LGBTQ magazine," unveiled Mulvaney as its Woman of the Year in a post on X Wednesday. Mulvaney, a biological male, is one of several LGBT personalities included in the publication's "Awards Issue," scheduled for release in November.
Dylan Mulvaney is our Woman of the Year, supported by @virginatlantic ?
"Knowing that my community sees me this way and acknowledges my womanhood is all I need to keep going."
Order the #AttitudeAwards issue now ?? https://t.co/RCg08kjqhmpic.twitter.com/Kj0YS9vPcF

— Attitude Magazine (@AttitudeMag) October 11, 2023
The post announcing Mulvaney as Attitude's "Woman of the Year" includes a snapshot of the cover of the forthcoming Awards Issue, which features a picture of Mulvaney. Mulvaney is sporting blonde hair, makeup, lipstick, long nails and a dress in the photograph. 
Additionally, Attitude's post includes a quote from the influencer proclaiming, "Knowing that my community sees me this way and acknowledges my womanhood is all I need to keep going."
A version of the "Awards Issue" featuring Mulvaney on the cover is one of five options available for purchase, with pictures of other award recipients displayed on the front of the other four versions.
Mulvaney, who has documented his gender transition in a series of TikTok videos titled "Days of Girlhood," expressed gratitude for receiving Attitude's "Woman of the Year" award in an acceptance speech at the awards ceremony in London. 
Dylan Mulvaney honored with 'WOMAN OF THE YEAR AWARD.'

"I only publicly came out online 560 days ago."

"No matter how hard I try, or what I wear, or what I say or what surgeries I get I will never reach an acceptable version of womanhood by those HATEFUL peoples standards." pic.twitter.com/WwjdeYvxYq

— Oli London (@OliLondonTV) October 12, 2023
The internet personality lamented that "some people don't see me as a woman at all," adding, "receiving this honor from a queer publication like Attitude means so much more to me" in light of many people's refusal to recognize him as a woman.
"No matter how hard I try or what I wear or what I say or what surgeries I get, I will never reach an acceptable version of womanhood by those hateful people's standards," Mulvaney concluded. "As long as I have the queer community that sees me for my truth, I'm going to be OK."
Mulvaney recalled receiving a warm reception in London after traveling there earlier in the year, favorably contrasting the city's atmosphere with that of the United States.
"I didn't walk into rooms and wonder, 'Oh, does that person hate me?' I was just another gal walking around in a Burberry trench on her way to a West End musical."
Mulvaney claimed critics of LGBT ideology "want us to be in competition with each other; they would love nothing more than to see the Ls and the Bs and the Gs turn their backs on the Ts."
Several notable corporations have faced backlash from critics for partnering with Mulvaney. The beer brand Bud Light was the subject of a boycott effort earlier this year after presenting Mulvaney with a customized beer can featuring the internet personality's face on it to recognize his one-year anniversary of girlhood and tapping the activist as a brand spokesperson to "authentically connect with audiences."
In response to Bud Light's collaboration with Mulvaney, country singer John Rich stopped selling the product at his Nashville bar Redneck Riviera while country singer Travis Tritt pulled all products manufactured by Bud Light's parent company Anheuser-Busch from his tour hospitality rider. Kid Rock, another American musician, filmed a video of himself shooting at a stack of Bud Light cans with an assault rifle.
Amid the pushback over Bud Light's partnership with Mulvaney, an alternative beer brand emerged to directly compete with the product.
The CEO of Ultra Right Beer, which markets itself as "100% Woke-Free Beer," denounced his competitor's implicit endorsement of gender confusion in a launch ad.
"America has been drinking beer from a company that doesn't even know which restroom to use," Ultra Right Beer CEO Seth Weathers said. 
As outlined in an op-ed originally published by The Washington Stand and republished by The Christian Post, pushback to collaboration with Mulvaney stems from the belief that the influencer's actions "parody women" and that he is "utilizing offensive tropes about women in his attempt to disguise himself as one."
Mulvaney's emergence onto the national scene comes as many women view their identity as under attack, particularly as trans-identified males who identify as females break women's sports records. 
The social media influencer is not the first biological male to win a "women of the year" honor. 
In 2015, Glamour magazine named Caitlyn Jenner, formerly known as Bruce Jenner, as its "Woman of the Year."
In 2022, Trans-identified Biden administration official Dr. Rachel Levine, formerly known as Richard, was named among one of USA Today's "Women of the Year." 
In March, first lady Jill Biden and U.S. Secretary of State Antony Blinken presented an award designated for "women of courage" to an Argentinian man named Alba Rueda, hailed as Argentina's "Special Envoy for Sexual Orientation and Gender Identity of the Ministry of Foreign Affairs, International Trade in Worship."
Free

Religious Freedom Updates

Join thousands of others to get the FREEDOM POST newsletter for free, sent twice a week from The Christian Post.