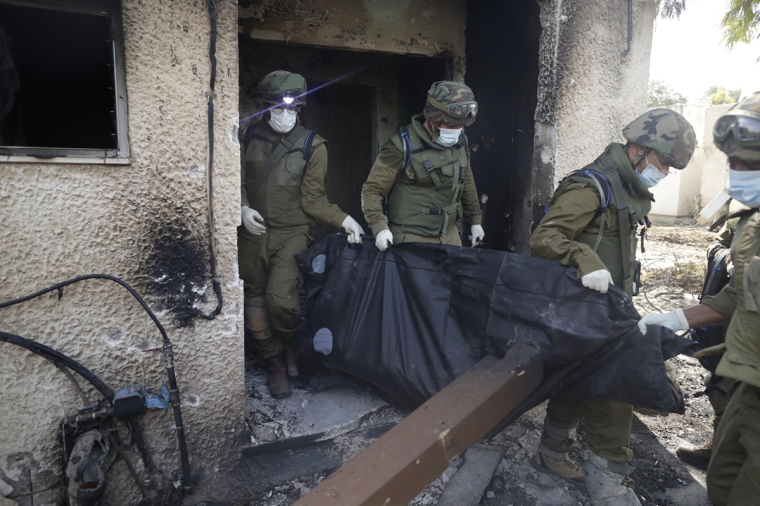 A Minnesota woman, known for protesting Israeli military actions in Gaza, is among the over two dozen Americans killed by Hamas in Israel earlier this month, according to her daughter. 
Cindy Flash, 67, and her husband, Igal Flash, 66, were killed in their Kfar Aza home near the Gaza border. Their daughter, Keren Flash, 34, confirmed to CNN that her parents were murdered after Hamas militants broke into their safe room.
Cindy Flash's last communication was a message on a neighborhood group chat pleading for help, indicating that militants had broken in, the daughter said.
Days passed before Keren Flash learned of her parents' deaths. She said the only solace was that they "apparently died instantly so at least it was quick and relatively painless."
Igal Flash was born in Israel, the son of Holocaust survivors. Her daughter describes Cindy Flash as "all heart and soul" known for her protests against Israeli military action in Gaza.
"They were some of the best people that I have ever known," Keren Flash said. "They were good people. They cared about other people. They fought for other people's rights and other people's voices." 
"Just our worst nightmares": Minnesotan Cindy Flash killed in Hamas attack on Israel https://t.co/Ot4EpjN2Q7

— WCCO | CBS News Minnesota (@WCCO) October 13, 2023
Hamas militants invaded settlements in southern Israel close to the border with the Gaza Strip on Oct. 7, killing over 1,400 people and taking over 150 hostages, many of them civilians. Israeli forces claim over 1,500 Hamas fighters were killed in the attack. 
The U.S. State Department said in a statement shared with media on Sunday that at least 30 Americans have been killed in Isreal and at least 13 are missing. 
Cindy Flash was a native of St. Paul, Minnesota, but emigrated to Israel, where she fell in love with Igal Flash. After getting married, the couple settled in Kfar Azar, USA Today reports. 
The Flashes' home in Kfar Aza, which had a population of over 800 people, was next to the security fence that Hamas militants broke through on Saturday when they began the attack, Keren Flash told USA Today. They recently had renovations done to the home, forcing them to leave it for a few months. 
"They were so happy to be back," Keren Flash said.
In the days following the attack, reports emerged of children being massacred in the Kfar Aza settlement, with an on-the-ground reporter from i24News reporting that Israel's military discovered the bodies of over 40 babies killed.
U.S. Secretary of State Antony Blinken arrived in Tel Aviv on Thursday. Israel's government presented graphic images of dead children and civilians said to have been killed in Hamas' Oct. 7 attack.
"It's simply depravity in the worst imaginable way," Blinken told reporters. "Images are worth a thousand words. These images may be worth a million."
"We did see photographs, videos, that the Israel Government shared with us. Some, I think, has actually already been seen in public media. Others were new to me and, I think, new to our team," he explained.
In response to the attack, Israel launched airstrikes that it says have targeted Hamas infrastructure and areas where militants hide in Gaza. According to the Gaza Health Ministry, 2,670 Palestinians have been killed and 9,600 wounded since the fighting began. 
Hamas has claimed in a statement that 13 of the roughly 150 people they are holding hostage were killed in Israeli airstrikes, including foreigners, but didn't disclose their nationalities. 
Israeli military spokesperson, Rear Adm. Daniel Hagari, told Al Jazeera Arabic that the claim is false. 
"We have our own information and do not believe the lies of Hamas," he said, according to The Hill.
Israel has told civilians in north Gaza to flee to southern Gaza as it prepares a potential military offensive. 
Last Monday, Defense Minister Yoav Gallant ordered a "complete siege" of Gaza, cutting electricity and blocking food and fuel entries, according to The Independent.
"Civilians of Gaza City, evacuate south for your own safety and the safety of your families and distance yourself from Hamas terrorists who are using you as human shields," a statement from Israel Defense Forces read. "In the following days, the IDF will continue to operate significantly in Gaza City and make extensive efforts to avoid harming civilians."
The United Nations cautioned that such a mass exodus would be disastrous.
Free

Religious Freedom Updates

Join thousands of others to get the FREEDOM POST newsletter for free, sent twice a week from The Christian Post.