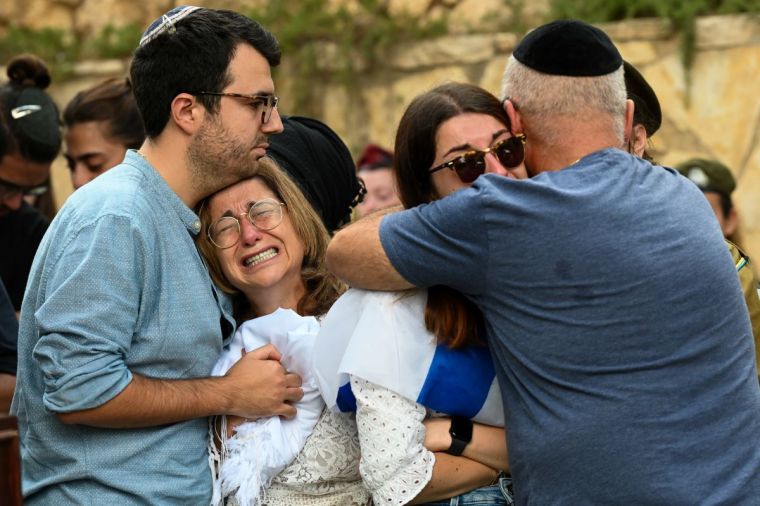 When Michal Rahav heard sirens wailing Saturday, followed by gunshots, she hurried her children to the safe room in their home on kibbutz Nirim, where she told them: "Whatever comes through that door, we don't go down without a fight."
Rahav was one of the survivors of Hamas' onslaught last weekend targeting communities on Israel's border with Gaza to share her story during a Thursday webinar hosted by the Combat Anti-Semitism Movement, an organization dedicated to addressing and exposing Jewish hatred.
Sacha Roytman-Dratwa, CEO of the Combat Anti-Semitism Movement, served as the event's moderator.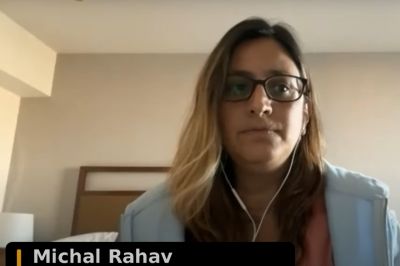 Galia Sopher, the survivor of a separate Hamas assault on kibbutz Mefalism, also shared her account, recalling that her community resembled the aftermath of an "apocalypse" following the attack.
According to the Israeli Embassy to the U.S., more than 1,200 were killed and more than 3,000 injured as a result of Hamas' multi-pronged surprise attack that began last Saturday in southern Israel. The Israeli government also claims that as many as 150 Israelis have been taken hostage by Hamas. 
Rahav remembers hearing alarms go off throughout the kibbutz early Saturday morning. While she and her husband were unsure of what was happening, they heard the sound of missiles and rockets being fired at their house, and they started to sense that the situation was different than anything they had ever experienced. 
In Sopher's case, she was camping with her daughters in a field — a family tradition — when the mother also heard sirens and the sound of rockets early in the morning. She did not have access to a shelter, and she was camping alone with her daughters because her husband stayed home. 
Sopher did the only thing she could think of, and she threw her body on top of her girls to shield them.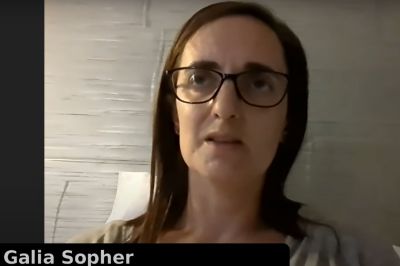 "'You're with me; you're safe. I'm protecting you,'" Sopher remembers repeating to her daughters. "And I couldn't even believe my own words because I didn't know what was going on."
Residents of Israel are accustomed to barrages of rocket fire, and families are frequently forced to take cover.
"Sometimes you have a sixth sense, and you can sometimes sense when the escalation is about to happen," Rahav said about living in such a tense environment. "This time, there was nothing." 
As Rahav's husband geared up, taking his weapons to patrol the house and ensure the family was safe, she began packing so they would be prepared to leave as soon as it was safe to do so. 
Around two hours later, Rahav heard gunshots, and she was surprised that the noises sounded close. She said she and her husband were confused, wondering if it was the Israel Defense Forces and why they would be shooting in the kibbutz. 
"A few seconds afterward, we hear a lot of shouting in Arabic, and the reality hits us," she said. "[Hamas] penetrated the kibbutz, and our biggest fright just came to life." 
The mother ran to the safe room with her children, providing one daughter with a can of pepper gas and the other with a club. She equipped her son with a helmet and laid him on the floor. Rahav instructed her kids to remain close, telling them that they would not go down without a fight. 
As the sound of shooting erupted inside the house, Rahav could hear her husband's footsteps approaching the safe room as the shooting noises came closer and closer. Rahav's husband opened the safe room door, revealing that he had just shot a terrorist who tried to enter their home. 
"The minute he finishes his sentence, there was an enormous flash of light, and the whole safe room was filled with gunpowder," she said, recalling how the electricity went out as the family's ears started ringing. 
They didn't know what had happened at the time, but Rahav learned later that Hamas had been shooting rocket-propelled grenades at their home. In the safe room, as Hamas terrorists fired at the safe room door and the iron window, Rahav's husband handed her a gun, telling her that they would fight "till the last bullet." 
Laying in a field with her daughters, Sopher tried to call her husband, but she couldn't reach him, realizing that he wouldn't have a signal if he were inside a safe room. Eventually, men from the kibbutz offered her and the other people camping in the field a ride home. 
Upon reaching their home, Sopher carried her two girls inside and joined her husband in the shelter, where there was no air conditioning or electricity, forcing them to rely on the light from their phones.
"It was like a Hanukkah miracle because we didn't have much battery," Sopher said. 
Due to how hot it was inside the shelter with no air conditioning, they were forced to open the door a little to let air inside. Sopher remembered hearing the sound of machine guns and people panicking, where they sat for hours, trying to quiet their girls. 
Rahav and her family remained in their safe room as she attempted to call for help, even resorting to posting about the attack on Facebook, saying that there were terrorists in their home. Despite her pleas for help, Rahav said she eventually realized that she and her family were alone. 
All eventually went quiet as the terrorists moved onto other houses, lighting them on fire and filling safe rooms with smoke to kill the people trapped inside. After about eight hours of Hamas lighting cars on fire and shooting engines and gas tanks, the IDF finally arrived around 3 p.m.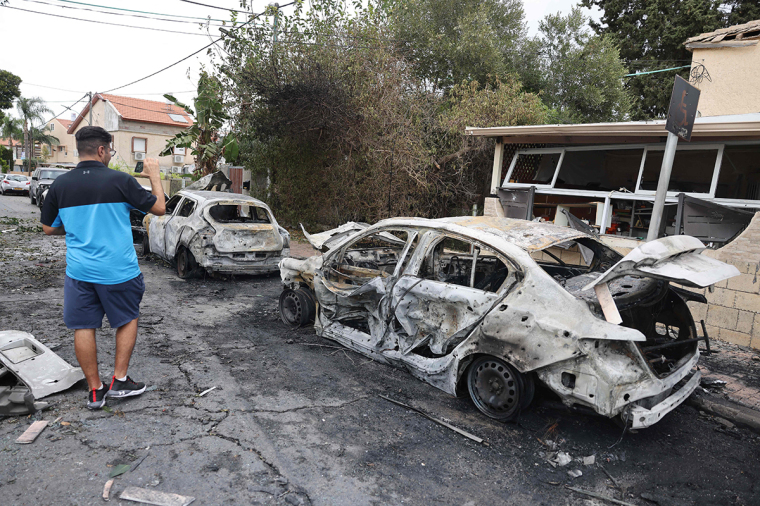 Opening the safe room door, which was crooked from the RPG blast, Rahav saw that her whole house was "broken" and "shattered," which she found to be the perfect metaphor for the present situation. 
"Everything was shattered for us, and the reality that we know now is different," Rahav said. 
The family and other survivors were allowed to collect a few belongings before they were divided into groups and evacuated. Rahav shared that she and her family have been in the city of Eilat since Sunday night.
When asked by Roytman-Dratwa if she would consider returning to the kibbutz, Rahav answered that while she loved Israel, she and her family felt betrayed because they were left to deal with the attack by themselves. 
"If they don't eradicate Hamas completely, if we still need a safe room, and if we still need the Iron Dome, and if I still have to have even the smallest chance to tell my children again that they have to fight for their lives until the last bullet, then no," she said. "I will not go back there." 
Around sunset, Sopher recalls hearing a message that residents of the kibbutz were free to leave at their own risk. Her husband decided not to take the chance, and they stayed in the shelter until they heard another message around 3 or 4 a.m. telling them that it was safe to leave. 
Soldiers escorted the family to their car, and as they drove, Sopher said that she saw other vehicles that had been gunned down and dead bodies all around, both inside and outside of the cars. After briefly staying with a friend, the family is staying at a hotel with their kibbutz community, where they're receiving food and speaking with social workers. 
"We've lost a lot of friends," Sopher said, crying. "I don't know how we got so lucky and why others didn't." 
Free

Religious Freedom Updates

Join thousands of others to get the FREEDOM POST newsletter for free, sent twice a week from The Christian Post.