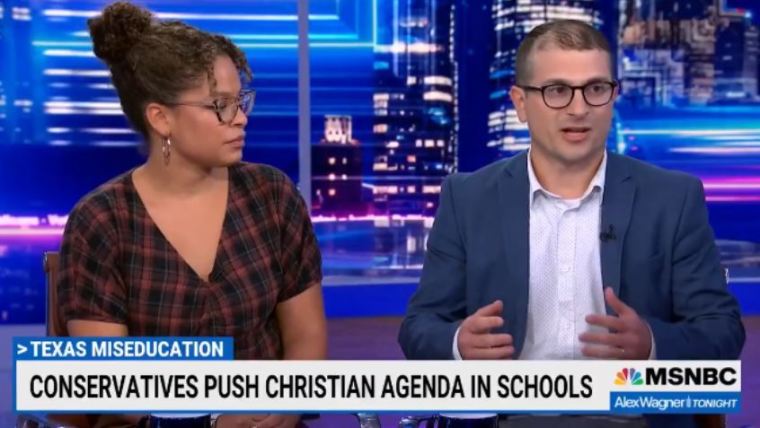 NBC News debuted a new podcast series titled "Grapevine" this month, centered on what one of its reporters described as the "spreading influence of Christian dominion theology" in North Texas and beyond.
According to the show's description, NBC News reporters Mike Hixenbaugh and Antonia Hylton examine what they claim is a now-debunked story from a mother "determined to put God first" who accused "a teacher of convincing her child to change genders."
The show's producers say the story is largely about a "fringe religious movement wielding newfound power and the revival of a long-simmering quest by Evangelicals to remake American education based on their version of biblical values."
The six-part podcast series — which is focused on what NBC News calls the "two-pronged fight to elevate Christianity and restrict [transgender] rights in classrooms" —  centers on Emily Ramser, an LGBT activist and former teacher in the Grapevine Colleyville School District (GCSD), who, according to the podcast, "set out to make her classroom the safe space for [LGBT] teens that she wished she'd had while growing up queer in North Carolina."
Ramser, who is listed as a member of the North Texas trans activist group OUTReach Denton but is not identified as such in the NBC News report, is featured in the podcast, along with a former student referred to as trans-identified "Ren," who is said to have "attended weekend services at Evangelical churches where pastors taught that homosexuality is a sin, and that it's immoral for people to identify as a gender that does not match the one assigned at birth."
As part of the podcast, Hixenbaugh and Hylton relay an episode in which Ren's mother, Sharla, accused Ramser of providing access to a book titled The Prince and the Dressmaker, a graphic novel about "a prince who loves to wear dresses but, fearing rejection from his parents, keeps his fashion hobby hidden."
While NBC News says the book was "one of hundreds of titles that Ramser kept in her classroom library," Ren's mother accused Ramser of playing a role in Ren's reading of the book, which Ramser denied.
According to NBC News, Ramser was later asked to remove LGBT rainbow pride stickers "from her name plate outside her classroom and any other decorations that might signal anything about her identity or personal beliefs."
The NBC story also identifies Ramser as being one now openly-gay student's "first openly queer role model she'd ever had" and suggests Sharla lied about Ramser's involvement in Ren's decision to run away from home. The piece also notes the mom's social media postings of Bible verses and her reliance on her faith to sustain her.
"Any loss of parent/child, friend or spouse relationships is unmatched to the gain of knowing Christ," NBC News quoted Sharla as saying. 
In addition to the personal stories, "Grapevine" also takes aim at Patriot Mobile, a group that successfully fought to have "In God We Trust" signage in North Texas schools and which NBC News called a "far-right Christian wireless provider" that supports candidates for local school boards who align with their faith values.
In one MSNBC segment on the podcast titled "Far-right Christian dominionists infiltrate schools, civic offices in Texas," host Alex Wagner refers to Patriot Mobile as a "conservative Christian phone company that is literally taking the call to put God, or more specifically, an extreme far-right interpretation of Christianity, to put that back in schools."
With repetitive, almost catatonic uses of buzz phrases like "far right," "fringe Christian ideology" and "extreme anti-LGBT conservative Christian ideology," the segment conflates Patriot Mobile and its company values with dominionism, which, according to NBC News, is "the belief that Christians are called on to dominate the seven key mountains of American life, including business, media, government, and education."
It's not the first time NBC News has taken an openly hostile editorial stance toward Christianity.
In 2021, the news network quoted a report from the Southern Poverty Law Center, which named a number of mainstream faith-based organizations that received COVID-19 aid as "anti-[LGBT] hate groups," including the American College of Pediatricians, American Family Association, and the Ruth Institute, which promotes "ancient Christian teachings about marriage, family, and human sexuality."
Following the report and a pair of follow-up stories, The Ruth Institute's founder,  Jennifer Roback Morse, accused NBC News of "doing a full-court press against pro-family organizations" and said such reports aimed to eliminate pro-family groups from polite society and routine business transactions."
"Even worse, these NBC News stories are scapegoating and marginalizing Christians," Morse added.
That characterization may not be hyperbole: NBC News spurred backlash on social media after a report in June described a chant by LGBT activists about "coming for your children" as "lighthearted." The report was fact-checked on Twitter after readers challenged the accuracy of the network's article.
Last month, a report from NBC OUT, the LGBT-focused division of NBC News, appeared to link a suspect's past social media posts urging LGBT individuals to accept Jesus in their hearts and criticizing pride propaganda to the murder of a California shopkeeper known as an LGBT ally.
In its lengthy coverage of the fatal shooting of California business owner Laura Ann Carleton, NBC OUT, which features stories and other content about LGBT-identified individuals, cited the stated religious beliefs of gunman Travis Ikeguchi, specifically several anti-LGBT "sentiments" he expressed on social media.
The Christian Post has reached out to NBC News for comment but, as with previous inquiries, did not receive a response as of Friday afternoon. This story will be updated in the event a comment is provided.
Despite its renewed focus on matters of faith, NBC News in recent years has been forced to issue a number of retractions on its reporting, including details on the attack on Paul Pelosi, husband of former House Speaker Nancy Pelosi, and a false report on claims that Rudy Giuliani was the target of a Russian disinformation campaign. 
Free

Religious Freedom Updates

Join thousands of others to get the FREEDOM POST newsletter for free, sent twice a week from The Christian Post.