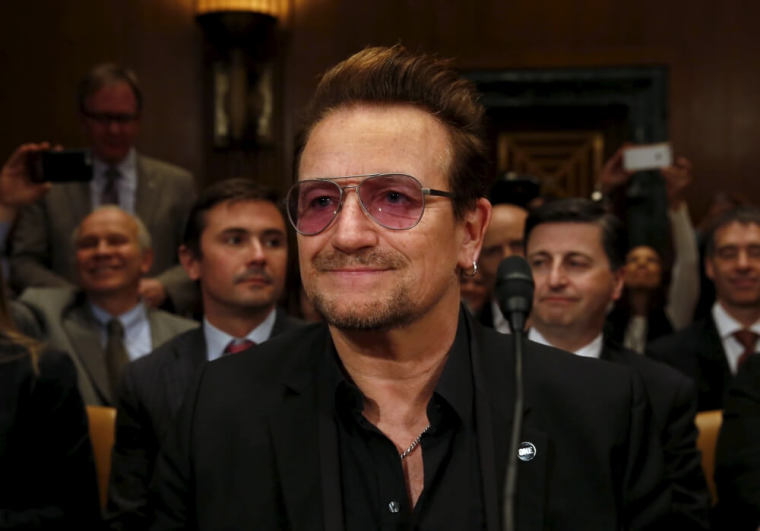 The Irish rock band U2 paid tribute to the 260 young people slaughtered by Hamas terrorists last Saturday at a rave held in the desert close to Kibbutz Re'im, less than 3 miles from the Gaza Strip. 
Bono, the band's frontman, changed several lyrics in their hit song "Pride (In the Name of Love)" — originally dedicated to Martin Luther King Jr. — to honor the young people who were murdered and taken hostage from the Tribe of Nova music festival.
During their performance Monday at the Sphere in Las Vegas, Nevada, where the band is in residency to perform 25 shows, the lead singer said: 
"In the light of what's happened in Israel and Gaza, a song about non-violence seems somewhat ridiculous, even laughable, but our prayers have always been for peace and for non-violence," Bono said and later shared on Instagram and X, formerly known as Twitter. 
"But our hearts and our anger, you know where that's pointed," he added. "So sing with us … and those beautiful kids at that music festival," he continued before launching into an emotional rendition of "Pride (In the Name of Love)."
He then began singing the revised lyrics: "Early morning, October 7th. As the sun is rising in the desert sky. Stars of David, they took your life. But they could not take your pride."
"It was a festival of music and peace. A festival of music and peace. Can you imagine?"
A survivor of the weekend-long outdoor music festival that highlighted the talents of DJs from across the world, including Japan, Hungary, France and the U.K., described hiding for almost six hours in silence while witnessing the terrible atrocities. 
A video released on social media showed two of the attendees who were taken hostage, Noa Argamani and her partner, Avinatan, as Noa was driven away on the motorbike while crying out. 
Another video shows German-Israeli citizen Shani Louk dancing at the festival before the attack. Hours later, Hamas posted a video on social media of her life body in the bed of a truck surrounded by cheering militants.
The U2 song "Pride (In the Name of Love)" pays tribute to MLK Jr. and references his assassination on April 4, 1968, at the Lorraine Motel in Memphis, Tennessee.
"Let's sing for our brothers and sisters who themselves were singing for the Supernova Sukkot festival in Israel. We sing for our kind of people, music people, playful experimental people, our kind of people, we sing for them," Bono added.
Among the victims in the attack were soccer player Lior Asulin and the sister of Israeli TV presenter Maayan Adam. The account of journalist Nir Guntraz, who attempted to get a weapon to go in and save his son, Amir, was shared across various social media and news platforms.  
Former Knesset member Yair Golan rescued Amir in his vehicle after Guntraz shared his location with him. 
Another survivor recounted the horrifying experience. 
"Everyone around me died," one of the survivors said during a press conference, N12 today reported. 
U2 last performed in Israel at Yarkon Park in Tel Aviv in 1997. However, U2 later turned down an invitation to play in Israel a decade later.
In 2009, he sang "Pride" at a January 2009 concert at the Lincoln Memorial in Washington, D.C., where he altered the lyrics that are a tribute to Martin Luther King, and said, "This is not just an American dream," he said, adding that it was "also an Irish dream, a European dream, an African dream … an Israeli dream … and also a Palestinian dream."
Nicole Alcindor is a reporter for The Christian Post. 
Free

Religious Freedom Updates

Join thousands of others to get the FREEDOM POST newsletter for free, sent twice a week from The Christian Post.