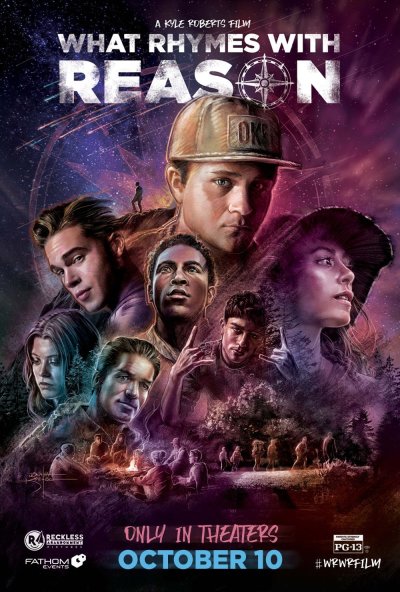 Former youth leader turned Emmy Award-winning director, Kyle Roberts, hopes his new film will help teenagers overcome battles with depression and suicidal ideation. 
"What Rhymes With Reason" will hit theaters on Oct. 10, World Mental Health Day, and follows six teenagers who embark on an adventure after a tragedy impacts their lives. Throughout the film, the teens, each going through their own battles, explore legendary landmarks that no one else has discovered. 
The movie directly targets anxiety, depression, anger and thoughts of suicide.
"When '13 Reasons Why' came out and other shows like that, that kind of glorify suicide. We knew as a team there had to be a better way to talk about this that is real and honest, like those John Hughes films, but it also had to be family-friendly, and not cheesy," Roberts told The Christian Post.
It took the creators eight years to produce this film. Roberts explained that the first five years consisted of doing lots of research and talking to "counselors, principals, youth leaders, youth pastors, and high school kids" to get their feedback. 
"The number one feedback of all those five years was, 'Please, please, please do not show an attempt at suicide. Because that can create an ideation and potentially glorify it," he revealed.
Roberts' work and family-friendly approach has attracted huge Hollywood studios such as DreamWorks, Disney and Nickelodeon, among others. He's done lots of mainstream family content, but his new film is infused with the heart of his faith in Christ. 
"It's not a straightforward, overtly Christian movie and not 'Outer Banks' or something. We're kind of in the middle, he shared.
"Our goal from day one was to earn the right to be heard by high school students and their parents, and that's what we did with this movie."
The 2014 Emmy winner for "Broken Beyond Repair" was a youth leader at Young Life for eight years, and is where he met his wife. Since leaving Young Life, Roberts has seen a rise in anxiety, depression and suicide. 
He said social media, content such as Netflix's original series "13 Reasons Why" and the COVID-19 lockdowns all led to the spike in suicidal ideations.   
"There are a lot of shows and films that cover this, but it's too dark and too gritty and can tend to glorify [suicide], and most counselors would not recommend those shows. They would tell you to stay away from those shows, Christian or not, counselors. They would tell you if you're going through this right now, you should not watch this show," he explained. 
"It took us a long time to very carefully craft the story, to entertain and engage but also provide hope, and that's one of the biggest things that these other shows don't have. 
"There's no hope, there's no redemption in '13 Reasons Why.' It's entertaining, but there is no hope. So I would [ask], 'Why? Why are you making this movie or the show?'"
According to the CDC, the No. 2 cause of youth deaths, starting at age 10, is suicide. Just five years ago, it was ranked No. 10. There are a reported 700,000 suicides each year.
"What Rhymes With Reason" has partnered with The 988 Suicide & Crisis Lifeline, a toll-free suicide prevention helpline, to donate the proceeds of the film to their efforts. 
Roberts encouraged adults to listen and be present for the teens around them. The filmmaker hopes people will invite at least 10 teenagers to see the movie on Oct. 10 because, statistically, at least one of those teens is battling suicidal thoughts, anxiety or depression.
For more information about the Fathom event, visit the film's website.
Free

Religious Freedom Updates

Join thousands of others to get the FREEDOM POST newsletter for free, sent twice a week from The Christian Post.