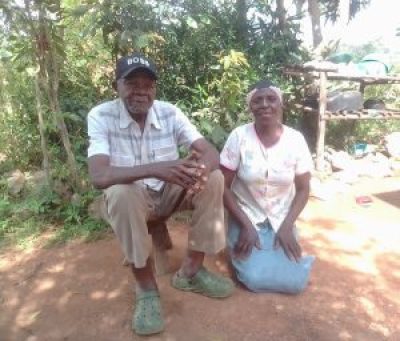 NAIROBI, Kenya — An elderly couple in eastern Uganda has fled their village after Muslim relatives upset with their conversion to Christianity threatened to destroy them and their home, sources said.
In Wakalende village, Kyebando Ward in Mayuge town, 70-year-old Sula Mugudi and his wife, Aisha Mugudi, 62, put their faith in Christ on Sept. 16 during a church's week-long evangelistic campaign of home visits.
Three days after converting, the couple attended a church all-night prayer vigil, returning home on Sept. 20 to find that relatives who had learned of their conversion had bashed bricks from their modest home.
"As we returned back to our grass-thatched roof house, we found some of the debris around the house," Sula Mugudi told Morning Star News. "On entering the house, we found there was a threatening message, 'Today if we find you around, we shall destroy you with the house. You have become an embarrassment to our Muslim family by joining a wrong religion.'"
The fearful couple left the house immediately.
"It was a very difficult moment for us — no place to stay, no clothing and beddings," Mugudi said.
A pastor whose name is withheld for security reasons said the couple has been relocated as far away as possible to avoid attacks by their Muslim relatives.
"When the couple arrived at our church, they looked shaken and fearful," he said. "The church has hidden them for the sake of the church as well as for the lives of these two new Christians. We need prayers for God's protection and providence."
The attack was the latest of many instances of persecution of Christians in Uganda that Morning Star News has documented.
Uganda's constitution and other laws provide for religious freedom, including the right to propagate one's faith and convert from one faith to another. Muslims make up no more than 12% of Uganda's population, with high concentrations in eastern areas of the country. 
Morning Star News is the only independent news service focusing exclusively on the persecution of Christians. The nonprofit's mission is to provide complete, reliable, even-handed news in order to empower those in the free world to help persecuted Christians, and to encourage persecuted Christians by informing them that they are not alone in their suffering.
Free

Religious Freedom Updates

Join thousands of others to get the FREEDOM POST newsletter for free, sent twice a week from The Christian Post.