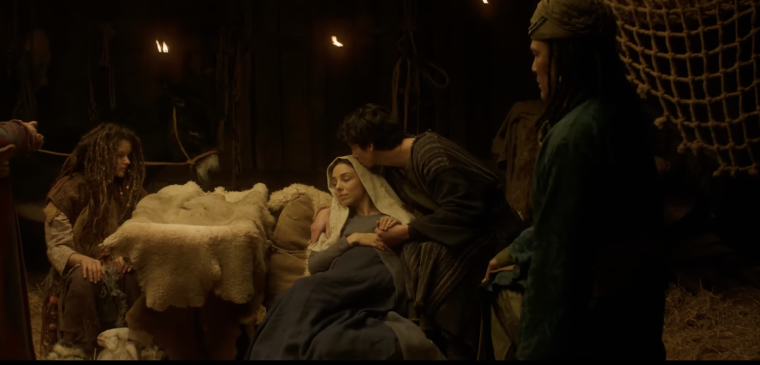 Grammy Award-winning artist Lecrae recently opened up about the challenges of portraying the angel Gabriel in "Journey to Bethlehem" and the spiritual warfare that occurred on the set of the upcoming Christmas musical highlighting the story of Mary and Joseph. 
In an interview with The Christian Post, the 43-year-old singer-songwriter revealed that the film's spiritually charged storyline fostered a close-knit community. While on set, director Adam Anders, Lecrae and his co-stars, Antonio Banderas, Milo Manheim, Fiona Palomo, Joel Smallbone and others would eat, talk and pray together to unite against unseen opposition.
"I think what a lot of people don't realize is that when you're pushing a message so potent and so powerful, there's darkness that tries to come, involve itself, and stop things and halt things," Lecrae said. 
"And I think we were keenly aware that that could be the reality. So, there was a lot of bonding … it was just a reality of, 'Hey, we want to be there for each other because we don't know what kind of spiritual attacks may come about. We don't know what this could look like.' There was a sobriety, but then it was just a joy that we got to be a part of something so profound and so great."
And spiritual warfare did come: the artist revealed that there was a day when shooting almost didn't happen: "All kinds of chaos was ensuing," he recalled. "It was my first day on set, and so I was like, 'I don't know if we're going to be able to shoot.'"
"There were animal issues, there were so many things happening in the city, and it felt like there was sincerely a spiritual attack. … But God just opened up the doors and everything just started changing at the last minute and rearranging. Adam was so nimble to switch this up and switch that up and we made it happen. It was amazing to see."
The first-ever theatrical musical of the Nativity, "Journey to Bethlehem" tells the story of Mary and Joseph and the birth of Jesus using classic Christmas songs and new pop songs written for the film. Fiona Palomo stars as Mary, Milo Manheim plays Joseph, and Antonio Banderas plays the vindictive King Herod. 
Lecrae described playing the angel Gabriel as both "challenging" and "daunting." He turned to a Christian acting coach and immersed himself in biblical texts to portray the angel's monumental message to Mary about the coming Messiah.
"Every time humans would encounter angels, it was always like, 'Wow,'" he said. "Just to imagine the weightiness of the message and the messenger at the same time and just putting myself in Mary's position made me realize what an incredible opportunity to be able to bear this news, to be able to come to the world and say, 'Hey, the Savior's coming.'
"I just walked away with a different feel for the weight of it all, a different feel for how important the Savior of humanity being brought to Earth was. It made me cherish the message even more."
"Journey to Bethlehem" is a modern retelling of the Nativity story and takes some creative liberties with the timeline of events and the characters. Lecrae acknowledged that historically, there has been some hesitancy in portraying angels on screen due to the fear that "people will begin to worship these creatures." "Journey to Bethlehem," he said, portrays Gabriel as a humble messenger, intentionally eliminating any inclination to deify the celestial being.
"I loved how Adam wanted to add some comical aspects to it to kind of downplay, this is not God," he said. "This is not a creature worthy of worship. This is a messenger from God. So, he's going to bump his head, he's going to stumble over his words. He is not full of himself. He is aware of, 'OK, I've got to get this message from God to Mary, and I am not enough myself, all-powerful and all-knowing.' I think that was just an aspect of humility; angels can fall. It was a picture of the humility of knowing that I am not God, and I'm not here to play a role that should be worshiped or deified. I think that was the beautiful part of it."
While starring in a faith-based musical marks a departure from Lecrae's usual milieu — he's best known as a singer, songwriter and record producer — it didn't stray far from his core values and beliefs.
"I love expressing and articulating in creative ways. They're kind of all in a similar vein, just slightly different," he said, adding that he sees more film roles in his future.
"I had a I had a blast doing it. To see it all come to fruition is so amazing. To be a part of just an incredible cast, and I learned a lot. … I'm excited to keep pushing forward."
Though "Journey to Bethlehem" is a blatantly faith-based film, Lecrae, who has been open about his own struggles with doubt and deconstruction, said he hopes skeptics and non-believers will watch the film. He stressed that the cinematography, storytelling and music will resonate with a broad audience, transcending religious affiliations.
"If I don't believe in Jesus, or the Bible, or any of those particular things, why would I see this movie? Because it's great art," he said. "And if you're a fan of great art, you're going to enjoy the storytelling in this, you're going to enjoy the cinematography, the acting, its phenomenal music. If you enjoy "High School Musical," you will enjoy this as well."
"Christians are responsible for building hospitals and colleges, and it was to serve people, and people benefited from the service of believers," the singer added. "I think people will benefit from the service of great art, great music, it will be a blessing to your soul. And you never know what you may walk away believing after you watch."
"Journey to Bethlehem" is the first musical released from Affirm Films, the Christian branch of Sony. The film hits theaters Nov. 10. 
Free

Religious Freedom Updates

Join thousands of others to get the FREEDOM POST newsletter for free, sent twice a week from The Christian Post.