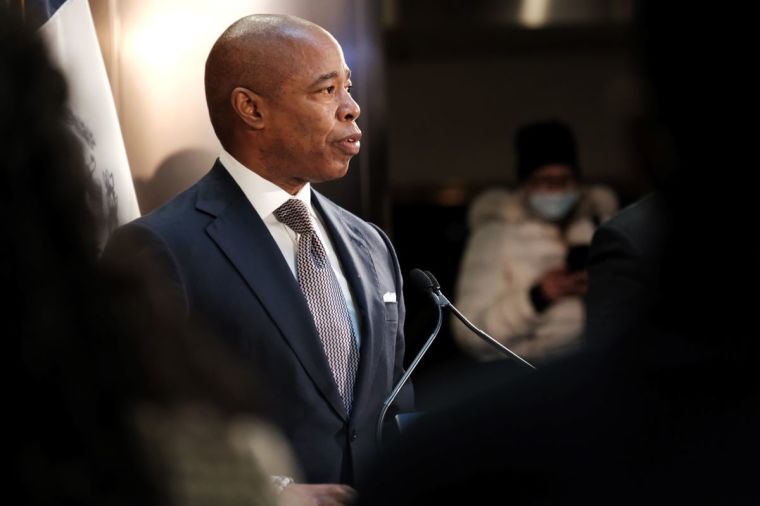 New York City's health system has become the first in the nation to offer residents "on-demand" access to abortion through a telehealth initiative that delivers abortion pills to women's doors following a virtual appointment.  
On Monday, NYC Health + Hospitals and New York City Mayor Eric Adams announced the launch of an abortion initiative called Virtual ExpressCare to offer telehealth appointments seven days a week for women seeking an abortion. The mayor's office said the program is part of an effort to expand access to abortion after Roe v. Wade was overturned in June 2022.
The abortion pills are available to women who reside in the city and are up to 10 weeks into their pregnancy. 
"Here in New York City, we will not allow the far right to continue its crusade to strip women of their reproductive rights," Adams said Monday, describing the overturning of Roe as a decision made by an "activist Supreme Court." 
"Telehealth abortion care allows the people in our lives to make the choices they need privately … so that they can decide what is best for them and their futures," the mayor added. "This is about protecting the ability for women to control their own bodies, their choices, and their freedoms."
The mayor's office and NYC Health + Hospitals did not respond to The Christian Post's request for comment. 
New York City's telehealth abortion program is not the first time that Adams has taken steps to expand access to abortion following the Supreme Court's decision inDobbs v. Jackson Women's Health Organization, the case that overturned Roe.
In November 2022, Adams and New York City Department of Health and Mental Hygiene Commissioner Dr. Ashwin Vasan announced the launch of an Abortion Access Hub. Funded with a $1 million investment, the hub took calls from abortion-minded women, telling them where they could obtain an abortion. 
Two months after the Dobbs decision, Adams announced that he had signed six bills intended to "protect access" to abortions in the city. One of the pieces of legislation requires New York City's Department of Health and Mental Hygiene to provide abortion pills at no cost to women at health clinics operated by the DOHMH. 
The safety of the abortion pill regime has long been a concern of many pro-life advocates who frequently cite a 2009 study that found chemical abortions have four times the complication rate of surgical abortions.
The study assessed 22,368 women who underwent a chemical abortion and 20,251 who underwent a surgical abortion, finding the overall incidence of adverse events was higher in the former category. Women who took the abortion pills experienced side effects such as hemorrhage, infection and incomplete abortion, thus requiring a surgical abortion afterward. 
Sue Liebel, director of state affairs and Midwest regional director of Susan B. Anthony Pro-Life America, told CP earlier this year that the data collection on abortion in the United States is "abysmal," as the country does not have a federal abortion reporting requirement. 
The pro-life advocate called for better reporting of emergency room complications, citing a 2021 peer-reviewed study conducted by the Charlotte Lozier Institute, SBA Pro-Life America's research arm. 
The study found that the rate of emergency room visits after a chemical abortion increased by over 500% from 2002 through 2015. The researchers also noted that by 2015, 60.9% of emergency room visits due to chemical abortion pill complications were miscoded as miscarriages. 
Liebel also emphasized the need for in-person examinations before a woman obtains the abortion pills to rule out potential health complications, such as an ectopic pregnancy in which a woman could experience life-threatening bleeding if left undiagnosed and untreated. 
Free

Religious Freedom Updates

Join thousands of others to get the FREEDOM POST newsletter for free, sent twice a week from The Christian Post.