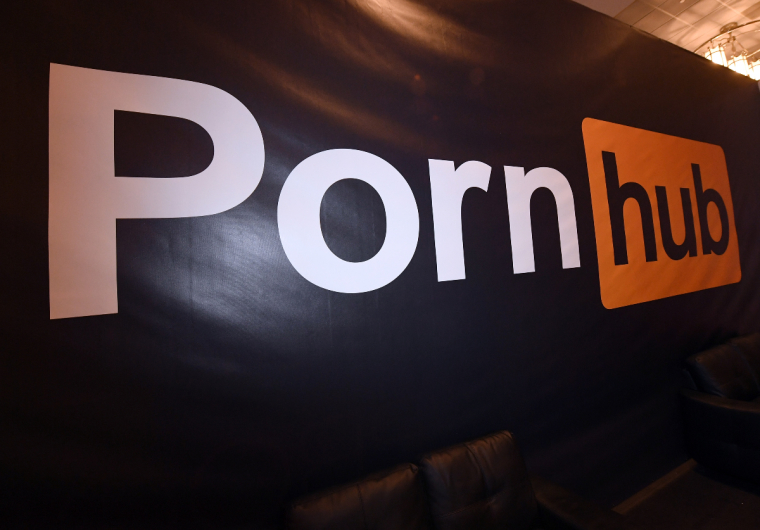 More than half of state attorneys general in the United States are demanding answers from Pornhub's parent company after an undercover video purported to show a longtime employee saying abusers exploit a "loophole" to profit from sex abuse material on its platforms. 
Earlier this month, Sound Investigations released an undercover video showing Mike Farley, a technical product manager at MindGeek, now Aylo, saying that users can bypass Pornhub's age and consent verification process for uploading sexually explicit content if the faces are not visible in the videos. 
Farley alleged that rapists and sex traffickers monetize these videos, using the loophole to "make a lot of money." He also alleged that the managers of Pornhub are aware of this loophole but have not tried to close it because they could lose money, saying that doing so would be "counterintuitive to the business."
In a Friday letter to Aylo, Ohio Attorney General Dave Yost and 25 other state attorneys general called on Pornhub's parent company to explain what steps it has taken to address this loophole.
"As you are aware, various Federal and state laws forbid the creation and distribution of [child sexual abuse material]," the letter stated. "We are concerned that Aylo and its subsidiary Pornhub, and possibly other subsidiaries, may be proliferating the production and dissemination of CSAM through the 'loophole' identified by your employee."
The attorneys general provided the company with 30 days to respond to their inquiries, stressing that "Children's lives and livelihoods are at stake."
In a statement provided to The Christian Post last month, an Aylo spokesperson denied the authenticity of the video, calling it an effort "to use disingenuous tactics to create a damaging characterization devoid of any fact or truth."
"The video, which was filmed surreptitiously and never fact checked, exclusively features an employee with no involvement in the company's compliance measures, content moderation practices, and development and execution of companywide policies," the spokesperson stated. 
Haley McNamara, vice president of strategy and communications at the National Center on Sexual Exploitation, told The Christian Post that she believes there needs to be a criminal investigation of Pornhub and its parent company. 
She pointed to a 2021 Canadian ethics hearing featuring testimony from several MindGeek executives regarding allegations that the company profited from child sex abuse and other exploitative content. 
During the hearing before the Canadian House of Commons Standing Committee on Access to Information, Privacy and Ethics, MindGeek executives confessed that some people misuse its platform. As McNamara asserted, these higher-level employees admitted even then that they were aware of policies that facilitate sexual exploitation. 
McNamara also believes that civil litigation is necessary, pointing to several ongoing lawsuits against Pornhub and MindGeek. An NCOSE attorney is also a co-counsel in a lawsuit against Pornhub and another porn site, XHamster, after footage of nine women filmed while changing for a field hockey game was uploaded to the sites. 
"Which really just underscores the reality that a lot of these cases and exposé have been around Pornhub and their parent company, but this is a systemic issue throughout the pornography industry," McNamara said. 
The advocate expressed sympathy for parents attempting to safeguard their children from online abuse, noting that new applications with a variety of safety features are always coming out.
McNamara said parents are fighting an "uphill battle" for their children's safety. She recommends parents monitor their children's online activity and utilize parental controls. 
"But probably the best thing parents can do is to have honest conversations with their children about online exploitation and safety and to try to come at it from a place of non-judgment or shame," the advocate suggested. 
Some kids may hesitate to tell their parents that they've sent an image that they shouldn't have or friended a stranger online, possibly due to fear that they will lose their internet privileges, McNamara noted. She emphasized that parents must have ongoing discussions about online safety with their children. 
"But at the end of the day, we really need stronger corporate policies and legislative policies that put more of the burden of responsibility on the online platforms themselves to do more to protect children," McNamara said. 
"So, everything from holding pornography platforms accountable for their facilitation of exploitation," she added. "But also mainstream platforms like social media companies to default to safety at the outset and to build new apps or platforms with safety in mind for children instead of putting the burden on overwhelmed parents to try to navigate it in the aftermath."
One reason McNamara cited for the apparent lack of accountability for websites like Pornhub is that some have interpreted Section 230 of the Communications Decency Act to mean that online platforms have "broadscale immunity" from content that third parties post on their platforms. 
"And so, this makes sense in some cases, right? If someone says something mean to me in a Facebook comment, I shouldn't be able to necessarily sue Facebook for defamation," McNamara said. "However, it's been interpreted overly broadly, especially in cases of sexual abuse and exploitation, and we've had platforms feel like they have immunity for anything that happens." 
As a result, McNamara argued that pornography websites have not invested in preventative measures to stop sexual exploitation due to the assumption that they are protected by Section 230.
Last February, a federal judge in Alabama allowed a class-action lawsuit against MindGeek to move forward, rejecting the argument that Pornhub's parent company is protected by Section 230. The plaintiffs in the case alleged that Pornhub hosted videos showcasing their sexual abuse.
Following a December 2020 New York Times article accusing Pornhub of hosting child sex abuse content, the pornography company announced that it was implementing new content standards. The new standards included restricting the uploading of videos to verified users and stopping users from downloading some videos. 
Pornhub also removed millions of videos and confessed that at least 118 of them contained confirmed instances of child sex abuse material. 
Free

Religious Freedom Updates

Join thousands of others to get the FREEDOM POST newsletter for free, sent twice a week from The Christian Post.