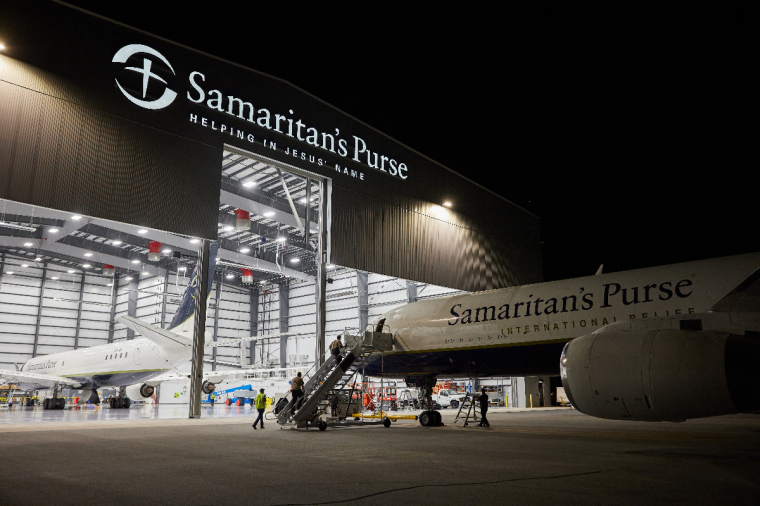 The Evangelical international humanitarian organization Samaritan's Purse has dedicated a new airlift response center and cargo aircraft in North Carolina as it aims to enhance its reach to assist victims of natural disasters and other tragedies in a timely fashion. 
Samaritan's Purse held a dedication ceremony Tuesday for its new 62,000-square-foot Airlift Response Center in Greensboro. The facility is located at the Piedmont Triad International Airport, approximately 100 miles from Samaritan's Purse's headquarters in Boone.
The facility includes a 55,000-square-foot hangar and office space. Tuesday's ceremony drew a crowd of slightly over 300 people and kicked off shortly after the charity's newly acquired Boeing 757 went into service.
Nearly two dozen people, including pilots, flight engineers, load masters and maintenance personnel, staff the facility. 
In an interview with The Christian Post, Samaritan's Purse CEO Rev. Franklin Graham said the purpose Airlift Response Center is to "do the maintenance on our heavy duty aircraft," which he said is "vital to the work" the organization does.
He said the facility will allow Samaritan's Purse "to respond when there's a crisis anywhere in the world within short notice."
"We can have [a plane] loaded with a field hospital in 12 hours and be on our way," he said. "It allows us to continue to conduct business the way we like to conduct business and that is quickly." 
Graham, the son of legendary evangelist Billy Graham, said the Airlift Response Center has been in the works for more than five years.
The space will enable the charity to "put in place the mechanics or tools to respond quickly" to crises such as climate change and COVID-19. He predicted that "we're going to see more crises like this, not less." 
"The quicker we respond, the better because life is at stake, and we want to be able to save life so it's very important that we respond as quickly as we possibly can," he stressed. 
Graham said the new airlift center was completed a year ago after the organization spent "a year and a half designing it" and two years building it. 
"We were waiting for our second airplane to finish being refurbished" before the dedication took place because "we wanted to dedicate the planes and the facility all at the same time," Graham told CP. 
The Boeing 757, along with an existing Douglas DC-8, are the organization's two largest cargo aircrafts.
In the seven years that Samaritan's Purse has had the DC-8, the aircraft has delivered nearly 8 million pounds of cargo to dozens of countries on 185 separate flights.
Most recently, the plane made 41 roundtrips to Ukraine, delivering a field hospital and 1.5 million pounds of relief supplies to the war-torn nation.
"Our second airplane, which is a 757, it took us a year and a half to get it to where we could use it," Graham stated. "It needed some refurbishing, it needed [Federal Aviation Administration] approval and the FAA approval took quite a while." 
The 757 completed its first mission earlier this month, delivering 24 tons of cargo to wildfire-ravaged Maui, Hawaii.
As the organization outlined in a statement released before Tuesday's ceremony, "the cargo hold is equivalent to the space of three tractor-trailers, and it can carry a maximum load of 67,000 pounds of cargo." 
"We thank God for the new Greensboro Airlift Response Center and our two cargo planes that give us the ability to meet needs in Jesus' name," Graham said. "As a pilot, I know the value of aviation. It allows us to respond quickly when disasters strike — we couldn't do it without these tools and this team." 
Free

Religious Freedom Updates

Join thousands of others to get the FREEDOM POST newsletter for free, sent twice a week from The Christian Post.