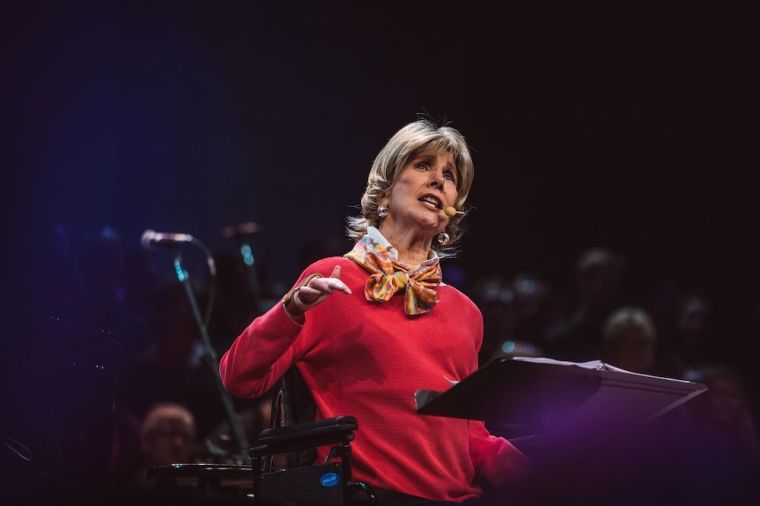 Bible teacher, bestselling author and disabilities advocate Joni Eareckson Tada has been released from the hospital after a 16-day stay due to double pneumonia.
"Like many of the people we serve who struggle with constant health challenges, I can say with them, 'God rescued me!' After 16 days in the hospital struggling with double pneumonia, I am home, happy, healing, and resting," the 73-year-old shared in a social media post last week featuring a photo of her and her husband, Ken, outside the hospital. "The hospital provided oxygen for me, but it's only temporary."
She thanked her husband and friends for all they did to care for her, saying they "made sure I rested." 
"At night, the promise from God in Isaiah 43:1-2 was such a great source of comfort: 'Do not be afraid, for you are mine. When you go through deep waters, I will be with you. When you go through rivers of difficulty, you will not drown,'" She said. "Yes, Jesus was with me through every scan, x-ray, blood draw, and breathing treatment."
Tada, who heads Joni and Friends, an organization "accelerating Christian ministry in the disability community," said the experience reminded her of how critical it is to "share the salvation message of Jesus with the families we serve."
"It's why we do what we do at Joni and Friends, and I couldn't be happier than to be on the frontlines with you and every friend of the ministry," she wrote. 
Tada was paralyzed after a diving accident in 1967 and has since used her platform to advocate for those with disabilities. Her book detailing her experience, Joni, has been translated into over 30 languages and made into a feature film.
In addition to living with quadriplegia, Tada has battled cancer twice and, recently, COVID-19. 
In a 2022 interview with The Christian Post, the speaker and author revealed that resting in God's sovereignty, come what may is what enables her to have "profound, unshakable gladness" in the face of "horrible hardships and jaw-biting pain." 
God's sovereignty "isn't some doctrinal, otherworldly, theological ivory tower concept that academics talk about, but you'd never really know how to put into practice," she said, but a "trust in His Word; He can be trusted because He's not going anywhere."
"I couldn't say that if that pain were happening perchance, or if it were some fluke, or if it was a cosmic roll of the dice. How can I be so confident, to speak calmly into my suffering, the confidence in God's Word were it not for His sovereignty?" Tada said. 
"When I'm in pain, which is often, especially at night in bed when I can't sleep … I talk to my pain and I say, 'You're not going to make me anxious, pain. You're not going to make me fearful. I'm going to walk into you. I'm going to breathe, calmly, serenely. I'm going to enter you, pain, as though I were Shadrach, Meshach and Abednego entering the fiery furnace, and I'm going to find Jesus, the Son of God, walking in the middle of the fire with me.'"
Tada cited 2 Corinthians 6:10: "We are to be sorrowful, yet always rejoicing; poor, yet making many rich; having nothing, and yet possessing everything."
"It seems to me, only in the Christian experience can we know both joy and sorrow at the same time; it's like it's on a continuum, and they happen simultaneously," she reflected.
"In the West, even we Christians, we don't know what to do with suffering and pain. We try to drug it, medicate it, escape it, divorce it. If it's a child with a disability, we institutionalize it. We do everything but learn how to live with it. And I don't mean live with it begrudgingly, but live with it confident that a sovereign God has you in the midst of this for a good reason. And usually, most of those reasons are that we might cast ourselves wholly and completely on Christ Jesus."
Free

Religious Freedom Updates

Join thousands of others to get the FREEDOM POST newsletter for free, sent twice a week from The Christian Post.