'Those concerned with basic human rights should be outraged by the crisis endured by people of faith in Nicaragua'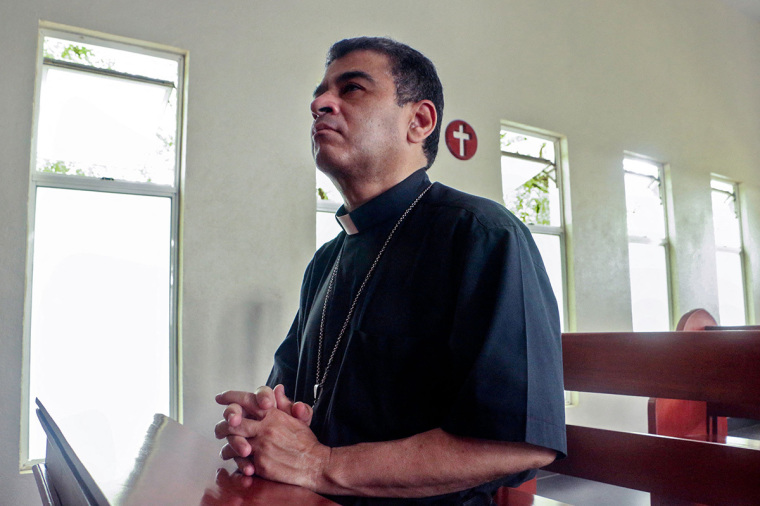 A Nicaraguan bishop has turned to an international human rights commission after being unjustly convicted and imprisoned by his country's government under the dictatorship of Daniel Ortega.
Bishop Rolando Álvarez of the Catholic Diocese of Matagalpa was convicted of "undermining national integrity" following a highly irregular trial, human rights group ADF International said in a statement, adding that he had been preaching on themes of human dignity and justice, denouncing the Nicaraguan government's human rights violations against the Catholic Church and its followers.
The bishop was initially barred from celebrating Mass and later arrested and imprisoned without explanation. He was sentenced to 26 years in prison after a trial he was unaware of, said ADF International, which has filed a petition on his behalf with the Inter-American Commission on Human Rights. There are no effective legal avenues in Nicaragua, the group said.
"Those concerned with basic human rights should be outraged by the crisis endured by people of faith in Nicaragua," said Kristina Hjelkrem, legal counsel for ADF International in Latin America. "This is a clear violation of not only his human right to freedom of expression, but also to profess his faith and share his beliefs as a pastor."
The state of religious persecution in the country is worsening, evidenced by the recent arrest of a priest who prayed for Bishop Álvarez earlier this month.
The bishop's persecution began on Aug. 4, 2022, when he was prevented from leaving his residence to celebrate Mass. He was forcibly detained for 15 days along with seminarians, priests and a cameraman. On Aug. 19 last year, police arrested Bishop Álvarez and seven other church members without a warrant. He was then placed under house arrest.
Nicaraguan authorities later charged the bishop with "undermining national integrity" and "propagation of false news." He was also found guilty of "aggravated obstruction of functions" and "disobedience of contempt for authority." The charges were based on sermons he had delivered criticizing the government's human rights violations.
Álvarez was stripped of his nationality and citizenship rights under a problematic law. He was sentenced to 26 years and four months in prison and fined almost $5,000. He has been in prison for seven months, deprived of contact with family or legal representation.
The Inter-American Commission on Human Rights and Inter-American Court of Human Rights have previously ordered Nicaragua to release the bishop. The government has ignored these orders.
The Catholic Church in Nicaragua has been targeted by the government since civil unrest erupted in April 2018. Attacks have been made against religious leaders, places of worship and other institutions. The Catholic Church has accused the regime of religious persecution.
Pope Francis has strongly condemned the persecution of Álvarez and the Church in Nicaragua. He has invited all parties to engage in open dialogue for peaceful coexistence.
An ideology in Nicaragua portrays Ortega as being "anointed by God … for sacred Nicaragua."
The 2018 protests came after about a decade of deteriorating economic conditions in the country. Protesters, mostly students, demanded democratic reforms and that President Ortega and his wife, Vice President Rosario Murillo, step down as they allegedly established a dictatorship marked by nepotism and repression.
During the initial days of the 2018 protests, Ortega requested that the Catholic Church act as a mediator. But his administration also began using brutal force against the protesters and later on Catholic clergy.
Catholic clergy aided and provided sanctuary to protesters and voiced support for the right to protest peacefully. But as a result, Ortega used his government and supporters to persecute clergy members, worshipers and various Catholic organizations.
Hundreds of people died in the protests in 2018.
Free

Religious Freedom Updates

Join thousands of others to get the FREEDOM POST newsletter for free, sent twice a week from The Christian Post.