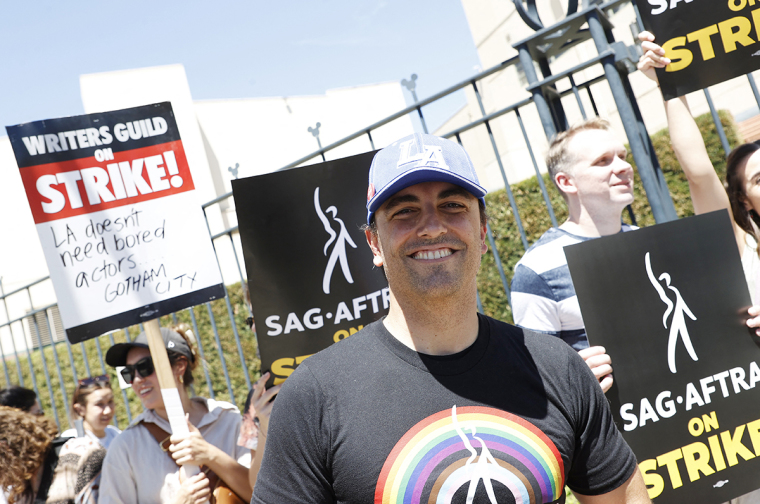 For most of Southern California, the city of Burbank is famous for its legendary Hollywood studios, its unique local character, and its not-so-hidden jewel of an airport.
But as of this weekend, Burbank became internationally known for its mayor who received a spanking from a man dressed as a woman.
A viral video shared by Libs of TikTok showed Burbank Mayor Konstantine Anthony getting smacked with a paddle on his backside at an event sponsored by the Santa Clarita Valley Democrats. 
WATCH: Konstantine Anthony- the Mayor of Burbank, California, received a spanking from a drag queen in front of children at a Democrat campaign event yesterday.

Full story here! https://t.co/G6BudDFuGspic.twitter.com/Dxb5bJ9Cuw

— Libs of TikTok (@libsoftiktok) September 10, 2023
While the initial post stated that Anthony — who is also running for a seat on the county's Board of Supervisors — "received a spanking from a drag queen in front of children," the mayor refuted claims that any children were present.
An unverified account under the mayor's name replied, "Actually, there weren't any children at this private 21+ event. But of course lying is totally on brand for you."
The video was apparently taken at the Sept. 9 SCV Dems Drag Queen Bingo event, which charged $50 admission and included a disclaimer on the Facebook post that said, "This event is for ages 15 and up. Not suitable for children."
In a statement to The Christian Post, Anthony reiterated that no children were at the Democratic event.
 "It has been confirmed that no minors were present. All attendees were over 21," the mayor said in a statement.
The performer from the video advertised the event with a post that read "Roxy's Got Balls," adding that the event's proceeds would benefit the SCV Democrats.
Speaking at a Glendale Unified School District meeting in June, Anthony addressed concerns from parents over school curriculum referring to families with same-sex partners.
"I think there's a lot of misinformation out there," he was quoted as saying. "I think people are being propagandized to think that there is more happening in the schools that there isn't.
In July, Anthony appeared on a local podcast and defended the use of sexually explicit books such as Gender Queer in school libraries in an exchange with a caller: 
"When you say sexualized ideology, do you simply mean a book that has a gay person in it?" Anthony asked.
The caller responded, "No I don't. There's gender ideology and there's also sexualized content …" 
"What does that mean, someone kissing?" the mayor asked. 
"Have you read Gender Queer?"
"I have read Gender Queer," said Anthony. 
"You don't find that to be sexualized?" she asked.
"No!"
"Showing how to give oral sex in graphic format?" she asked. 
"It's not graphic!" the mayor replied.
This is the Mayor of Burbank, @KonstantineinCA, defending sexually graphic content in schools tonight on the @wise_nuts podcast. @gusdparents absolutely destroyed him with facts, logic, and pictorial proof. This man should get zero votes in his race for LA County Supervisor. pic.twitter.com/AnuAtaAYxO

— James "Self-Hating Traitor" Clarke (@JCvsPC) July 11, 2023
Named by The Associated Press as the most challenged book in school libraries in 2023, Gender Queer by Maia Kobabe features sexually graphic illustrations and includes sexually explicit language.
Free

Religious Freedom Updates

Join thousands of others to get the FREEDOM POST newsletter for free, sent twice a week from The Christian Post.