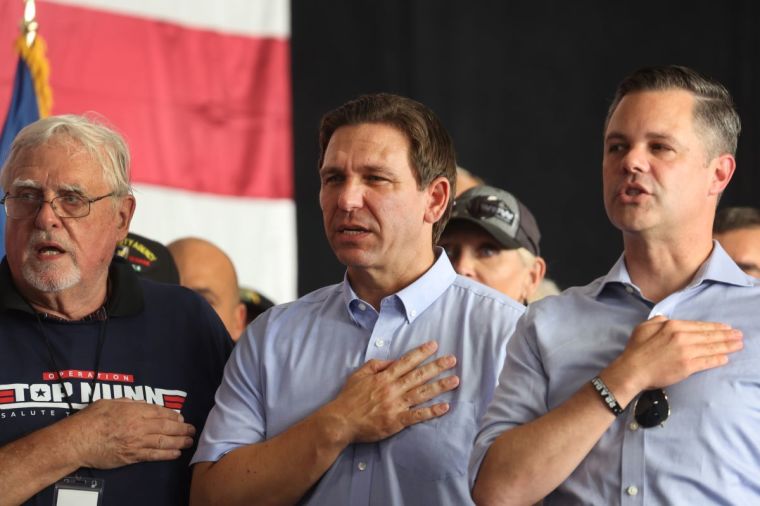 A leading Iowa Evangelical activist believes that the critical state caucuses are "tailor-made" for an upset with a Republican field that is "wide-open," saying that Florida Gov. Ron DeSantis has run a strong ground game as former President Donald Trump dominates the polls.
As Republican presidential hopefuls focus on wooing conservatives in Iowa, Bob Vander Plaats, the president of the Iowa-based advocacy group The FAMiLY Leader, discussed the state of the race in The Hawkeye State in an interview with The Christian Post.
Vander Plaats takes an active role in the primary campaign by interacting with the candidates and hosting the FAMiLY Leadership Summit, a gathering of grassroots Evangelical activists that took place earlier this summer. Most Republican candidates attended and sat down for one-on-one interviews with former Fox News host Tucker Carlson, but former President Donald Trump did not. 
Although Iowa Republican Presidential Caucus polls show Trump with a commanding lead, Vander Plaats says he's seen "poll numbers just be wrong time and time again." 
When asked which candidate was best positioned to win the Iowa caucuses, Vander Plaats responded, "It would have to be Ron DeSantis." He said DeSantis has received endorsements from 40 state legislators and 130 county chairs. He noted the Florida governor's commitment to do the "full Grassley." 
A "full Grassley" is in reference to U.S. Sen. Chuck Grassley of Iowa, who is known for traveling to all 99 of the state's counties to campaign and hear from voters. 
"His [political action committee], at least, is saying that they have 10,000 caucusgoers committed already to caucus for him. And so that's a pretty stunning ground game," Vander Plaats added.
According to the RealClearPolitics average of polls sampling the opinions of likely Iowa Republican caucusgoers, based on surveys taken from July 15 to Sept. 9, Trump's support has increased to 44.5%. 
DeSantis comes in second at 16.7%, followed by U.S. Sen. Tim Scott of South Carolina at 9.5%, entrepreneur Vivek Ramaswamy at 5.8%, former South Carolina Gov. Nikki Haley at 5.5%, former New Jersey Gov. Chris Christie at 3.3%, former Vice President Mike Pence at 3.3% and North Dakota Gov. Doug Burgum at 2.3%.
The other candidates included in the polling average, former Arkansas Gov. Asa Hutchinson, Texas Pastor Ryan Binkley and former Rep. Will Hurd, R-Texas, fail to crack 1%. 
Based on Vander Plaats' assessment on the ground in Iowa, the contest is still "wide-open," and conditions are "tailor-made for the former president … to get beat here." 
"I see Iowans by and large appreciative of the former president and the things that he did in his administration but exhausted by the continual look at the past and complaint about the past, and so, therefore, I think they're looking forward to turn the page and move on," he added.
"And I think you have candidates from DeSantis to Ramaswamy to Tim Scott to Nikki Haley to Mike Pence, who are all making a strong vie for that support."
Vander Plaats called DeSantis' ground game "exceptionally strong" and recalled that when DeSantis accompanied him to church last month when in town for the Iowa State Fair, the candidate said he was already approaching the halfway point of a "full Grassley." 
Vander Plaats pointed to endorsements DeSantis had picked up from Troy Scheuermann, whom he described as a "key activist in southeast Iowa," and former Iowa Republican Party Chair Cody Hoefert. Vander Plaats predicted that "both of those individuals will … bring strong followings with them to the caucuses."
Vander Plaats also praised DeSantis' "comprehensive strategy to win the caucuses," stressing that "he's not skipping the rural [areas] whatsoever."
In a recent call with reporters, the national Christian conservative grassroots advocacy group Faith & Freedom Coalition stressed that focusing on the rural counties is essential to winning the Iowa caucuses. Vander Plaats agreed with that assessment.  
While Vander Plaats offered particular praise for DeSantis, he reiterated his belief that the field is "wide-open" and, therefore, all candidates have the potential to win.
"I think everyone, including the former president, is going after the faith-based vote, the Evangelical vote … because they make up about two-thirds of the … [caucusgoers]," he said. "I think it's too early to tell which candidate they're going to rally around. Right now, I think they're taking an interest in all of them."
According to data compiled by The Des Moines Register, "Since 1980, the winner of the Iowa caucuses has gained the nomination in three of eight contested races, but the presidency just once: George W. Bush in 2000."
Vander Plaats believes that Iowans "do our job well," suggesting that the purpose of the Iowa caucuses — which is the first result of the presidential primary season — is not to select the Republican nominee but to "narrow the field."
"This time, I believe, if you're going to beat the former president, I think you have to beat him in Iowa. And I think whoever beats him in Iowa, that's going to be the competition all the way through the primary cycle," he said. 
Vander Plaats declared: "If Trump wins Iowa, I don't see how you stop him." 
Vander Plaats believes that Trump's strengths include having "100% name ID." He said Trump's indictments "have acted like a SuperPAC for him, they've helped him raise money, and they've kept him in the news 24/7."
"I think there's a sympathy factor there as well as an appreciation factor there," he continued. "But that said, on the ground, I sense something completely different. And that's why I believe the caucuses are tailor-made to upend the former president in Iowa." 
Vander Plaats said other candidates have reached out to him.
"We've had Tim Scott at our home. We've had Vivek Ramaswamy at our home and offices. We've had Tim Scott and Nikki Haley at our offices, Asa Hutchinson at our offices."
He asserted that all of the candidates "have to be strong in Iowa to have a legitimate shot at moving forward," adding, "I think after Iowa, there's going to be a strong call to basically coalesce around an alternative to Trump."
"I think it's why they're so scared of the former president, that I believe they believe he presents our highest hurdle for winning victory in 2024, and I think they see it as a must-win," said Vander Plaats.
"Then on top of that, I think they're looking for a statesman, someone who their children and their grandchildren can point to to say grow up to be like that person." 
While noting that electability looms large in the minds of faith-based voters, Vander Plaats listed "religious liberty" and "the sanctity of human life and nuclear family" as additional issues of importance to such voters heading into 2024.
He forecasted that Trump's decision to skip the FAMiLY Leadership Summit and his criticism of popular Iowa Gov. Kim Reynolds could impact the caucus results.
"Going after the most popular governor in probably Iowa's history is a huge mistake, in my opinion. Skipping the gathering of the largest Evangelical base … is a mistake. Iowans give a lot of credit for those who show up," he proclaimed. "I think that adds to his hurdles when it comes to the state of Iowa." 
In 2016, Trump went after Vander Plaats on social media after he endorsed Texas Sen. Ted Cruz for president. Leading up to the endorsement, Trump courted the support of the influential Evangelical activist.
Free

Religious Freedom Updates

Join thousands of others to get the FREEDOM POST newsletter for free, sent twice a week from The Christian Post.