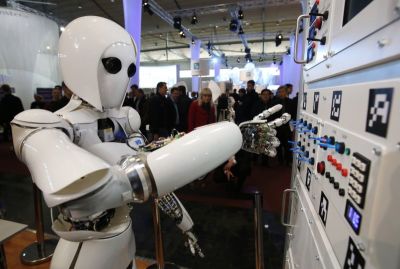 An artificial intelligence (AI) chatbot now offers "a divine connection in your pocket" by allowing users to "text with Jesus." While some may look at this app as a means to find comfort or spiritual growth, others will likely see it as an abomination signaling the apocalypse. I find myself asking a more basic question. What sort of church makes an app like this possible?
One of my favorite quotes comes from the preface of George Will's book titled The Pursuit of Happiness and Other Sobering Thoughts. Will notes, "Men and women are biological facts. Ladies and gentlemen — citizens — are social artifacts, works of political art. They carry the culture that is sustained by wise laws and traditions of civility … That is why statecraft is, inevitably, soulcraft." If the "Text with Jesus" app is viable, it is because the "ladies and gentlemen" of the Church who carry the Church's culture have had their souls crafted so that texting Jesus makes sense. "Text with Jesus" is tragic to the extent that it reflects the church's discipleship or lack thereof.
While the app's website acknowledges that the app "is not intended to replace or mimic direct communication with divine entities, which is a deeply personal aspect of one's faith," the odd and almost worshipful fervor around AI's genius will almost certainly lead some to believe that even if the app isn't intended to "replace or mimic" Jesus, there is no reason it couldn't (or shouldn't). Yet, texting with Jesus is not a good thing for at least a couple of reasons.
First, based on my interactions with the "Text with Jesus" app, AI Jesus is less concerned with fulfilling the Law and the Prophets than providing answers palatable to the itching ears of 21st-century users. At its most basic level, the app is simply a filter of sorts designed to offer a constrained set of responses. For instance, I asked AI Jesus to weigh in on several of the questions included in the 2023 State of Theology report involving the truth of Scripture, God's acceptance of worship from non-Christian religions, and the innocence of individuals at birth. In each case, AI Jesus noted, "As an AI language model, I don't have personal opinions or beliefs" before going on to provide an overly nuanced and unnecessarily qualified answer to a question that most U.S. adults were able to answer with a one- or two-word answer (i.e., agree, disagree, or something in between).
I would encourage Christians not to pose such questions to AI Jesus because, in the best case, you will be disappointed or confused by the answers and, in the worst case, your misconceptions about what the Bible teaches are likely to be reinforced. Still, my main concern with AI Jesus has less to do with the answers the platform is likely to provide and more to do with the way texting with Jesus trivializes the Bible and, by extension, Christ. 
The concern I have with "Text with Jesus" is the potential for it to make Jesus too familiar. At this point, AI Jesus bears no resemblance to the Jesus of the Bible. "Text with Jesus," for instance, would not even offer an unqualified "yes" when I asked whether Jesus was really God. While the stark difference between the biblical portrayal of Jesus and AI Jesus may seem comforting, we shouldn't be so quick to dismiss AI Jesus simply because it doesn't live up to our theological standards just yet. Instead, we should be concerned about the basic dynamic the app encourages. 
Whether or not the app is "intended" to replace other religious practices, it is difficult to believe that "Text with Jesus" won't diminish the perceived importance of practices like Bible study and prayer. It isn't as if the internet, streaming services, or social media "intended" to fundamentally change the way we interact with one another. As AI develops, it seems reasonable (and likely) that it will change the way we interact with each other and the world. "Text with Jesus" is one of various other attempts to change the way we interact with God.
"Text with Jesus" moves us closer to an outboard theological brain, which allows us to be functionally ignorant of God's word without feeling like we are functionally ignorant. As Clive Thompson noted in 2007, "The cyborg future is here. Almost without noticing it, we've outsourced important peripheral brain functions to the silicon around us." While there is some value in having an "outboard brain," AI seems to be moving us toward something more than a "cyborg future." Cyborg implies a mix of humans and technology in which our human capabilities could be enhanced by technology. "Text with Jesus," however, has an oracular tone to it. If you need an answer, you can just text Jesus. If you need more than four or five answers, upgrade to a monthly or annual subscription or wait several hours and "Jesus" will be at your beck-and-call once again.
As AI models designed for Christians continue to advance, I would offer the following word of caution: while there may be benefits by adopting models like "Text with Jesus," we will inevitably lose something. If we only consider the benefits of AI for our faith, it seems likely that we will become too dependent on AI. As I've highlighted elsewhere, AI has extraordinary capacities, but those capacities don't make AI immune from bias and error. Christians must take care to count the full cost of adopting AI and using models like "Text with Jesus." For my part, I'll be passing on texting the almighty and sticking with the less convenient practices exemplified by the likes of Ezra, who "set his heart to study the Law of the Lord, and to do it and to teach his statutes and rules in Israel" (Ezra 7:10). I'd say he accomplished plenty without the help of AI Jesus.
Dr. James Spencer currently serves as President of the D. L. Moody Center, an independent non-profit organization inspired by the life and ministry of Dwight Moody and dedicated to proclaiming the Gospel and challenging God's children to follow Jesus. He also hosts a weekly radio program and podcast titled "Useful to God" on KLTT in Colorado.  His book titled "Christian Resistance: Learning to Defy the World and Follow Jesus" is available on amazon.com. He previously published "Useful to God: Eight Lessons from the Life of D. L. Moody," "Thinking Christian: Essays on Testimony, Accountability, and the Christian Mind," as well as co-authoring "Trajectories: A Gospel-Centered Introduction to Old Testament Theology."
Free

Religious Freedom Updates

Join thousands of others to get the FREEDOM POST newsletter for free, sent twice a week from The Christian Post.