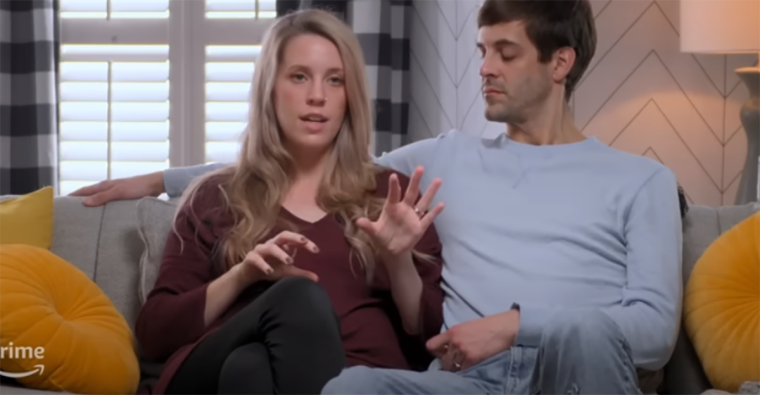 Former reality TV star Jill Duggar Dillard is opening up about how her participation in show business put a strain on her marriage as her new memoir is slated for publication.
Dillard is one of the 19 children of Jim Bob and Michelle Duggar, who raised their children in a strict Christian household, as documented in the long-running TLC series "19 Kids and Counting" and a spinoff series, "Counting On." She spoke to People magazine as her memoir, Counting the Cost, is scheduled for release Tuesday. In the interview with People, published Wednesday, Dillard detailed how the demands associated with filming reality television "caused a lot of frustration" in her marriage to Derick Dillard.  
The Duggar daughter recalled how the reality TV lifestyle emerged as a source of tension with her spouse "especially early on, where he would feel a certain way about filming something."
"I'd be like, 'I hear you, I feel you. I also don't want to do whatever it is they're asking us to do, either. But we have to,'" she added. 
Dillard outlined how her upbringing, based on the teachings of the Institute in Basic Life Principles, which places a heavy emphasis on the importance of parental obedience, made matters worse in light of her father's role at the center of the show. "It definitely got between us," she said, referring to the impact of her perceived obligations as a daughter in relation to the show and her marriage. 
"No matter your age, you are to obey your [parents'] wishes and you even have to ask them for their blessing for any major moment in your life," she added. "That could be buying a house, moving to a different state, where to go to school. We were dealing with this a lot when we were trying to make decisions for our family, and we were really wrestling back and forth with it."
Derick Dillard expressed agreement with his wife's assessment of the situation, telling People, "Whenever we were at odds with what her dad thought we should be doing with filming, he would say things that would be very damaging." He identified problematic questions made by the Duggar family patriarch who he said would ask, "Is this you, Jill, or is this you, Derek?" According to Dereck, he'd also ask, "Are you leading your wife astray and doing things that are not supportive of marriage?"
Dillard described his father-in-law's efforts as trying to "weaponize the relationship," saying the occurrences were a "red flag." Eventually, after reflecting on how drama associated with the reality TV show and the arguments such matters would cause with her father were "affecting our marriage," Jill Dillard determined that "we either need to fight this battle together, or it's going to rip us apart."
"We had to join forces at that point," she insisted. The release of Counting the Cost comes three years after the Dillards left the philosophy associated with the Institute in Basic Life Principles behind them. While the couple is "trusting in God" as they chart a new course for their life, they have embraced therapy as what Mrs. Dillard characterizes as "the gift we didn't know we needed." They now live on the Arkansas-Oklahoma border with their three sons as they seek to live a life out of the spotlight. 
Addressing her book's potential to attract negative reactions, Jill Dillard declared, "I feel called to do this." She asserted that "we really wanted to tell our story for my siblings, because some of them are going to face similar challenges, if they haven't already, to what I've faced." 
For their part, Jim Bob and Michelle Duggar released a statement to People declining to directly respond to the allegations laid out by their daughter and son-in-law: "We love all of our children very much. As with any family, few things are more painful than conflicts or problems among those you love. … We do not believe the best way to resolve conflicts, facilitate forgiveness and reconciliation, or to communicate through difficulties is through the media or a public forum so we will not comment." 
Counting the Cost and this week's interview with People do not constitute the first time Jill Dillard has sought to distance herself from her famous family and the strict rules they abide by. The former reality TV star previously documented how she wears a nose ring and pants in addition to drinking alcohol, activities that her upbringing forbade her from partaking in. 
Earlier this year, the Duggar family was the subject of an Amazon Prime docuseries called "Shiny Happy People." It focuses on Jill Dillard and examines the teachings of the Institute in Basic Life Principles. 
In addition to Jill Dillard, another now-adult Duggar child has come forward to distance herself from her upbringing.
Jinger Duggar Vuolo discussed how she came to the conclusion that the teachings at the center of the Institute in Basic Life Principles were "not true" in an interview with The Christian Post earlier this year, where she outlined the direction of her spiritual journey going forward.
"As a believer, as somebody who really wants to glorify God and know what God thinks, know what pleases Him, I'm going to go back to the Word of God for my answers, even if that takes me years of working through what I've been taught and saying, 'OK, well, I remember what this verse said, according to this teacher, but what does it actually say? What was the actual context? What is the theme of the Word of God? And what does this look like in my life? How should I live my life accordingly?"
Free

Religious Freedom Updates

Join thousands of others to get the FREEDOM POST newsletter for free, sent twice a week from The Christian Post.