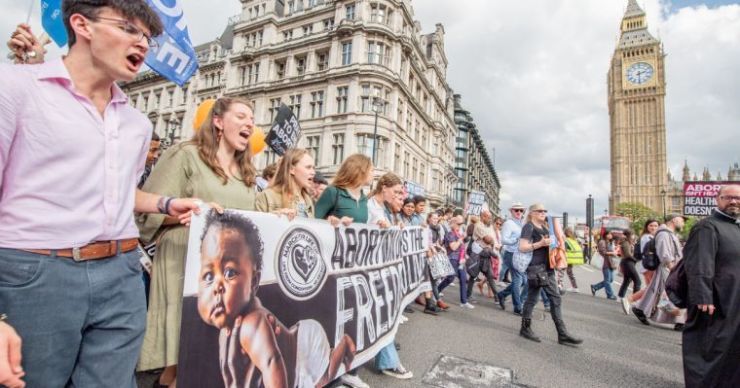 Thousands of people marched through London in support of the unborn at the weekend. 
Police estimates put the number of participants in this year's March for Life UK at 7,000. 
They marched to Parliament Square on Saturday under the banner of 'Freedom to Live' despite being heckled by pro-abortion activists at the sidelines.
A number of pro-life speakers took to the stage in Parliament Square. They included March for Life co-director, Isabel Vaughan-Spruce, who shared about her experience of being arrested for praying silently near an abortion clinic. 
A public spaces protection order (PSPO) in place around the clinic prevented pro-life activity within the vicinity, including prayer and offering information and assistance to women.
Vaughan-Spruce was later found not guilty but was subsequently arrested a second time for praying silently within a PSPO zone near an abortion clinic and is still waiting to hear if she will be formally charged.
She told the crowds in Parliament Square: "On the second time I was arrested I was told my prayers were an offence. I'll tell you what is offensive: that our country has the highest ever abortion figures, 100,000 of them annually being repeat abortion and the only response we see happening in or government is a clamp down on those who peacefully offer alternatives to pregnant women."
Lois McClatchie-Miller from ADF (Alliance Defending Freedom) said that the mantra of 'my body, my choice' has "led to a deficit of male responsibility, allowing men to shrug and say 'your body, your choice, your problem'". 
Scott Klusendorf, president of The Life Training Institute, encouraged pro-lifers "to have the confidence to make our case persuasively".
The march was supported by Christian leaders including Catholic bishops John Sherrington, Richard Moth and John Keenan, and Free Church of England priest, Rev Calvin Robinson.
A young woman named only as Ellie shared her heartbreaking experience of abortion trauma.
"I instinctively knew when it was time to go to the toilet and deliver my baby. That moment of separation is burned into my memory forever," she said.
"I think I can speak for every post-abortive woman stood here today that abortion didn't grant us freedom, but made us captives in one way or another." 
Tory MP Sir Edward Leigh was also there on Saturday. Tweeting about the march, he said, "Great to see so many turn out for this weekend's March for Life UK — defending the rights of the most vulnerable in our society."
March for Life is aiming to bring 10,000 pro-lifers to London next year when it marks its 10th anniversary.