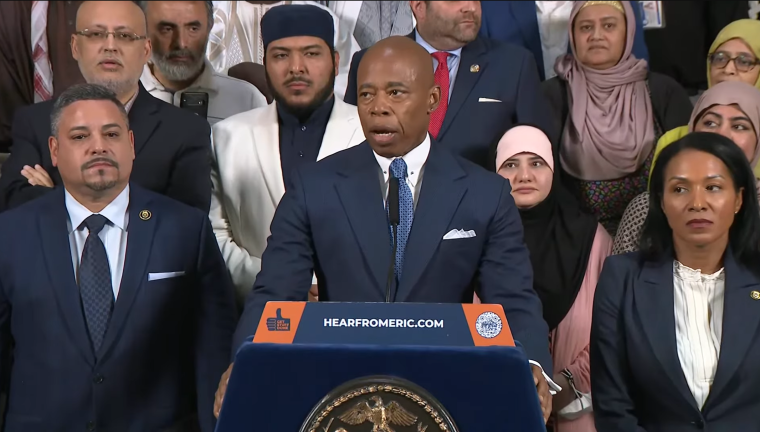 The Adhan, popularly known as the Islamic call to public prayer, can now be publicly broadcast by mosques in New York City without a permit every Friday and throughout Ramadan under a new initiative launched by Mayor Eric Adams and NYPD Commissioner Edward A. Caban. But not everyone is happy about it.
"For too long, there has been a feeling that our communities were not allowed to amplify their calls to prayer," Adams said at a press conference announcing the initiative Tuesday.
"Today, we are cutting red tape and saying clearly that mosques and houses of worship are free to amplify their call to prayer on Fridays and during Ramadan without a permit necessary. We want our brothers and sisters of Muslim faith to know that they are free to live their faith in New York City because, under the law, we will all be treated equally. Our administration is proud to finally get this done."
In New York City, the use of a sound device such as a loudspeaker, megaphone or stereo requires a permit, but under the new initiative, mosques can now broadcast the call to prayer between 12:30 p.m. and 1:30 p.m. every Friday as well as during the sunset prayers each evening during the observation of Ramadan without a permit.
Ramadan is a month-long period of fasting and prayer celebrated in the ninth month of the Islamic calendar.
Muslims who attended the announcement, like Imam Abdallah Salem of the Muslim Community Center of Brooklyn, celebrated the historic move by Adams, who said New York City is a place for people of all faiths.
"As someone who grew up in Egypt and hearing the call of prayer my entire life, I truly missed its beauty and peaceful reminder to take a moment and appreciate what you have," Salem said in a statement. "I am so grateful to be able to hear it again here in my own city."
Somaia Ferozi, principal of the Ideal Islamic School, also praised the move.
"As a principal of an Islamic school, I see my students struggling to maintain their identity as a Muslim. Many are afraid to share it, and the rest are hesitant," Ferozi said. "For them to hear the call of prayer in public during our holiest days will affirm to them that this is their city, and they have the right to worship like everyone else."
Some Muslims, like Reza Chowdhury, founder of New York Startup Lab, disagreed with the move and called it "insanity."
"This is insanity. There is a separation of church and state in this country and no governmental agency should be participating in adhan or any other religious activity. As a Muslim, I wouldn't want someone living next to a mosque in NYC to be woken up by a call to prayer at 5 am, sunrise, or a kid that was just put to sleep being woken up in the evening," he said in a Tuesday statement on X, the social media platform formerly known as Twitter.
According to a report from the Institute for Social Policy and Understanding, about 768,767 Muslims live in New York City as of 2016, making up about 8.96% of the city's total population of 8,583,000 and more than 20% of the 3.45 million Muslims living in the United States.
Earlier this year, Minneapolis, Minnesota, became the first major U.S. city to allow the Adhan to be publicly broadcast the customary five times a day throughout the year. Minnesota has an estimated Muslim population of 200,000.
Free

Religious Freedom Updates

Join thousands of others to get the FREEDOM POST newsletter for free, sent twice a week from The Christian Post.