'Why can't God use Richie?' says Pastor Joey Tellez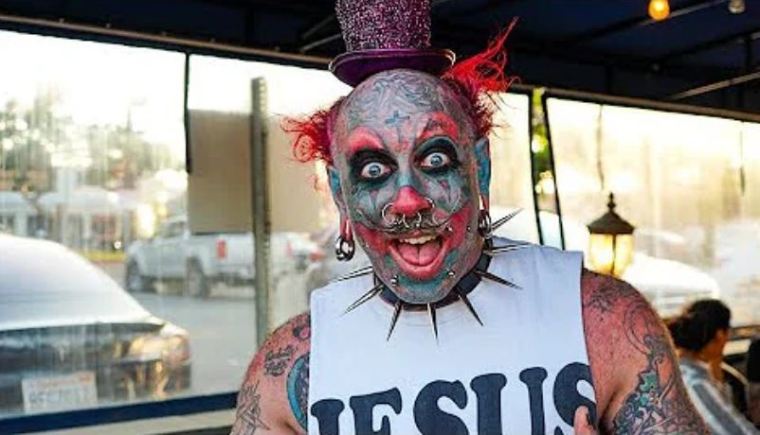 A Southern California pastor is helping a self-described clown barber to become a pastor himself after documenting his conversion on social media. 
Richie the Barber, whose real name is Richie Esposito, is ready to jump into pastoral ministry after professing faith in Jesus Christ following a number of podcast appearances in which the 38-year-old barber shared his newfound faith.
With a long list of media appearances in recent years, Richie announced last week he's studying to become a pastor with a little help from Pastor Joey Tellez of The Connection House Church in Whittier.
The caption read: "I'm studying to become a pastor. I finally got my first book. Pastor Joey is helping me study for my test @thejoeytellez It's gonna take a year, but I'm dedicated to [doing] this in Jesus name #richiethebarber #jesus #jesuschrist #pastor #facetattoo #facetattoos #tattoo #piercing #piercings #clown #clowns" 
The Huntington Beach native has become a fixture on Instagram and other social media sites for his colorful — some might say even startling — full-facial clown makeup tattoo, silicon implants and signature red clown hair. 
And while in recent years, Richie, with his 152,000 followers on Instagram and another 181,000 on YouTube, has managed to land himself on "America's Got Talent" and in local media reports primarily for confetti-bombing celebrities like the Kardashians and Jennifer Lopez, he now says he's a changed man who's ready to lead others in Christ. 
He's shared his testimony on stage and in a number of podcast appearances, including one he shared on Aug. 27 in which he says where he once did drugs and "partied with satanic celebrities," he "always knew God but always said, 'I'll be there later.'"
After getting sober about three years ago, Richie said he finally gave his life to Christ after a broken relationship.
"I came home and I started to believe, and the Holy Spirit just entered," he said.
Esposito did not respond to a request for comment from The Christian Post. This article will be updated if any response is received.
The conversion, according to Tellez, is very real — and it's having an impact on others' lives as well.
"The biggest miracle is ultimately salvation, you know?" Tellez told The Christian Post. "And what I've seen in Richie minister is that people are getting set free, and it's such a beautiful thing."
After the two first connected on social media, Tellez said shortly after that, Richie was baptized and was starting a Christian punk band and offered a spot to Tellez to play drums.
"We just hit it off playing music initially," said Tellez. "And then I just started to speak into his life."
Since then, he has opened up his pulpit to Richie multiple times.
"I wanted him to share what God has done because, ultimately, it's just been an incredible testimony for what the Lord continues to do in his life," he said.
A Facebook post from June shows Tellez and Richie baptizing a woman at a bar in Glendora, California, where the pair "delivered healing in the name of Jesus."
When asked whether the clown getup is a potential stumbling block for the Gospel, Tellez said that's not how he sees it. 
In fact, Tellez said he believes Richie is an answered prayer after Tellez said he specifically remembers praying in his backyard for the Lord to bring people into his life whom nobody would expect God to use. 
And, says Tellez, God has done just that.
"I've seen a lot of people come to Christ through Richie's testimony," he said. "A lot of young people who feel that maybe they can't go to a traditional church where they might feel like they're outcasts."
Part of Richie's appeal, said Tellez, is to the younger generation who are tattooed and "punk rockers" who are really "looking for hope and they're really searching for answers of love and compassion and empathy."
"A lot of these young people feel like they can't walk into a normal church without being critiqued and being judged in a sense because of what they look like," he said. "And the tendency, I think, is for people to judge the exterior instead of looking at the interior of a person.
"… We make room for people who normally might not feel comfortable in a regular church setting."
And as for those critics who say Richie's clown persona could be a distraction from the message of the Gospel, Tellez said he's not really concerned with what "religious people" might think.
"I think Jesus had the hardest time with the religious people," he said. "He had the hardest time with Pharisees and Sadducees, who looked within the confines of a box, and so anything outside of the box is thought to be extreme.
"But the thing is, why can't God use Richie?"
Free

Religious Freedom Updates

Join thousands of others to get the FREEDOM POST newsletter for free, sent twice a week from The Christian Post.