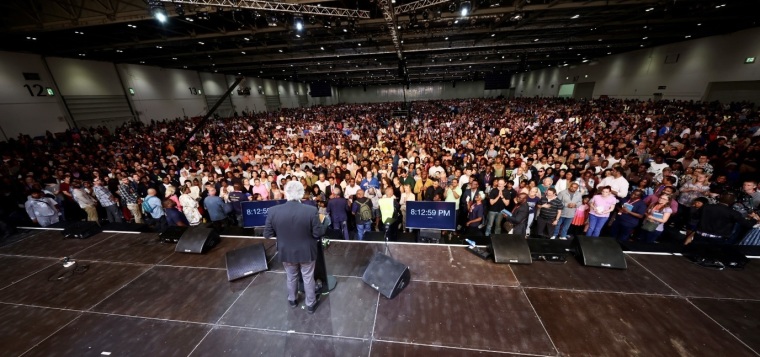 Hundreds made decisions for Christ as over 10,000 attended the Billy Graham Evangelistic Association's God Loves You Tour event in London on Saturday, where evangelist Franklin Graham preached a Gospel message. 
Graham, the son of the legendary evangelist Billy Graham who serves as BGEA president, held the outreach at the ExCel center in London on Saturday. BGEA partnered with around 1,000 churches based in the London area, and tens of thousands of people watched the event via livestream.
The event was the continuation of the "God Loves You" tour that Graham kicked off in the United Kingdom last year after facing some initial opposition. 
Before Graham's presentation, worship was led by contemporary Christian singers CeCe Winans, Michael W. Smith and the Newsboys. Around 1,000 people made professions of faith, according to information shared with The Christian Post by the BGEA.
"I want to say a few words to you tonight because I believe there are people here who have hurting hearts. A lot of people here have been searching and looking and trying to find purpose to what their life is all about," Graham said to the crowd.
"I'm here to say this to you tonight — God loves you! He loves you, and He sent His Son, Jesus Christ, from Heaven to this earth to save you from your sins."
Graham stressed that all people are sinners and all "are guilty."
"But if you are willing to repent and turn from your sins, and by faith lean on the name of the Lord, Jesus Christ, tonight, God will forgive you, cleanse you, heal you. But you have to come to Him through Christ."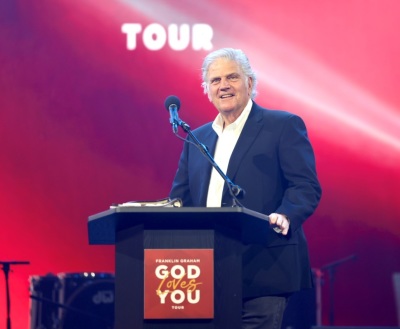 Earlier this month, the BGEA announced the addition of two stops on the God Loves You tour in the U.K., including Saturday's show at the  ExCeL London convention center and a June 22, 2024, at the OVO Hydro arena in Glasgow, Scotland.
"We are excited to return to London again this year and to have an opportunity to preach the Gospel in Glasgow," said Graham in a statement shared with CP in early August.
"We are grateful for the thousands of Christians and hundreds of churches that have stood alongside us in recent years and continued praying for this tour to come to their cities."
The U.K.-based tour made stops last year in Liverpool, South Wales, Sheffield and London, with Graham stating that he "saw hundreds of people turn to Jesus Christ" at those gatherings.
Graham had previously experienced resistance from LGBT activist groups and venue hosts in the U.K., who wanted to shut down the events over his views on homosexuality and Islam.
In 2020, for example, before the COVID-19 lockdowns began, a couple of British venues canceled their God Loves You tour events because of Graham's beliefs and positions. They were met with legal action in response.
A Scottish court ruled last year that Scottish Event Campus Limited violated the U.K. Equality Act when it canceled the BGEA events and ordered them to pay over $111,000 (£97,000) in damages.
"I heard no evidence to suggest that Franklin Graham had intended to pursue a toxic or dangerous agenda at the event. On the contrary, it is not disputed that the event would have been an evangelical outreach event for up to twelve thousand people," stated the ruling.
"That is not to say that his opinions are not offensive to so, me whether in Glasgow or elsewhere. However, the pursuer's right to engage a speaker at the evangelical event — in furtherance of a religious or philosophical belief — is protected by law."  
Free

Religious Freedom Updates

Join thousands of others to get the FREEDOM POST newsletter for free, sent twice a week from The Christian Post.