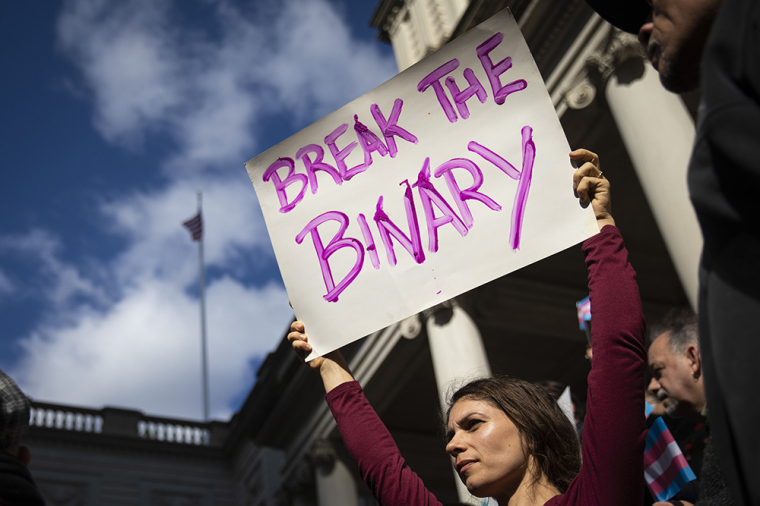 In recent years, debates about the fairness of allowing men to compete against women in sports and the morality of chemically and surgically castrating youth suffering from gender dysphoria have emerged as contentious topics in the United States.
While trans activists maintain that allowing men to compete in women's sports and body mutilating surgeries are necessary "gender-affirming healthcare," more Americans are pushing back against the idea that the solution to this social contagion among the nation's youth is sterilization by way of puberty blockers, opposite-sex hormones and body disfiguring surgeries. 
Specifically, critics of policies allowing men to compete on women's sports teams believe that doing so puts women and girls at a disadvantage in light of the biological differences between men and women that give males an advantage in sports.
These concerns about fairness, buoyed by real-world examples of trans-identified males breaking women's sports records, have prompted 23 states to pass laws requiring athletes to compete on sports teams that align with their biological sex as opposed to their chosen identity.
As for sex-change procedures, concerns about the long-term effects of puberty blockers, cross-sex hormones and surgeries have led 21 states to ban minors from obtaining some or all procedures. The American College of Pediatricians has listed "osteoporosis, mood disorders, seizures, cognitive impairment" and sterility as potential side effects of puberty blockers while warning that cross-sex hormones can cause an "increased risk of heart attacks, stroke, diabetes, blood clots and cancers across their lifespan."
Chloe Cole, a detransitioner who previously identified as a member of the opposite sex but has seen her discomfort with her biological sex subside as she got older, has attributed the mental health problems, including suicidal thoughts she experienced as a teen, to the double mastectomy she had done on her at age 15 in a lawsuit she has filed against the medical professionals who treated her for her gender dysphoria.
In addition to the mental health problems caused by sex-change surgeries, the procedures also leave behind unsightly scars formed following the removal of forearm or thigh tissue to create a fake, flaccid penis in trans-identified girls who also have their breasts removed and are left with unsightly scars on their chest. The office of Florida's Republican Gov. Ron DeSantis recently shared images of the damage caused by these elective surgeries.
While most are familiar with the female athletes and politicians who have spoken out against transing children or maintaining fairness in women's sports, several public figures with no direct stake in the debate have also come forward to take issue with popular culture's rush to embrace policies that disadvantage or harm women and children. 
Here's a list of seven celebrities who have recently spoken out against trans ideology.
Free

Religious Freedom Updates

Join thousands of others to get the FREEDOM POST newsletter for free, sent twice a week from The Christian Post.