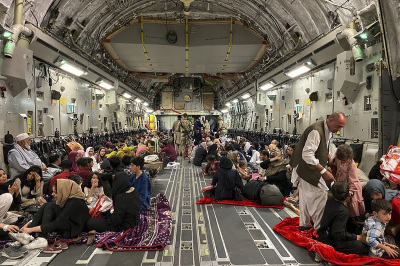 In 2018, the Pew Research Center released a poll that found that only a quarter of white evangelicals believed the U.S. had a responsibility to receive refugees. 
As a longtime staffer at World Relief, the only distinctly evangelical organization among 10 national refugee resettlement organizations, that finding was painful. But it was not entirely shocking having lived through the decline in evangelical enthusiasm for refugee resettlement. Beginning in 2015, spurred by politicians' misinformed, alarmist rhetoric about Syrian Muslim refugees, in particular, evangelical attitudes toward refugees began to harden. Some apologetic pastors whose churches had partnered with us to welcome refugees for decades explained that refugee resettlement had just become too divisive within their congregations to promote from the pulpit.
And then, two years ago this week, the tide changed again. As evangelicals saw the horrifying images of the evacuation after the fall of Kabul to the Taliban, our refugee resettlement programs were overwhelmed by calls and emails from evangelical Christians eager to donate and volunteer to welcome Afghans, many of whom were now at risk because of their service to the U.S. military. Our warehouses were soon overfull with donations for Afghans. And an ABC News/Washington Post poll found that six-in-10 evangelicals supported the U.S. taking in Afghan refugees, a 35-point shift in public opinion in just a few years.
Like other refugee resettlement organizations, World Relief had dramatically reduced our staff size and geographic footprint as the Trump administration reduced the refugee admissions ceiling to historically low levels and the Biden administration had only slowly begun to rebuild. The resettlement of more than 70,000 Afghans in just a few months strained the national resettlement infrastructure. Our organization, at least, could not have done our part without the sustained commitment of volunteers giving of their time to befriend new Afghan neighbors, donors providing furniture, household items and gift cards, business owners offering jobs and landlords making exceptions to rent to new arrivals without a credit history — and much of this goodwill came from evangelical Christians.
Polling reflected sustained growth in evangelical support for refugee resettlement: by last year at this time, 68% of white evangelicals said that receiving refugees was an important priority. In 2018, just 25% of white evangelicals said the U.S. had a responsibility to receive refugees; four years later, just 24% disagreed with that statement.
But as evangelicals have stepped up to welcome and befriend resettled Afghans, they've discovered a challenge: While the Afghans evacuated by the U.S. military certainly fled a credible fear of persecution from the Taliban, they were not technically admitted as refugees. Had they been, they would almost all be Lawful Permanent Residents by now, three years away from eligibility for naturalization.
But because of the chaotic nature of the evacuation — a result of the Biden administration's failure to heed pleas from veterans groups and resettlement organizations to evacuate U.S. allies before withdrawing U.S. troops from Afghanistan — most Afghans were brought to the U.S. with "humanitarian parole," which offers just temporary legal protections and employment authorization. 
Now, as Afghan allies grapple with the uncertainty associated with legal documents bearing expiration dates, the evangelical resettlement volunteers who have become their friends are frustrated: Why would our government spend billions of dollars to bring Afghans here only to leave them  in temporary status, fearful of becoming undocumented or even being returned to their persecutors in Afghanistan?
Why doesn't Congress simply fix this?
 A newly introduced bipartisan bill, the Afghan Adjustment Act, would do just that, allowing Afghan parolees to apply for permanent legal status after undergoing additional vetting. Evangelical leaders — from the National Association of Evangelicals to the Southern Baptist Convention's Ethics & Religious Liberty Commission and beyond — have voiced their support for this bill, echoing the sentiments of evangelicals in the pews. A poll released this week found that fully three-quarters of white evangelical registered voters support the bill. 
Given that white evangelicals historically make up roughly half of GOP primary voters, Republican lawmakers, in particular, would do well to throw out a now-dated 2015 anti-refugee campaign playbook and catch up with their voters. They should start by passing the Afghan Adjustment Act.
Free

Religious Freedom Updates

Join thousands of others to get the FREEDOM POST newsletter for free, sent twice a week from The Christian Post.