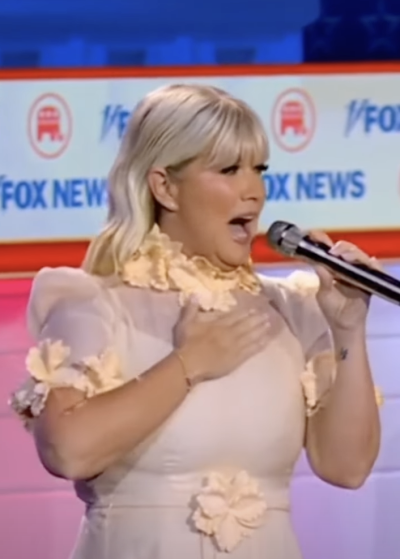 Award-winning Christian artist Natalie Grant put her patriotism on display during a passionate performance at the first Republican presidential debate in Milwaukee, Wisconsin, on Wednesday. 
Grant said she is more interested in bringing people together as Americans regardless of their politics.
"I'm patriotic. I like to keep politics to those who know how to do that best," she shared in an interview on "Fox & Friends" Wednesday morning before her performance. "I love my country, I love my anthem, and it's just an honor."
In times past, Grant revealed that she has performed at Democratic Party events as well.
"This isn't about endorsing a candidate or a party," she clarified, as reported by The Christian Beat. "I simply love this country, and I love what our anthem represents."
"At a time when public faith in our democracy is low, I'm excited to be a part of the democratic process by doing what I do best — and that's performing," the Nashville resident added. "I've had the distinct privilege of singing at events for both Republicans and Democrats in the past, and this is no different. It's a privilege."
Grant gave a signature soulful rendition of "The Star-Spangled Banner" before the eight Republican presidential hopefuls and the crowd gathered at the Fiserv Forum. 
She told "Fox & Friends" that the anthem is one of the "hardest songs" she's ever sung because of the pressure to get it right. 
The nine-time Grammy nominee is gearing up for the release of a new album in October titled Seasons. She wishes to pay homage to all of her favorite worship songs and hymns throughout the years. The album features duets with Dolly Parton, Mary Mary and Tauren Wells.
Grant explained that she wanted to use her interview on "Fox & Friends" as an opportunity "to shine for the glory of God." She said that Jesus has always been the center of her music, and this album will be no different.
Free

Religious Freedom Updates

Join thousands of others to get the FREEDOM POST newsletter for free, sent twice a week from The Christian Post.