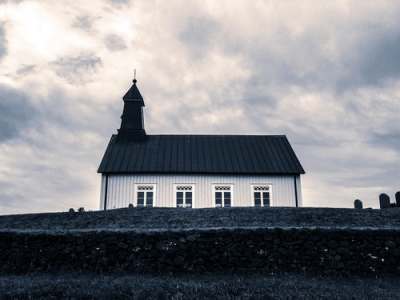 I became fascinated with dead and dying churches about thirty years ago. 
I know. It's morbid on my part. 
My fascination turned into somewhat of an obsession that I wrote a bestselling book on the topic, Autopsy of a Deceased Church, several years ago. It still has robust sales today. It obviously hit a nerve. 
One of our team members at Church Answers got the domain, churchmortician.com, as a joke a few years ago. We still have it, and it is forwarded to churchanswers.com. 
The church consultation requests deluge
We are receiving more consultation requests at Church Answers than at any point in our organization's history. Consequently, we are doing more on-site and virtual consultations than ever. 
But here is the difference. About half of the requests are from churches that will likely die within five years. The congregations are on a death march. For the first time, the leaders of these churches, pastors and laity alike, are no longer in denial. They know their churches must change or die. 
We pray each time that our intervention is not too late. 
The pandemic accelerated and exacerbated the gradual declines of churches where they became obvious paths toward death. There have also been dramatic culture shifts to a less favorable, even antagonistic, posture toward churches. 
Why the churches will die
I really don't think I have an obsession with dying churches. My primary focus is living, not dying. It has always been my prayer that I can learn from the deceased churches to help living churches thrive. 
We see a very clear pattern in place with dying churches. I hope these five observations can help you and your church move toward thriving instead of dying. 
Dying churches have abandoned evangelism. Your church will not have sustained growth without evangelism. You are no longer in a Christian-friendly culture where non-Christians desire to be identified with a local congregation. According to our consultation work in the post-COVID world, your church should be reaching one person (usually measured by baptisms, conversions, or professions of faith) for every twenty in average worship attendance. Thus, if your church averages 100 in attendance, you need to see God reach five non-Christians every year who will become followers of Christ and a part of your church. And the five per 100 number is just to stay even. That can be daunting for many churches. We began offering The Hope Initiative to help churches jumpstart prayer and evangelism. We know beyond a shadow of doubt that the need is great.
Dying churches major on minutiae. As a favor to a local pastor, I met with the few remaining members of his church. For some odd reason, the pastor was convinced they would listen to me and get serious about doing whatever it takes to survive. After I made an impassioned plea for the church to become a Great Commission force in the community, the pastor asked if there were any questions. One woman asked with a bit of an edge, "Will we have to read the hymns on a screen?" The church closed its doors seven months later. 
Dying churches have high levels of gossip and conflict. Church members will expend their energies in one direction or the other. If the church is not reaching beyond its walls, the members will become inwardly focused. They will gossip about the pastor and other members. They will have silly arguments over inconsequential issues.
Dying churches do not comprehend the urgency exacerbated by the pandemic. The majority of American churches were in decline prior to the pandemic. COVID accelerated and exacerbated the decline. Dying churches are in denial. Their leaders and members simply do not realize how little time is left before they must close their church.
Dying churches see the pastor as the silver bullet. Consequently, the pastor is consistently the perceived person to blame for the decline in the church. It is also common for dying churches to fire pastors frequently. They think that the silver bullet pastor is out there somewhere.
I have been doing church consultations since 1988. I have never seen so many churches just a few figurative breaths away from death. Church Answers created The Hope Initiative (hopeinitiative.com) as a 30-day jumpstart in prayer and evangelism. We pray that churches of all sizes and levels of health will engage in this ministry. 
We specifically pray for the dying churches. 
We pray they will do something before it's too late.
---
Originally published at Church Answers. 
Free

Religious Freedom Updates

Join thousands of others to get the FREEDOM POST newsletter for free, sent twice a week from The Christian Post.