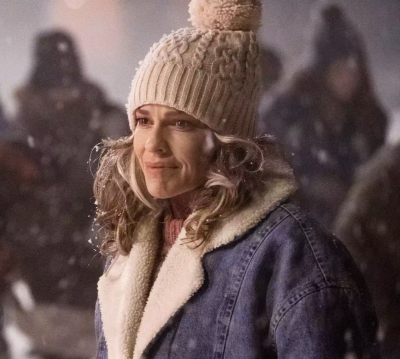 On the heels of the success of "Jesus Revolution," "Ordinary Angels," the latest film from Kingdom Story Company, shines a light on the power of community and how serving others highlights the transformative power of the Gospel.
Hitting theaters on Oct. 13, "Ordinary Angels" stars Hilary Swank as Sharon Stevens, a hairdresser from a small Kentucky town who's battling her own challenges. Her life takes a transformative turn when she encounters Ed (Alan Ritchson), a widower tirelessly working to support his two daughters. With his younger daughter in dire need of a liver transplant, Sharon becomes determined to assist the family, going to great lengths to make a difference.
Based on a true story, "Ordinary Angels" tells a heartwarming narrative of belief, unexpected blessings and the "ordinary angels" among us.
"It's an inspiring, true story that really highlights the power of a community working together to serve one another and never giving up," producer Kevin Downes told The Christian Post. 
"So many times when we hit challenges in our lives, we give up and say, 'This is too hard. I don't want to do this, even though the outcome would best be served if we didn't give up.' What's so inspiring about Sharon is we're able to see things through to the end. This young girl's life was impacted just because Sharon decided, 'I'm going to serve, I'm going to put my own selfish desires down for a minute go and support this family in a way that is totally unexpected.' There are people out there where life hasn't gone their way, and just a simple hand or word might encourage them in a way that could change their trajectory."
Watch the exclusive clip "The Story Behind Ordinary Angels"
"Ordinary Angels" also stars Nancy Travis, Tamala Jones, Amy Acker, Drew Powell, Skywalker Hughes and Emily Mitchell. It's directed by Jon Gunn ("The Case for Christ") and produced by Downes, Jon Berg, Roy Lee, Dave Matthews, Johnathan Dorfman, Sarah Johnson, David Beal and Jon and Andrew Erwin. It will be distributed by Kingdom Story Company and Lionsgate.
"I'm an optimist. I believe in the best in people. I believe that sometimes we just need to be reminded of the power of what we can do together. This is why I was drawn to "Ordinary Angels," Ritchson says in an exclusive "behind the scenes" clip of the film.
The film comes on the heels of Kingdom Story Company's film "Jesus Revolution," also based on a true story. Set in the late '60s, the Kelsey Grammer film follows Pastor Chuck Smith, who, with evangelist Lonnie Frisbee, opened church doors to the hippie youth culture.
Released in February, the film became Lionsgate's biggest release in over four years and is among the most popular movies on Netflix in the U.S.
Jon Erwin said "Ordinary Angels" is the "perfect" film to follow "Jesus Revolution," adding: "Jesus Revolution' is a film about spiritual awakening and revival; 'Ordinary Angels' is about how can we become known as Christians by how we love people in our communities."
The story behind "Ordinary Angels" took place in January 1994, when a catastrophic snowstorm shut down Louisville, Kentucky. Stevens, determined to help a widower secure a liver transplant for his 3-year-old daughter, rallied her local community into helping the family get to a hospital 600 miles away in Omaha, Nebraska.
Swank described the story as "almost stranger and more beautiful than fiction."
"I wish there were more movies like this," she said. "I completely believe there are angels amongst us."
Downes stressed that while the film speaks profoundly to Christian audiences, it's a narrative that will resonate with many, particularly coming out of the COVID-19 pandemic. 
"I hope this film encourages people, whether through their church or community, to ask, 'How are you doing today? Is there something that I can do for you today that would make a difference?' It's the opportunity to go and die to yourself and to serve other people, to serve other human beings out there," he said. 
"I think that's something that we can all relate to no matter what your faith is. But for a Christian audience, this is a message that I hear on Sundays quite frequently: How can we serve our neighborhoods, our community, in a way that puts the Body of Christ front and center?"
"Ordinary Angels" is rated PG and will hit theaters nationwide on Oct. 13.
Free

Religious Freedom Updates

Join thousands of others to get the FREEDOM POST newsletter for free, sent twice a week from The Christian Post.