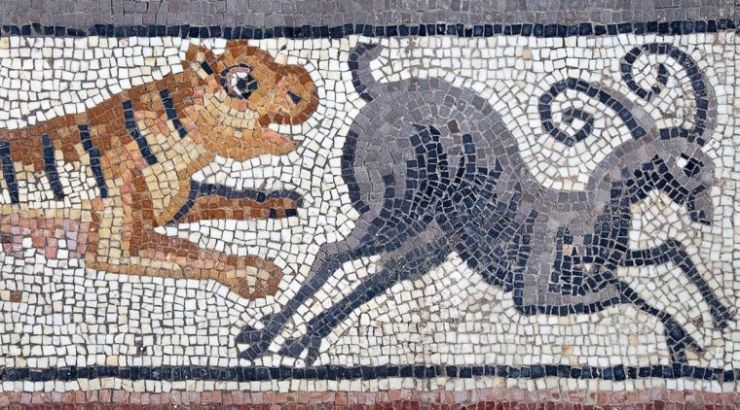 Excavations at a 1,600-year-old Jewish synagogue have uncovered "spectacular" mosaics of Samson and biblical stories. 
The discovery was made at the site of a synagogue in the ancient Jewish village of Huqoq, in Israel's Lower Galilee, where archaeologists have been digging since 2011. 
The mosaic panel depicts biblical stories, including Samson and the foxes from Judges 15:4 and Samson carrying the gates of Gaza as in Judges 16:3.
A decorated border shows animals of prey pursuing other animals.
Newly exposed sections include a Philistine horseman and a dead Philistine soldier "with a striking classic face", said the team, led by Jodi Magness, professor of early Judaism at the University of North Carolina Chapel Hill.
The stunning panel also includes an inscription in Aramaic commemorating either the donors who funded the mosaic or the artists who made it.
The finds add to a treasure trove of discoveries at the site, including the earliest known depictions of Deborah and Jael, and the first non-biblical story ever found in the decoration of an ancient synagogue, which may depict a meeting between Alexander the Great and a Jewish high priest. 
This year marked the final season of excavations at the site. It will now be handed over to the care of the Israel Antiquities Authority and the Keren Kayemet Le'Israel (Jewish National Fund), with plans for it to be turned into a tourist attraction.