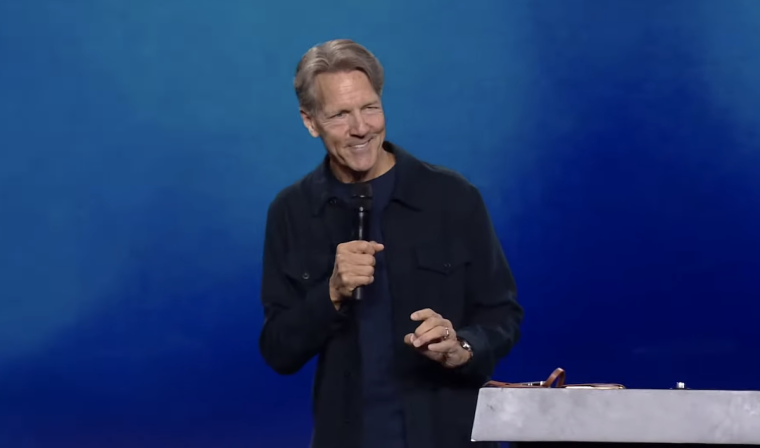 Pastor Skip Heitzig has outlined four biblical truths to consider when it comes to pain and suffering.
Heitzig was a guest preacher at Harvest Christian Fellowship in California last Sunday where he preached a sermon titled "Things to Remember in the Dark." 
In his sermon on Sunday, Heitzig, the pastor of Calvary Church in Albuquerque, New Mexico, listed four truths Christians should consider when facing dark times. 
The first truth, he told the congregation, is that "dark times are permitted by God," as evidenced in the biblical story of Joseph. 
"He did everything right, but everything wrong happened to him," the pastor said.
"Now, there are lots of reasons that people suffer. Most of the time, suffering is simply the consequence of living in a fallen world. We experience the fallout of that on a daily basis," he said.
"Sometimes, suffering is the direct consequence of sin. Sometimes, it is judgment from God. Sometimes, it's the result of persecution. Sometimes, it can be an attack of Satan. But don't try too hard to figure out the source of your suffering," Heitzig continued. 
"I am here to say why your suffering is not nearly as important as how you're suffering. That's the important thing. How are you taking it?" 
Heitzig emphasized that there are a variety of biblical accounts showing the inevitability of facing trials in life. The book of Job states that "Man is born to trouble as sparks fly upward." (Job 5:6-7) In the book of John, Jesus tells His 12 disciples that they "shall have tribulation" in the world, and James advises Christians to "count it all joy when you fall into various trials." (James 1:2-4)
The pastor explained that those verses apply to "all people, even God's people," adding: "Jesus said that 'God will cause the sun to shine on the just and the unjust and the rain will fall on the just and the unjust alike.'" (Matthew 5:45)
"It's wrong when somebody says to you, 'Godly people shouldn't suffer. True believers never really suffer like unbelievers suffer.' Or, 'If you only had enough faith, you wouldn't go through dark times,'" Heitzig warned. 
"The opposite is true. God permits hard times," he said.
Charles Spurgeon, he added, once said: "I believe the hardest-hearted, most unlovely Christians in all the world are those who have never had much trouble. And those who are the most sympathizing, loving and Christlike are those that have had the most affliction. The worst thing that can happen to any of us is to have our path made too smooth."
"Well, God's got you covered on that one, because He's not going to let your path get too smooth," Heitzig quipped. 
The second truth about suffering is God's presence in those moments, the pastor said. An example of this can be found in Genesis 39 when Joseph is imprisoned and finds favor through his actions and refusal to sin against God. 
"I've discovered that many people actually find God in suffering," he said. "And that suffering actually moves them toward God. It's like they get awakened out of a slumber, so to speak. Pain will move people in different directions. And you've heard this before. It'll either break your back or bend your knee. So some people become bitter. Some people become battered. But some people become better." 
Sometimes, it takes a storm to bring people to the feet of Jesus, Heitzig said, highlighting the story of Jesus and the Disciples on the Sea of Galilee. Jesus walked on water and approached the disciples' ship during a storm, which was their greatest fear. Jesus, the pastor said, appeared in the midst of the life-threatening storm to show His power and provide comfort and reassurance to them.  
"Do you think it's possible that Jesus might just come to you in the same way and that the image of God's presence is developed in the negatives of life?" he asked. "That's when the presence of God becomes more palpable, more real to you than ever before. Those dark blotches that are the negatives are actually the work of God to enhance His presence in your life."
The third truth about dark times, the pastor said, is that they are a pathway for God.
"Every time that you suffer, it makes you appreciate all the times you don't suffer, but there's far more than that. It develops character," he said.
The pastor explained that trials help people develop compassion. They also develop character and produce patience, he said, and can point an individual back to God.
"Pain is part of the path that takes us directly into the will of God," he said. 
Lastly, Heitzig explained that God's works behind the scenes, moving all the pieces into place. While going through suffering, God also provides grace and mercy.
"Train your heart to look for the perks, the mercy, the favor that God allows you to experience to sweeten it just a little bit, to put the sugar in the coffee," he said. "Learn to look for the particles of God's grace."
"If you can allow your spiritual eyes to pick up on those mercies that God is dropping in your path, the handfuls on purpose, it will go a long way."
Nicole Alcindor is a reporter for The Christian Post. 
Free

Religious Freedom Updates

Join thousands of others to get the FREEDOM POST newsletter for free, sent twice a week from The Christian Post.